Rudin Family Foundations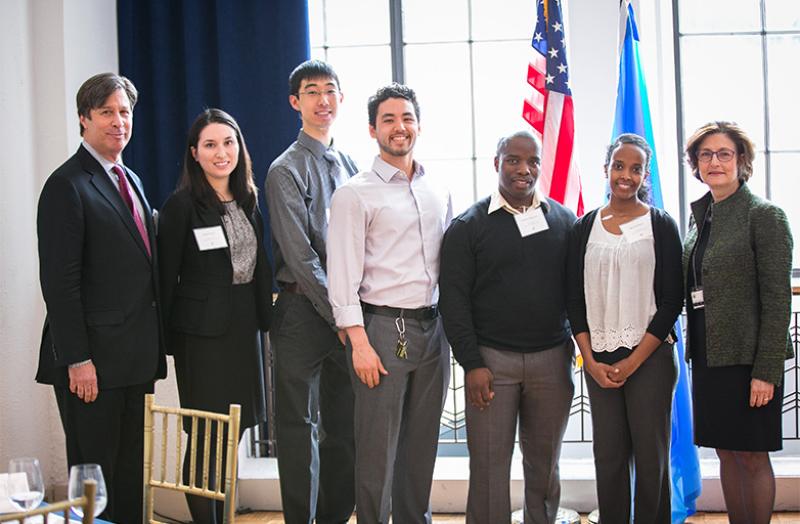 Since 1975, the Rudin Scholars Program has provided scholarship support to more than 600 health sciences students at the Columbia University's Mailman School of Public Health, Vagelos College of Physicians and Surgeons (P&S), School of Nursing, Center for the Study of Society & Medicine, and Programs in Occupational and Physical Therapy.
Columbia Mailman School extends its deepest thanks to the Rudin Family for this scholarship support, which help make a career in public health more accessible. Through the May and Samuel Rudin Family Foundation and the Louis and Rachel Rudin Foundation, 52 health sciences students, including 5 MPH students and 6 MD-MPH students, will receive scholarship support in the 2019 - 2020 academic year.
Louis and Rachel Rudin Foundation MD-MPH Scholarship Fund: By substantially underwriting the tuition for MD students pursuing an accelerated MPH, both Columbia Mailman and P&S have been able to provide a well-rounded education to tomorrow's health leaders, which focuses on both the health of an individual and collective health challenges. Six MD-MPH candidates will pursue their MPH degrees in the 2019-2020 academic year:
David Edelman earned his Bachelor of Arts degree in 2015 from Washington University in Saint Louis, double-majoring in Biology and Spanish and receiving Phi Beta Kappa honors. While pursuing his MD at Columbia University's Vagelos College of Physicians and Surgeons, David has worked as a Research Assistant at the Mailman School of Public Health and in the Motor Performance Laboratory. David volunteers at the Columbia-Harlem Homeless Medical Partnership, is a member of the P&S Class Council, and has been a Class Leader for the Advanced Medical Spanish course. David's interest in public health covers a broad range of areas from social determinants to health economics. Upon completion of the dual MD and MPH degrees, David intends to pursue an internal medicine residency and use his training in public health to identify and intervene on gaps in healthcare access, systemic issues in delivery systems, and economic drivers of policy that create inequities in patient care.
Rhyan Goldman completed her Bachelor of Science in Biology from Tufts University in 2014. Prior to entering the MD program at Columbia, she worked as a medical scribe. By pursuing an MPH, Rhyan intends to develop her research skills in areas of interest that include sexual education and how medical systems affect the quality of care. Upon completion of the dual-degree program, Rhyan plans to practice emergency medicine in underserved areas.
Christina Gupfinger graduated from Princeton University in 2012 with a Bachelor of Arts in Ecology and Evolutionary Biology. She went on to complete a Post-Baccalaureate Health Career Program at Harvard in 2013. Christina spent one year as a Fellow for Arogya Worls and conducted a country-level analysis for a Clinton Global Initiative Commitment to Action Project. As a medical student, Christina has served as: Co-President of the Columbia Global Health Organization; Student Coordinator and Researcher on NeuroZika; Lecture Coordinator for the Allen O. Whipple Surgical Society; and Treasurer for the American Association of Neurological Surgeons, Columbia Chapter. Christina is considering residency programs in either General Surgery or Ob/GYN. She intends to integrate her public health interest with her clinical background to further serve the global community.
Emma Marquez completed her Bachelor of Arts in the History, Philosophy, and Social Studies of Science and Medicine at the University of Chicago in 2010. Emma then finished the post-baccalaureate pre-medical certificate program at Columbia University in 2014. Prior to pursuing her MD at the Vagelos College of Physicians and Surgeons, Emma worked as a Research Coordinator at CUIMC as part of the Pediatric Cardiac Genetics Consortium. Additionally, Emma participated in the Mt. Sinai School of Medicine International Exchange program as a Research Assistant for two projects at the University Of Cape Town School Of Public Health in South Africa and as a Program Intern for Basic Health International. During her MD studies Emma has been Co-leader for the OBGYN medical student interest group, APOYO (teen pregnancy support and education program), Digame Mas (community service, language, and education initiative), and as a mentor for minority students interested in careers in medicine and enrolled in the Columbia University General Studies program. Emma intends to apply her acquired clinical and research skills towards reproductive healthcare in underserved communities both domestically and globally.
Adam Sands earned his Bachelor of Arts in Neuroscience from Columbia University in 2014. Prior to entering Columbia's MD program, Adam was a Research Intern in the CUIMC Hen Lab in the Division of Integrative Neuroscience, a Columbia Science Research Fellow in the Ochsner Social Cognitive Neuroscience Laboratory, and a Summer Science Outreach Intern in the Greengard Laboratory of Molecular and Cellular Neuroscience at Rockefeller University. Adam has volunteered with global projects in South Africa, Tanzania, and Guatemala. While pursuing his MD, Adam has been a Digame Spanish Language and Cultural Immersion intern and a Discussion Group Leader for the Dr. Edgar Housepian Global and Population Health Lecture Series. Through his MPH studies, Adam hopes to acquire skills and expertise to conduct research into the environmental and social determinants of health and healthcare disparities, as well as to learn how to develop sustainable programs to address these issues, particularly in global, remote communities.
Caitlin Yumori graduated cum laude with her Bachelor of Arts degree from Williams College in 2014, double-majoring in History and Chemistry. Currently, Caitlin is participating in the highly selective Columbia-Bassett Program focusing on longitudinal patient care and healthcare system improvement. Caitlin has served as an AmeriCorps Volunteer Coordinator for Rebuilding Together, New York City. Additionally, Caitlin has served Health Education Chair of Columbia Student Medical Outreach and as Coordinator of the Digame medical Spanish course and cultural immersion program. Caitlin's ultimate career goal is to become an emergency medicine physician. Her training has exposed her to a variety of public health issues on a daily basis and has influenced her desire to pursue an MPH degree. She hopes to gain an understanding of healthcare systems as a whole to better treat patients.
May and Samuel Rudin Family Foundation Scholars in Public Health Award: The Rudin Scholars in Health Award supports outstanding MPH students who are selected based on both academic distinction and financial need.