Our Vision & Mission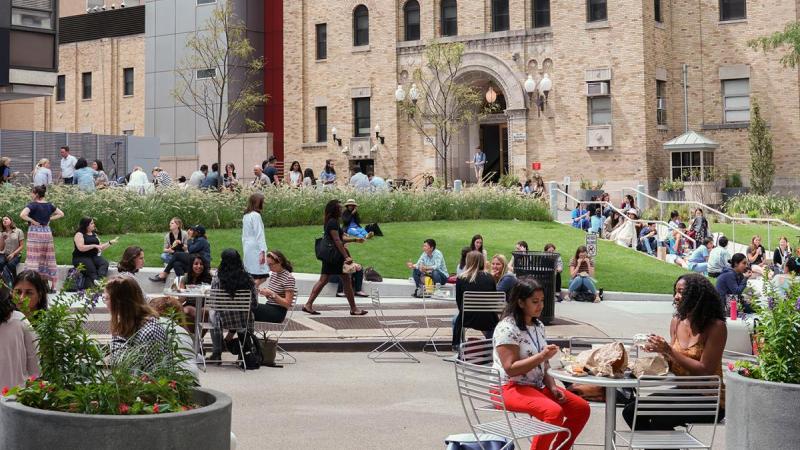 Building a Healthy and Just World
For more than 100 years, the Columbia University Mailman School of Public Health has been a global leader in advancing education, research, and practice to prevent disease and disability and improve the health of entire populations. Our vision is a healthy and just world for everyone. We are guided by the fundamental principle that health is a human right.
Our mission is to educate the next generation of public health leaders, conduct groundbreaking discovery, and deliver solutions to protect and improve health and wellbeing of people everywhere.
We are dedicated to fostering an inclusive and equitable environment in which diverse voices and identities are nurtured, valued, and respected. Through our collective and united efforts, our community strives to achieve our shared vision to build a healthy and just world. 
History
The DeLamar Institute of Public Health at Columbia University was founded in 1922 with a mandate to "study and [teach] the origins and cause of human disease and the prevention thereof." The precursor to Mailman School of Public Health, the Institute demonstrated from the beginning the core values that have shaped this institution for 90 years.
Today, the Mailman School of Public Health is recognized as an international thought leader addressing critical public health issues ranging from emerging infectious diseases and urban health disparities to the implications of health policy decisions. The Mailman School is committed to creating knowledge, translating science for impact, and educating the next generation of public health leaders.
In 2020, Dean Fried and the School leadership launched FORWARD (Fighting Oppression, Racism and White Supremacy through Action, Research and Discourse) to accelerate the transformation of the School into an antiracist, multicultural, and fully inclusive institution in all aspects of its culture and operations - and to provide a model and roadmap for other academic institutions to follow suit.
A Call to Arms
In 1909, the College of Physicians and Surgeons (P&S) of Columbia University issued an urgent call for a "new public health" that would integrate medical and social sciences with biostatistics and sanitary engineering. Thirteen years later, with a $3 million bequest from the estate of Joseph DeLamar, the DeLamar Institute of Public Health opened its doors as a unit of P&S. In 1945, the Institute became the Columbia University School of Public Health.
The School's deep connections to New York City developed early on, and in 1939 the City's Department of Public Health and the Institute agreed to share a building on 168th Street. Committed to marrying health education with service delivery to the local community, the partnership laid the foundation for the School's abiding interest in urban healthcare and population-based research.
A Multidisciplinary Approach to Public Health
The public health faculty blazed new trails from the start, collaborating with educators and engineers to address health-related sanitation issues and with social scientists to address socioeconomic-based public health challenges.
The latter partnership produced a landmark 1959 study conducted by Dr. Ray Trussell (director of the School from 1955 to 1968) and Dr. Jack Elinson (who later founded the School's Division of Sociomedical Science) which demonstrated much higher rates of chronic disease among a rural population in New Jersey than previously reported. The study pioneered both on-site health examinations and new techniques in sampling to collect valuable medical data.
The Mailman School continued to break new ground as the first institution to establish programs in sociomedical sciences and psychiatric epidemiology training, and the first to offer a joint degree in business and public health.
The Modern Era
During the early 1980s, the School recognized the changing landscape of public health and adjusted its focus to meet those new challenges. HIV/AIDS treatment and containment, increased access to healthcare for all, and health issues affecting women and children became critical research priorities. During this time, the School gained significant administrative independence.
In 1998, the School was renamed to honor Joseph L. Mailman, a prominent businessman dedicated to issues of health and education, whose foundation offered a transformational $33 million gift. Soon thereafter, the Mailman School became a Faculty of Public Health, one of the four Faculties in Columbia's Faculty of Health Sciences. The School now supports itself via revenue from research activities, tuition, gifts, and its endowment.
Joseph L. Mailman, a prominent businessman, was deeply committed to the welfare of others. A generous benefactor to organizations concerned with health and education, Mailman also actively assisted families fleeing Nazi Germany.
To honor his memory, his family made an extraordinary gift to rename Columbia University's School of Public Health. Phyllis Mailman, her son Joshua Mailman, and daughter Jody Wolfe believe the School's mission of education and community service backed by scientific research is a true reflection of Mailman's spirit.
The Mailman School of Public Health's main home is located in the 20-story Allan Rosenfield Building, named in tribute to Dean Rosenfield and his remarkable 22-year tenure. Tapping into the valuable synergies available within the Columbia community, the School now offers nine dual-degree programs with other Columbia schools.
A Strategic Vision for the 21st Century
In May 2008, Columbia University announced the appointment of Dr. Linda P. Fried as dean of the Mailman School. A national leader in the field of geriatric health and epidemiology, Dean Fried previously led Johns Hopkins' Division of Geriatric Medicine and Gerontology and the Bloomberg School of Public Health's Program in Epidemiology of Aging.
From the outset, Dean Fried has engaged faculty, students, alumni, and key stakeholders to identify the role the Mailman School should play in addressing future public health challenges. Under this new strategic plan, the School will continue to focus on areas where it has traditionally excelled, such as HIV and other infectious diseases, mental health, reproductive health, and environmental health, and will build on the School's strong legacy of work in global and urban health, children's health, and food policy.
The plan also calls for building research strength and expertise in areas of critical importance in the 21st century, such as chronic disease prevention, climate and health, systems science, and ensuring the health of an aging society by taking a lifecourse approach to the prevention of disease and disability. All of these initiatives require focus, multi-level analysis, new health system models, and interdisciplinary collaboration and leadership.
The School's educational mission has also been a cornerstone of Dean Fried's tenure. In the last few years, Dean Fried has led an intensive schoolwide effort that involved more than 150 members of the faculty, plus students, alumni, and employers, to reshape the School's MPH curriculum. The new programs, the Columbia MPH and Accelerated MPH, provide the broad systemic understanding, critical thinking skills, and leadership training needed to tackle today's complex public health challenges.