Grand Rounds Series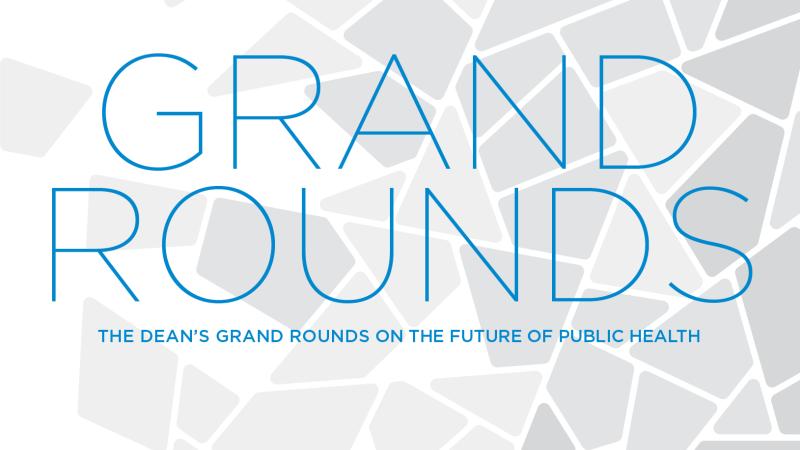 The 2022 - 2023 Grand Rounds on the Future of Public Health speaker series will engage our community in conversations about public health as a public good. The country's COVID-19 response made clear the critical importance of rethinking the role of public health within our society. Reflecting on the deficiencies of the existing system, this year's focus will feature discussions on equity, the healthy lifespan, how we translate science into the right solutions in the public health system, economic policy, and more.
Grand Rounds was initiated in 2008 at the Columbia Mailman School of Public Health to create an intellectual space within which to explore national and global public health challenges and the innovative approaches needed to transform the public's health in the 21st century. 
All events are open to the public. All in-person participants are required to have their primary series and one booster dose of COVID-19 vaccines. Visitors should be prepared to show proof of vaccination while on campus.
We value inclusion and access for all participants and are pleased to provide reasonable accommodations for individuals with disabilities.  If you need a reasonable accommodation to attend this event, please contact Disability Services at disability@columbia.edu or via phone 212-854-2388. All requests should be made at least 10 days in advance. We will attempt to fulfill requests made after this date, but cannot guarantee they will be met.
For questions, please message public_health_events@cumc.columbia.edu.
2022-2023 Events
Yusuf Hamied Distinguished Lecture​
Wednesday, April 19, 2023​
New York: 8:30–10:00 a.m.​
Mumbai: 6:00–7:30 p.m. ​
Virtual Event​
Registration Required
Previous Events
Delivering Science in our Public Health System
September 14, 2022 
The kickoff conversation examined how science is delivered in the medical and public health systems. Our faculty experts discussed how breast cancer prevention, chronic disease, and the health impacts of climate change could be deployed through each system to improve the public's health.
Sandra Albrecht, PhD
Assistant Professor, Epidemiology
Mailman School of Public Health
Jasmine McDonald, PhD
Assistant Professor, Epidemiology
Mailman School of Public Health
Cecilia Sorensen, MD
Associate Professor
Environmental Health Sciences at the Columbia University Medical Center
Linda P. Fried, MD, MPH (moderator)
Dean, Columbia Mailman School of Public Health
DeLamar Professor of Public Health Practice
Professor, Epidemiology and Medicine
Senior Vice President, Columbia University Medical Center
Building Public Health Equity 
Co-hosted by the Columbia University Epidemiology Grand Rounds (CUEGR) 
October 19, 2022 

Thomas A. LaVeist, PhD
Dean and Weatherhead Presidential Chair in Health Equity
Tulane University School of Public Health & Tropical Medicine
Executive Producer and Writer of "The Skin You're In"
Jasmine McDonald, PhD (introduction) ​
Assistant Professor, Epidemiology​
Assistant Director, Cancer Research, Training, and Education Core (CRTEC)​
Co-Director, Y.E.S. in THE HEIGHTS
Linda P. Fried, MD, MPH (moderator)
Dean, Columbia Mailman School of Public Health
DeLamar Professor of Public Health Practice
Professor, Epidemiology and Medicine
Senior Vice President, Columbia University Medical Center
Contributing to the Public's Good:
Foundational, Core and Local Public Health Services
Wednesday, November 30, 2022
Kaye Bender, PhD, RN, FAAN
Executive Director, MS Public Health Association
and President, American Public Health Association
Virginia A. Caine, MD
Director and Chief Medical Officer,
Marion County Public Health Department
Judith A. Monroe, MD
President and CEO, CDC Foundation
Michael Sparer, JD, PhD (moderator)
Chair and Professor, Health Policy and Management
at Columbia Mailman School of Public Health
CUIMC Grand Rounds: In Science We Trust
Monday, January 30, 2023 
Katrina Armstrong, MD​
Dean of Faculties of Health Sciences and the Vagelos College of Physicians and Surgeons ​
Chief Executive Officer, Columbia University Irving Medical Center​
Gary Miller​, PhD​
Vice Dean, Research Strategy and Innovation​
Professor, Environmental Health Sciences​

Nsikan Akpan, PhD
Health and Science Editor, WNYC/Gothamist 
Linda P. Fried, MD, MPH (moderator)
Dean, Columbia Mailman School of Public Health
DeLamar Professor of Public Health Practice
Professor, Epidemiology and Medicine
Senior Vice President, Columbia University Medical Center
An Economic Argument for Public Health as a Public Good​
Wednesday, March 8, 2023 
David M. Cutler, PhD​
Otto Eckstein Professor of Applied Economics​
Department of Economics​
Harvard University