Housing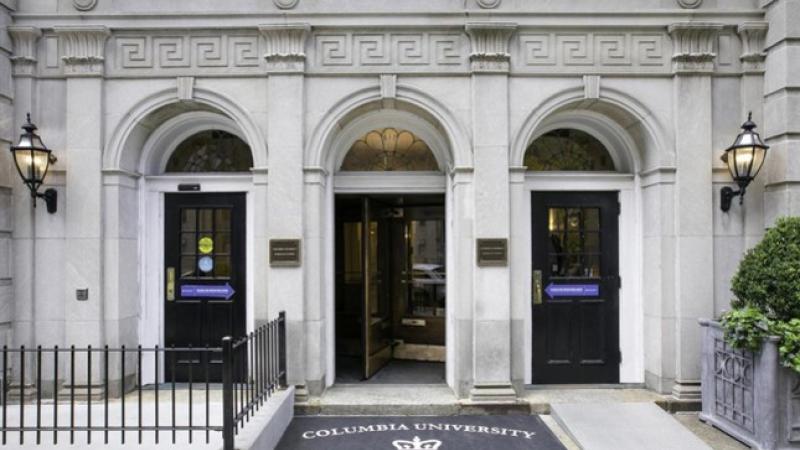 Columbia Mailman School of Public Health is located at West 168th Street and Fort Washington Avenue, immediately southeast of the George Washington Bridge, in the Washington Heights neighborhood of northern Manhattan. Download the Columbia University Irving Medical Center Campus map and see the Google map below. 
Whether you're a native New Yorker, you currently live here or you're coming to New York City for the first time as a student, finding an affordable and convenient place to live doesn't have to be intimidating. 
As a Columbia Public Health student, there are a few on-campus housing opportunities available for full-time students. Accommodations on the Columbia University Irving Medical Center campus are a practical and cost-effective way to live in Manhattan. All of the residential buildings are an easy walking distance to academic buildings, the Knowledge Center, athletic center, and public transportation.
On-Campus Housing
The Medical Center on-campus student housing spans four apartment buildings located steps away from the Allan Rosenfield Building, the heart of the Mailman School:
154 Haven Avenue
Housing options at 154 Haven Avenue include furnished studio apartments with a full bath and kitchenette for single students and one-bedroom apartments for couples. Built in the 1960s, this residential building became part of the medical center in the early 1980s. Located along the northern edge of campus, it is walking distance from the heart of the medical center.
---
50 Haven Avenue 
This 11-story building features dormitory-style rooms with communal bathrooms, a green courtyard with benches, and a terrace with extraordinary views of the Hudson River and George Washington Bridge. Residents can take advantage of the athletic center downstairs and various student lounges. 50 Haven Avenue is minutes from classrooms, the library, and the campus bookstore.
---
Towers 1, 2, and 3 
Tower 1: 60 Haven Avenue, Tower 2: 100 Haven Avenue   
Built in 1971, Towers 1, 2, and 3 are a landmark feature of the Columbia University Irving Medical Center skyline. Tower 1 conveniently connects to 50 Haven Avenue. Towers 2 and 3 share a courtyard with the Vagelos Education Center, a modern multi-story building overlooking the George Washington Bridge, and the Palisades.
The Towers provide spacious two- and three-person suites for single students and junior one-bedrooms and one-bedroom apartments for couples. You can join the Towers community through the 50 Haven Ave. to Towers Lottery or through a Couples Application.   
---
Georgian Residence
617 West 168th Street 
Since 1983, the Georgian Residence has housed academic offices on its first three floors and residential units on the top four floors. Accomodation options include studios and two- and three-person suites. The Georgian is located moments from classrooms, the library, and the campus bookstore.
---
Visit the CUIMC Facilities Management and Campus Services website for prospective tenants for more details about on-campus housing eligibility, application deadlines, frequently asked questions and more. We also encourage students to read the Leases and Contracts section of their website. 
Off-Campus Housing 
Columbia Public Health is located on the Columbia University Irving Medical Center campus on 168th Street in the Washington Heights neighborhood of New York City. The campus is served by the A, C, and 1 subway lines.
For full-time students or a full-time postdoctoral research fellows, CUIMC has off-campus housing listings that include rooms and apartments available for rent in non-Columbia University-owned properties. Use Columbia's Off-Campus Housing Assistance (OCHA) office to search for apartments, rooms and roommates. 
Living in the outer boroughs of Manhattan, including Brooklyn, Queens, and the Bronx, is also an option that many Columbia Mailman students explore.
Consider the time it will take you to travel to 168th Street when making housing decisions.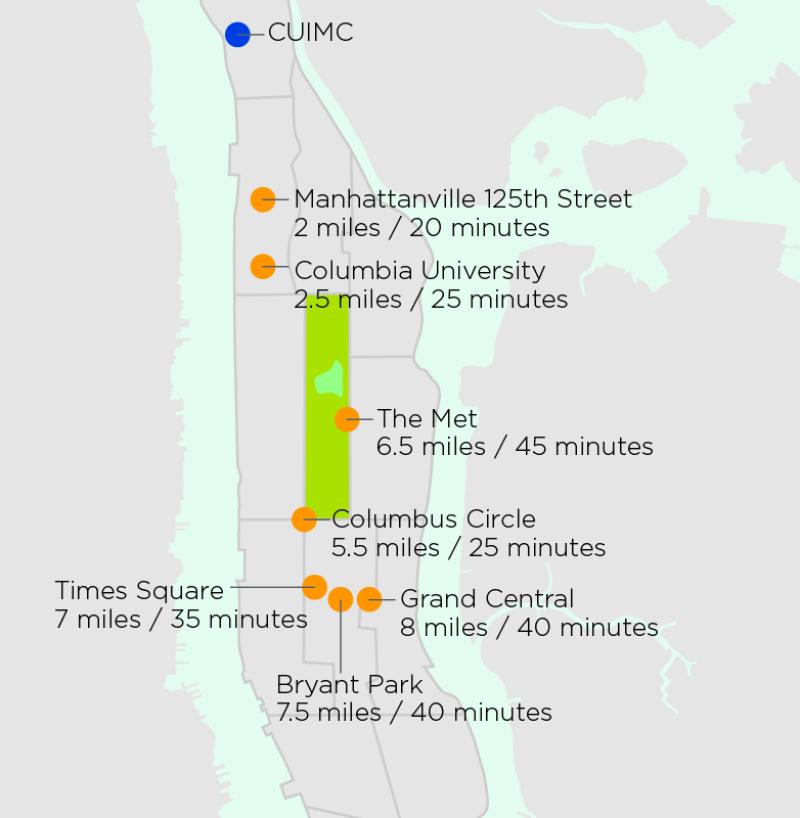 Transit
The Columbia University Irving Medical Center can be reached by five bus lines and two subway lines, operated by the MTA.
Buses that make regular stops within a five block radius of 168th Street include:
M2, M3, M4, M5, M98, and M100. 
The A Expess, C Local, and 1 Local trains all stop at 168th Street. 
A free electric shuttle bus connects CUIMC with Columbia University's Morningside and Manhattanville campuses and Harlem Hospital. The inter-campus shuttle runs Monday through Friday, excluding University holidays. All riders must present a valid University ID upon boarding. Review the shuttle schedule and stay up-to-date on all transit-related news on the Columbia Transportation site. 
Map
How to Use the Interactive Map: Click the icon at the top left to open additional layers, including CUIMC buildings, campus residences, neighborhood attractions, and restaurants.