Caribbean Climate and NCDs Workshop Series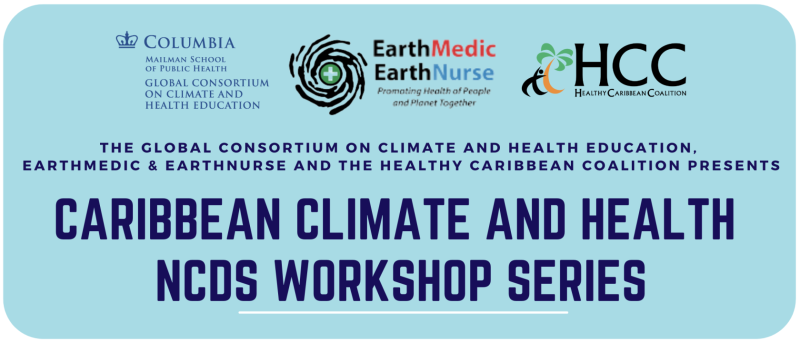 Session Recordings and Resources:
Kidney Disease: September 21, 2023 
Respiratory Disease: May 25, 2023  
Climate Change Impact on Diabetes and Obesity: Apr. 27 2023 
Commercial Determinants of Climate Change & NCDs: Mar. 2023 
Climate Change and Cardiovascular Disease: Feb. 2023
Climate and Cancer: Jan. 2023
Mental Health and Climate Crisis: Nov. 2022
Climate Action and Non-Communicable Disease: Oct. 2022
About
Climate change has many links with the costly noncommunicable diseases (NCDs) epidemic that the Caribbean faces. How can we reduce the adverse impacts of climate change and seize the opportunity to promote health at the same time? Join us in our virtual monthly webinar series that examines how climate change and NCDs are linked and explores why climate action is good for NCDs. CMEs/CPD will be available for health professionals from the region.
The effects of climate change are already affecting population morbidity, mortality, and the quality of health care delivery around the world, and these impacts will only intensify in the coming years. This reality necessitates more health professional training opportunities surrounding the topic of planetary and climate change and health.
The Global Consortium on Climate and Health Education and EarthMedic and EarthNurse Foundation for Planetary Health launched a free, open access "Caribbean Climate and Health Responders Course" in spring 2022. The course was committed to providing health care professionals with the knowledge and tools to effectively respond to the climate and health crisis in their local communities throughout the Caribbean region. Following the success of the course, participants expressed enthusiastic interest in understanding the connection between climate change and the socially and economically burdensome epidemic of noncommunicable diseases (NCDs) in Caribbean countries.
To address this unmet need, the new "Caribbean Climate and Health NCD Workshop Series" will help current and future global health professionals to further understand the impacts of the climate emergency on NCDs and to work towards resilience-building solutions.
 
All interested professionals are welcome to attend!
Please direct any questions to Kerriann Peart (she/her).