Caribbean Climate and Health Responders Course

The Caribbean Climate and Health Responders Course is a 10-week free online certificate course committed to providing health care professionals with the knowledge and tools to effectively respond to the climate and health crisis in their local communities throughout the Caribbean region.
Course Dates: APRIL 6TH - JUNE 8TH, 2022
Participants who attended 7 or more of the 10 didactic live Zoom sessions and pass the brief final exam with a score of at least 70% will be awarded a Certificate of Participation from GCCHE and EarthMedic/Nurse. The Certificate of Participation and the exam answers will be sent out to eligible participants via the email used to originally register for the course.
TARGET AUDIENCE: Health Professionals, Health Leaders, Environmental Health Professionals, Disaster and Emergency Professionals, Climate Leaders and Students
The effects of climate change are already affecting morbidity, mortality, and society's abilities to deliver healthcare around the world, and its impacts will only intensify in the coming years. Climate change is also connected to the socially and economically burdensome epidemic of noncommunicable diseases (NCDs) of Caribbean countries. To meet these challenges, current and future health professionals globally must understand the dynamics governing the interactions of climate and health, the level of scientific understanding of those interactions, and potential adaptation, mitigation, and resilience-building solutions.
COURSE OBJECTIVES:
Increase health professionals' knowledge, self-efficacy and communication skills related to the climate crisis so they may both: 1) improve patient care and public health practice and 2) serve as their health community's trusted messengers within their institutions, communities, and fields of practice

Equip interested health professionals with the knowledge and skills needed to educate their institutions' own learners so that health effects of climate change and emergency preparedness can be incorporated more easily into pre- and post-licensure training across the globe.  

Build and strengthen an agile and informed community around climate and health education, advocacy, and policy for health professionals with strong mentorship and expert support
TWO PART COURSE STRUCTURE:
1) Weekly 90-minute didactic sessions with expert presenters and moderated Q&A sessions:
Main Session Topics: (speaker information coming soon!)
2) Five Skills and Practice Sessions @ 6:00 p.m. EST: 
April 19th - Greening Your Health Practice 

April 26th - Climate and Health Communication

May 10th - Clinical Case - Heat Stress 

May 24th - Clinical Case - Flooding

June 7th - CIMH Session 
Lectures will be delivered by local and regional practicing experts in the field and will have accompanying reading and learning resources. In addition to the 10 core didactic sessions, participants will have the option to participate in five "Skills and Practice" sessions, structured around clinical cases, climate tools (data and research tools provided by CIMH),  communication and leadership strategies, and teaching tools.  
Climate and Health Certificate
Participants who successfully complete 70% of the live didactic trainings (at least 7 sessions) and pass a brief assessment at the end of the 10-week training (with a score of 70% or above), will receive a certificate of participation from the GCCHE/EarthMedic.
Please direct any questions to hec2141@columbia.edu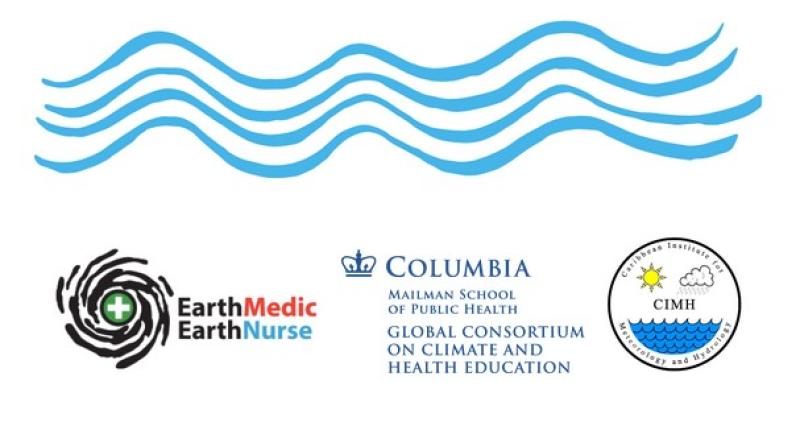 FAQ'S CME CREDITS
EarthMedic/EarthNurse is proud to offer CME credits for this course, provided by the American Academy of Continuing Medical Education (AACME) via the Trinidad and Tobago Medical Association (T&TMA)
WHO IS ELIGIBLE FOR CME CREDITS?
Anyone registered for the course.
WHAT IS THE COST?
$US49.00
Trinidad and Tobago citizens should contact Dr Paula Henry phenry@earthmedic.com, since special conditions are applicable – the subject of the email should read, "CME credit request".
The price quoted is a one-time fee for the credit hours awarded to each attendee, regardless of the number of CME hours for which you are applying.
HOW DO I APPLY FOR CME CREDITS?
By filling out the CME form at the end of each session you attend. CME credits are only applied if you fill out the Google Form posted in the Chat at the end of each Didactic and Skills and Practice session. This form is live for 2 hours after each session. You would also receive the link in your email, following each session.
PAYMENT FOR CME CREDITS
Payment for CMEs must be made by Wednesday May 11, 2022, 12:00 Midnight EST.
The link for payment is here:   https://earthmedic.com/caribbean-climate-and-health-responders-course/
IF I FAIL TO COMPLETE THE GOOGLE FORM AFTER THE SESSION, MAY I APPLY RETROACTIVELY FOR CREDITS?
Unfortunately, No.
MAY I APPLY FOR CREDITS IF I DID NOT ATTEND THE LIVE SESSION BUT VIEWED THE RECORDINGS AT A LATER DATE?
Unfortunately, No.
HOW MANY CREDIT HOURS ARE AWARDED IF THERE IS 100% ATTENDANCE?
This is left to the discretion of the Awarding Committee.
WHAT IS THE MINIMUM # OF HOURS THAT MUST BE ATTENDED IN ORDER TO RECEIVE THE MAXIMUM NUMBER OF CREDITS?
This is left to the discretion of the Awarding Committee.
IF I ONLY ATTENDED SOME OF THE SESSIONS, CAN I STILL RECEIVE CME CREDITS?
Yes, however they would be proportional to the number of hours you attended the course.
ARE THE SKILLS AND PRACTICE SESSIONS INCLUDED IN THE CME ACCREDITATION?
Yes. You would get credits for attending these sessions.
WHEN I RECEIVE THE CME CREDITS FROM THE T&TMA, WOULD THERE BE AN AUTOMATIC TRANSFER OF CREDITS INFORMING MY LOCAL GOVERNING BODY?
No, however you can seek to apply these credits by making representation to the accreditation body in your local jurisdiction.
The CMEs which the course is offering are internationally certified. The governing body is the American Academy of Continuing Medical Education (AACME).
Learn More
Become a Member of the Global Consortium on Climate and Health Education Contact us for more information.
Join