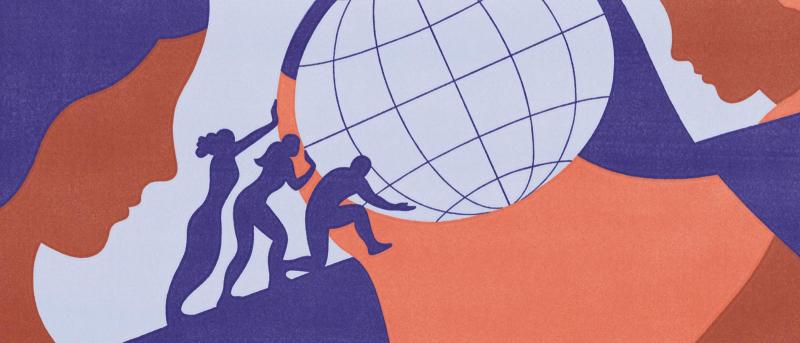 A World of Good for Mental Health
A South African woman, who is HIV positive and a survivor of sexual trauma, clutches a cloth bag heavy with orange and purple painted pebbles. As the woman removes one pebble after another—each, depending on the color, represents a changeable or unchangeable stressor—the bag lightens, as does her metaphorical burden. She divides her "coping pebbles" into two piles, then works with a counselor to develop strategies to help her handle each stressor.
Researchers from the Columbia University Mailman School of Public Health, in partnership with colleagues at the University of Cape Town, are studying whether the women who receive this therapy will better adhere to their HIV medication regimen. Kathleen Sikkema, PhD, Stephen Smith Professor and chair of Sociomedical Sciences, developed this therapeutic intervention two decades ago for a population of American HIV patients and adapted it specifically for women in South Africa. Her theory is that addressing social determinants of mental health—in this case, the stress resulting from violence—will help the women stay engaged in their care and well-being, improving their clinical outcomes.
This type of global mental health work is more urgent than ever. Worldwide mental health disparities were brought into sharp focus by the COVID-19 pandemic. Climate change both poses an existential crisis and threatens livelihoods and health. It is likely to displace even more populations, a situation that brings with it a host of mental health effects. More than 75 percent of people with mental health disorders living in low- and middle-income countries do not receive the care they need, according to the World Health Organization. 
Sikkema's research is designed with these challenges in mind. It employs an increasingly popular approach to public health called task sharing, in which some work is transferred from trained specialists—who are in short supply in low-resource countries—to lay counselors. "There's so much greater need than there is access to providers," says Sikkema, a clinical psychologist who has led pioneering scholarship in global mental health for 30 years. "We must learn how to prevent, diagnose, and treat mental health issues where resources are limited."
To that end, the Columbia Mailman School last year announced the establishment of its new Global and Population Mental Health program. Under Sikkema's direction, the program formalizes the School's long-standing commitment to global mental health and builds on the work done by Professor of Epidemiology and Psychiatry Ezra Susser, MD '82, DrPH '92, who helped formalize the approach to improving the mental health of populations worldwide.
With projects underway in sub-Saharan Africa, South America, and migrant settlements in the United States, researchers in every corner of the School—psychologists, epidemiologists, sociologists, global health experts, and more—are working to expand the field from one that primarily studies mental health challenges to one that promotes evidence-based prevention and treatment techniques. "With a growing focus on mental health across the School, it should not be the domain of one department," Sikkema says. "The interdisciplinary approach is only going to make us stronger." And, as they grapple with their own pressing research questions, School faculty are also considering how to ensure that their field treats the populations they study—and the researchers they collaborate with outside the United States—more equitably.
Among the Century's Grand Challenges 
Two of the School's interdisciplinary global mental health projects received Columbia Mailman School Centennial Grand Challenges Awards—grants ranging from $100,000 to $200,000 for projects addressing significant emerging challenges. In one project, led by Claire Greene, PhD, MPH, an assistant professor of Population and Family Health, researchers are developing and testing strategies to increase access to mental health support in tandem with economic support programs for displaced people in Ecuador. Greene is co-leading with Jeremy Kane, PhD, MPH, assistant professor of Epidemiology, and Kathryn Lovero, PhD, assistant professor of Sociomedical Sciences. The project is a collaboration with HIAS, a leading provider of services for refugees globally.
Epidemiology Professor Katherine Keyes, PhD '10, MPH '06, received a Grand Challenge award for her work with Ajmal Sabawoon, MD, MPH, an epidemiologist and biostatistician previously affiliated with Afghanistan's Kabul University. Sabawoon is among the more than 75,000 Afghans who have resettled in the United States in the past several years, navigating the stressors of immigration after decades of exposure to political violence. Keyes and Sabawoon will be surveying some 500 people recently resettled in the U.S. from Afghanistan, as well as their healthcare providers, to determine the mental health needs of displaced people. With an eye toward preventing the mental illnesses prevalent among displaced people, such as anxiety, depression, and post-traumatic stress disorder, their goal is to establish a research program that prioritizes mental health needs and tracks long-term outcomes for resettled migrants. "The number of people who are displaced is growing—for political reasons, climate reasons, and other reasons," Keyes says.
Even as they work on the Ecuador project, Kane and Greene are also co-leading a randomized controlled trial at three refugee camps outside the Democratic Republic of Congo, where conflicts have created a massive humanitarian crisis. The trial focuses on using task sharing to treat alcohol and substance use disorder among the refugees, a problem Kane says has been "almost completely unaddressed." Congolese refugees trained as lay counselors will administer cognitive behavioral therapy over the course of a year. Perhaps the trickiest part, he says, is accurately measuring alcohol consumption. "Every single piece of the trial is built on data and measuring outcomes accurately," he says.
Moving the larger research community toward a more equitable approach means making long-term commitments to addressing mental health needs in the areas the School's researchers study and decolonizing the field. "The model has shifted significantly," Kane says. "Now it is a priority that our partners in the countries we are working in are the ones who initiate ideas and invite us to partner, as opposed to us saying, 'We want to come in because we think you need the study to be done.' It's a flipping of the paradigm that has existed for a long, long time."
A Sense of Urgency
In the Heilbrunn Department of Population and Family Health, faculty are working to speed the process of adapting global mental health interventions so that they can get results immediately. Assistant Professor Sabrina Hermosilla, MIA/MPH '08, PhD '15, joined the faculty in the fall of 2022 and is spearheading an ongoing project in-country with the nongovernmental organization TPO Uganda. Her work seeks to understand how best to adapt and implement a program supporting healthy parenting techniques and incorporating mental health-related topics, such as how stress can influence parenting decisions. In settings like these, Hermosilla says, there is a humanitarian imperative for researchers to deliver effective solutions in real time. "If we wait for 'perfect,' then we have failed to serve these people and haven't actually helped our partners on the ground who are acting right now," she says. At Columbia Mailman School, "we are firmly based in the methodological, but we also have an eye to action that is always informed by the most vulnerable."
Hermosilla is championing a movement known as "nothing about me without me," which aims to ensure that research participants' voices are heard without putting undue stress on them. "Imagine trying to go to high school in a refugee camp and somebody from the United Nations wants you to join a conference call," she says. "That's the reality of what we're asking. It's well intentioned, but how do we make sure it's done appropriately? How do we remain accountable to these children?"
Climate change is another increasingly urgent threat to mental health, as experiencing extreme weather events can cause a host of psychological burdens and damages, notes Gary Belkin, MD, PhD, MPH, a professor of Sociomedical Sciences. While serving as executive deputy commissioner of New York City's Division of Mental Hygiene from 2014 to 2019, Belkin worked to implement a task-sharing approach by training teachers, police, clergy, and other public-facing workers in mental health, with the goal of bolstering community psychological strength and resilience. Later, he realized the need for resilient communities reached beyond the five boroughs. "During the pandemic, we got to see what happens when people are not trusting each other and are not emotionally confident to face shared threats," Belkin says.
Belkin founded and leads the Billion Minds Institute project at Columbia Mailman School. It is a hub for what he defined in a New England Journal of Medicine article as "investment and leadership supporting the 'social climate'—that is, community-level emotional resilience and mental health and their mutually reinforcing connection to social ties and collective efficacy." Its initiatives include Race to Resilience, a United Nations-backed effort to strengthen infrastructure and communities in the face of climate change. Race to Resilience partners include Slum Dwellers International, a global network of community-based organizations. 
Geography also plays a role in other climate-focused research Keyes is doing, considering how lack of access to shade is associated with increased mental health problems in youth. With co-principal investigator Andrew Rundle, MPH '94, DrPH '00, an Epidemiology professor who co-directs the Built Environment and Health Research Group at Columbia, Keyes is studying adolescents in Los Angeles County to understand how tree canopy, shade cover, and the surface temperature of their environment affect their mental well-being. "There's a lot of evidence to suggest that constant exposure to heat can have an adverse effect on mental health," Keyes says.
Taking a comprehensive approach to mental health more accurately considers how people interact with their wider world, including cultural views on mental health, support available in certain geographic areas, and more, Belkin says. "You're thinking about other sectors, other institutions, as partners in the work of promoting and sustaining mental health," he says. "We have really never approached mental health in that way before."
---
New Faculty, New Approaches
With the hiring of key new faculty members, including Sabrina Hermosilla, MIA/MPH '08, PhD '15 (see above) the School has expanded its bench in global mental health to reflect its commitment to the field:
Multidisciplinary community-partnered health equity researcher Paris "AJ" Adkins-Jackson, PhD, MPH, is an assistant professor of both Epidemiology and Sociomedical Sciences. Adkins-Jackson, who studies the effects of structural racism on healthy aging in historically marginalized populations, is leading research into how exposure to adverse community-level policing affects psychological well-being, cognitive function, and biological aging in older adults.
Melissa DuPont-Reyes, PhD '17, MPH, an assistant professor of Sociomedical Sciences and Epidemiology, uses her psychiatric and social epidemiology training to study health equity in population mental health among young and diverse populations in the United States. She is working to understand how early prevention of mental illness stigma may help reduce lifelong disparities in access to care.
Christian Gloria, PhD, vice chair and associate professor of Sociomedical Sciences, studies the protective and resilience factors that enable people to adapt, grow, and thrive against chronic stress and adversity. His current research focuses on the health and well-being of Filipino communities in New York and across the United States.
---
Christina Hernandez Sherwood lives in the Philadelphia area. Read more from her at christinahernandezsherwood.com.
A World of Good for Mental Health was first published in the 2023-2024 issue of Columbia Public Health Magazine.