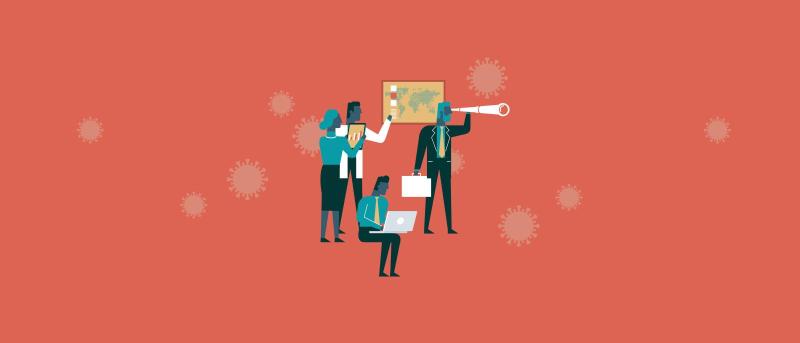 Public Health Research Continues as We Reach Pandemic Year Four
At Columbia Mailman, faculty continue to assess the impact of COVID-19 and identify ways to prevent the next pandemic.
Three years on from the beginning of the COVID-19 pandemic, as we look ahead to the federal state of emergency ending in May, there are still many gaps in knowledge. At Columbia Mailman School, faculty continue to work to find answers to a host of questions, from assessing the impacts of COVID-19 to identifying ways to prevent the next pandemic.
From the earliest days of the pandemic, our faculty have been at the forefront of developing computer models that draw on real-world data to forecast the spread of COVID-19. These forecasts provided actionable information on infections, hospitalizations, and deaths that have been used by public health leaders at all levels of government. Ongoing research aims to improve on these models and extend them to other infectious disease threats.
Wan Yang, assistant professor of epidemiology, is using wastewater surveillance data to study SARS-CoV-2 dynamics and predict COVID-19 outcomes. Jeffrey Shaman, professor of epidemiology, is focused on ways to create more accurate population-scale forecasting systems of both COVID-19 and influenza. Sen Pei, assistant professor of environmental health sciences, is developing behavior-based epidemic models that draw on neighborhood-level data, including foot traffic, masking behavior, and socioeconomic indicators. "Incorporating real human behavior into forecasting models will make possible more accurate predictions," Pei says.
Columbia Mailman's Center for Infection and Immunity (CII) is renowned for its expertise on coronaviruses and pandemic threats dating back to the 2002 SARS outbreak. During the current pandemic, CII researchers developed innovative molecular tests that were licensed and used millions of times. They also created antibody tests that detect and differentiate exposure to all known coronaviruses, as well as distinguish between immunity due to infection versus vaccination. Working in New York City and Rio de Janeiro Brazil, they demonstrated that treatment with convalescent plasma from donors who have recovered from infection with the same strain as the one infecting the recipient can result in a 50 percent decrease in mortality.
Now, in an ambitious effort to prevent future outbreaks and pandemics, CII's Global Alliance for Pandemic Preparedness (GAPP) is building a network of scientists in low and middle-income countries in Africa, Asia, and the Americas to improve surveillance of emerging infectious diseases. "We believe that the best way to reduce morbidity and mortality associated with emerging infectious diseases is to freely share the tools and resources needed for others to do what we do. The arguments for investment are both ethical and practical. Equal access to science and medicine is a fundamental human right. Given that infectious diseases don't respect borders, it's also in our self-interest to contain them before they hit closer to home," says W. Ian Lipkin, director of CII and John Snow Professor of Epidemiology.
Across Columbia Mailman, researchers have been uncovering the impact of social factors on the transmission and treatment of COVID-19, as well as disparities related to race, sexual orientation, gender identity, and more.
Dustin Duncan, associate professor of epidemiology; Stephen S. Morse, professor of epidemiology; and Harvard's Ichiro Kawachi are co-editors of a forthcoming Oxford University Press book, The Social Epidemiology of the COVID-19 Pandemic, that covers topics such as racism and stigmatization of COVID-19; gender and sexuality as they relate COVID-19, disability and ableism during the pandemic; and the links between neighborhoods, neighborhood factors, and COVID-19 outcomes.  
Duncan is also leading NIH-funded research that seeks to examine the barriers to accessing COVID-19 and HIV services that arise as a result of medical mistrust among transgender women of color. Until now there has been a dearth of research in this area despite the fact that the mortality rate for Black and African Americans is 2.3 times that of white Americans and LGBTQ+ people of color are twice as likely as white people to test positive for COVID-19. "COVID-19 testing and vaccine uptake are both important tools in combatting the pandemic, and this is the first study to address medical mistrust on COVID-19 testing and vaccine uptake along with HIV prevention and care outcomes in transgender women of color," Duncan says. 
Adana Llanos, associate professor of epidemiology, is shining a light on cancer treatment disparities during the pandemic. In a recent study, she found that Black and Hispanic individuals with cancer have an increased risk of delayed or discontinued cancer treatment relative to white individuals with cancer, perpetuating the existing inequities in cancer care. Ongoing work seeks to better understand the patterns of care and outcomes in cancer patients who were infected with COVID-19 at some point during their treatment for cancer. "COVID-19 pandemic-related delays to care will likely worsen persistent inequities in cancer survival among groups already vulnerable to poorer outcomes," she says.  
Around the world, ICAP at Columbia continues to support the COVID-19 response, with medical equipment and logistical support, treatment centers, surveillance systems, and training for healthcare workers. Domestically, ICAP researchers have been conducting surveys of the effects of COVID-19 on older adults (SILVER study) and the experiences of being LGBTQ+ during the pandemic (LEXICON study). In ongoing work, ICAP is studying COVID-19 vaccine efficacy, and treatment, as well as leading further surveys and offering fellowship programs to support the next generation of public health workforce and researchers. ICAP director Wafaa El-Sadr is also co-lead of the New York City Pandemic Response Institute (PRI), which supports city agencies, organizations, and communities to prepare, respond, and recover from critical public health threats. "The pandemic isn't over, and it is crucial that we continue to understand its many impacts and strengthen the way we respond to it," says El-Sadr.  
With research on transmission modeling, the social determinants of health's impacts on COVID-19 vaccine and testing, and social determinants of health's impact on COVID-19 outcomes and barriers to seeking other medical services, Columbia Mailman faculty are leading the way in finding answers to COVID-19 related questions that still remain.