Adana Llanos, PhD, MPH
Associate Professor of Epidemiology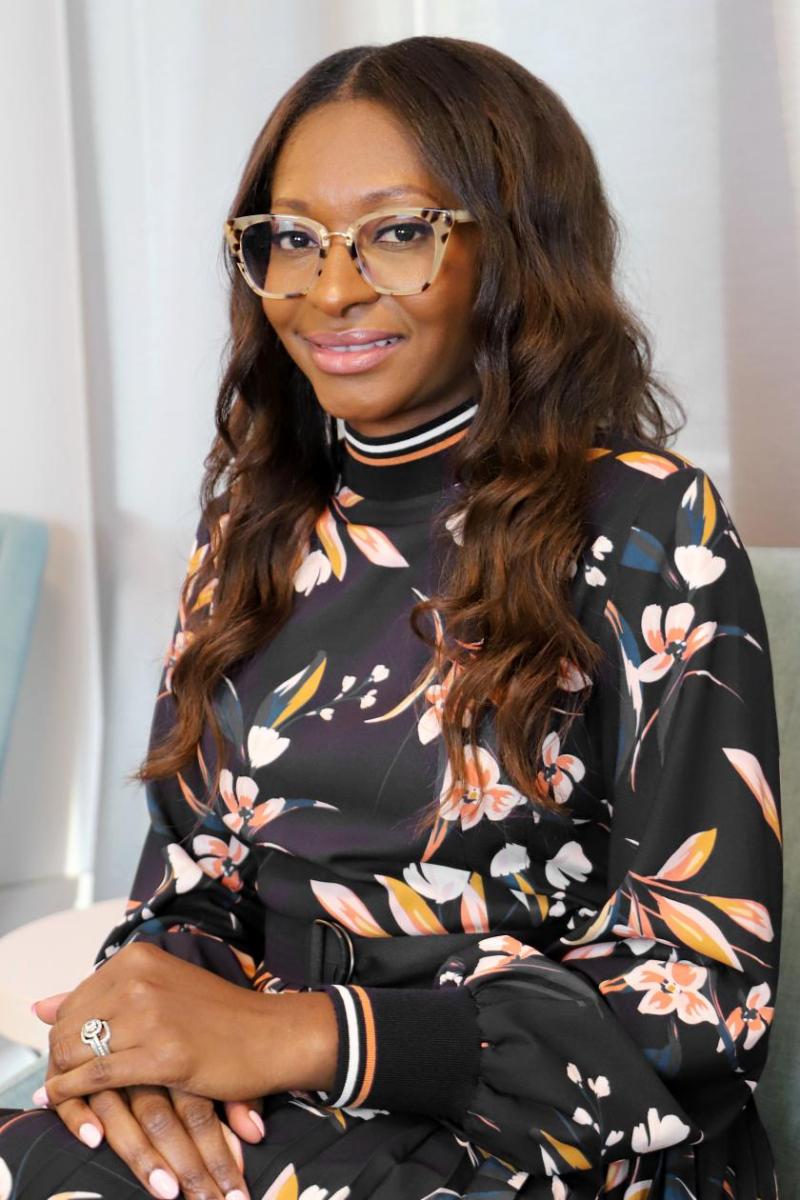 Overview
Adana A.M. Llanos, PhD, MPH (she/her) is a cancer and molecular epidemiologist and health equity scholar, whose multidisciplinary research program focuses on understanding the molecular and sociobiologic underpinnings of cancer outcomes inequities. As an independent investigator, her overall research portfolio – largely funded by the National Cancer Institute (NCI) and the National Institute on Minority Health and Health Disparities (NIMHD) – is based on strong multidisciplinary collaborations. Dr. Llanos brings unique training and expertise to the Department of Epidemiology. She received a BS in Biology and PhD in Genetics, completed 2-year postdoctoral fellowships, which provided interdisciplinary training in molecular epidemiology, cancer disparities, and community-based participatory research, and later received an MPH in Epidemiology. Dr. Llanos is driven by an immense desire to understand the causes of poorer cancer outcomes among vulnerable populations and to identify effective strategies to address these poorer outcomes that will move the needle towards greater health equity, both locally and globally.
Over the past 10+ years, Dr. Llanos has established a multidisciplinary research program that has three broad objectives: (1) understanding molecular and sociobiologic mechanisms that contribute to cancer inequities; (2) improving cancer survival among populations with a disproportionately high cancer burden; and (3) advancing the evidence linking chemical exposures in personal care products with hormone-related cancer risk and outcomes. In addition to her academic research, scholarship, teaching, and mentoring, Dr. Llanos is actively involved in service through engagement with various non-profit organizations whose mission includes providing timely public health advocacy, education and outreach, and cancer survivorship support, particularly organizations serving racial and ethnic minority and medically underserved communities.
Academic Appointments
Associate Professor of Epidemiology
Administrative Titles
Member, Cancer Population Science (CPS) Program, Herbert Irving Comprehensive Cancer Center
Member, NIEHS Center for Environmental Health in Northern Manhattan
Credentials & Experience
Education & Training
BS, 2004 Howard University
PhD, 2009 Howard University
MPH, 2013 Ohio State University
Fellowship: 2011 Lombardi Comprehensive Cancer Center, Georgetown University
Fellowship: 2013 Ohio State Comprehensive Cancer Center
Committees, Societies, Councils
Cancer and Hematologic Disorders (CHD) Study Section, NIH
African-Caribbean Cancer Consortium (AC3)
American Association for Cancer Research (AACR)
American Public Health Association (APHA)
American Society of Preventive Oncology (ASPO)
American Society of Clinical Oncology (ASCO)
Editorial Boards
Current Epidemiology Reports
Frontiers in Endocrinology
JCO Precision Oncology
Behavioral Medicine
BMC Women's Health
Honors & Awards
Emerging Scholar, Diverse: Issues in Higher Education
Minority Faculty Scholar Award, American Association for Cancer Research
Buckeyes Under 40 Award, Ohio State University Black Alumni Society
Research
Research Interests
Cancer
Chronic disease
Community Health
Disparities/Inequalities in Health
Environmental Health
Genetics
Global Health
Research Design and Methods
Women's health
Selected Publications
Ojuka D, Ashrafi A, Muthoni MA, Njoki N, Eric H, Marilynn O, Faith AB, Beth WG, Nyakio M, Odero-Marah V, Ragin C, Llanos AAM. Delayed breast cancer presentation, diagnosis, and treatment in Kenya. Breast Cancer Res Treat (in press).
Llanos AAM, Rockson A, Getz K, Greenberg P, Portillo E, McDonald JA, Teteh DK, Villasenor J, Lozada C, Franklin J, More V, Rivera-Núñez Z, Kinkade CW, Barret ES. Assessment of Personal Care Product Use and Perceptions of Use in a Sample of US Adults Affiliated with a University in the Northeast. Environ Res 2023; 236(Pt 1):116719. PMID: 37481059.
Llanos AAM, Ashrafi A, Ghosh N, Tsui J, Lin Y, Fong AJ, Ganesan S, Heckman CJ. Evaluation of Inequities in Cancer Treatment Delay or Discontinuation Following SARS-CoV-2 Infection: Findings from the ASCO Registry. JAMA Netw Open 2023;6(1):e2251165. PMID: 36637818.
Rao R, McDonald JA, Barrett ES, Greenberg P, Teteh DK, Montgomery S, Qin B, Lin Y, Hong CC, Ambrosone CB, Demissie K, Bandera EV, Llanos AAM. Associations of hair dye and relaxer use with breast tumor clinicopathologic features: findings from the Women's Circle of Health Study. Environ Res 2021 Aug 11;203:111863. PMCID: PMC8616798.
Llanos AAM, Aremu JB, Cheng TD, Cespedes Feliciano EM, Yao S, Lin Y, Omene C, Khoury T, Hong CC, Ambrosone CB, Bandera EV, Demissie K. Greater Body Fatness is Associated with Higher Protein Expression of LEPR in Breast Tumor Tissues: A Cross-Sectional Analysis in the Women's Circle of Health Study. Front Endocrinol. 2022;13:879164. PMCID: PMC9277012.
Plascak JJ, Beyer K, Xu X, Stroup AM, Jacob G, Llanos AAM. Association Between Residence in Historically Redlined Districts Indicative of Structural Racism and Racial and Ethnic Disparities in Breast Cancer Outcomes. JAMA Netw Open. 2022;5(7):e2220908. PMCID: PMC9270695.
Llanos AAM, Yao S, Singh A, Aremu JB, Khiabanian H, Lin Y, Omene C, Omilian AR, Khoury T, Hong C, Ganesan S, Foran DJ, Higgins MJ, Ambrosone CB, Bandera EV, Demissie K. Gene expression of adipokines and adipokine receptors in the breast tumor microenvironment: associations of lower expression with more aggressive breast tumor features. Breast Cancer Res Treat 2021;185(3):785-798. PMCID: PMC7925351.
Qin B, Babel RA, Plascak JJ, Lin Y, Stroup AM, Goldman N, Ambrosone CB, Hong CC, Bandera EV, Llanos AAM. Neighborhood social environment factors and breast cancer subtypes among Black women. Cancer Epidemiol Biomarkers Prev 2021;30(2):344-350. PMCID: PMC7867587.
Llanos AAM, Lin Y, Chen W, Yao S, Norin J, Chekmareva MA, Omene C, Cong L, Omilian AR, Khoury T, Hong CC, Ganesan S, Foran DJ, Higgins M, Ambrosone CB, Bandera EV, Demissie K. Immunohistochemical analysis of adipokine and adipokine receptor expression in the breast tumor microenvironment: associations of lower leptin receptor expression with estrogen receptor-negative status and triple-negative subtype. Breast Cancer Res 2020;22(1):18. PMCID: PMC7014630.
Xing CY, Doose M, Qin B, Lin Y, Plascak JJ, Omene C, He C, Demissie K, Hong CC, Bandera EV, Llanos AAM. Pre-diagnostic allostatic load as a predictor of poorly differentiated and larger sized breast cancers among Black women in the Women's Circle of Health Follow-Up Study. Cancer Epidemiol Biomarkers Prev 2020;29(1):216-224. PMCID: PMC6954339.