Environmental Health Sciences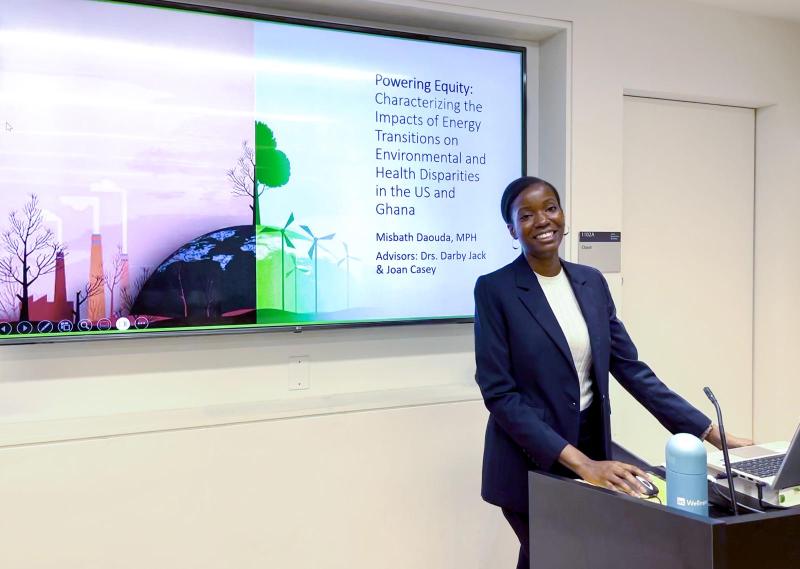 The PhD degree in Environmental Health Sciences is designed to train professionals for advanced basic research, teaching, and leadership positions in environmental health sciences. A small student-to-faculty ratio and dedicated, world-class faculty provide ample opportunity for PhD candidates to work on multidisciplinary collaborative research projects. This degree program is supported by the NIEHS T32 Combined Training Program and other funding sources.
The Department of Environmental Health Sciences is also home to three research centers: the Columbia Center for Children's Environmental Health, the NIEHS Center for Environmental Health and Justice in Northern Manhattan, and the Columbia University Northern Plains Superfund Research Program. Doctoral students work closely with faculty on laboratory-based and applied investigations to better understand the molecular and pathological mechanisms by which environmental chemicals and physical agents affect human health.
The faculty's collaborative research spans the Columbia campus and extends beyond the university. Projects abroad, such as those in Bangladesh, China, and Kenya, provide many opportunities for students to be involved in international research, ranging from molecular epidemiology to genetics to neurotoxicology.
Full funding is available for all PhD candidates. As teaching is considered an important aspect doctoral student training, all PhD candidates serve as Teaching Fellows and collaborate annually with a faculty member on a course taught to Master's of Public Health students. Candidates obtain research experience by fulfilling up to three rotations with members of the training faculty.
Applicants can select a focus in one of four areas: 1) Exposure Science and Environmental Epidemiology, 2) Environmental Epigenetics and Molecular Mechanisms, 3) Environmental Prevention and Mitigation, or 4) Climate and Health.
Admission Requirements
Applicants should be committed to public health research and practice. Past research or work experience relevant to environmental health sciences is viewed favorably, as is diversity in terms of gender, race and ethnic background, and areas of interest or expertise.
Strong oral and written communication skills, as well as a strong background in biology, biochemistry, environmental sciences, or other life sciences, and mathematics (e.g., calculus and statistics) are strongly recommended.
In addition to the requirements listed below, all students must submit an official transcript from each prior institution, a statement of academic purpose, and three letters of evaluation from academic sources. All international students whose native language is not English or whose undergraduate degree is from an institution in a country whose official language is not English must submit Test of English as a Foreign Language (TOEFL) or IELTS scores.
Deadline for Fall Admission: December 1
Deadline for Spring Admission: No spring admission
Resume/CV: Yes
Writing Sample: Yes*
GRE General: Optional 
GRE Subject: No
*The writing sample should be a paper of which the applicant is an author or co-author, focused on a health-related topic. If the applicant does not have a publication, the writing sample can be a paper written for an undergraduate or graduate science course.
Learn More
View competencies, course requirements, sample schedules, and more in our Academics section.
Contact