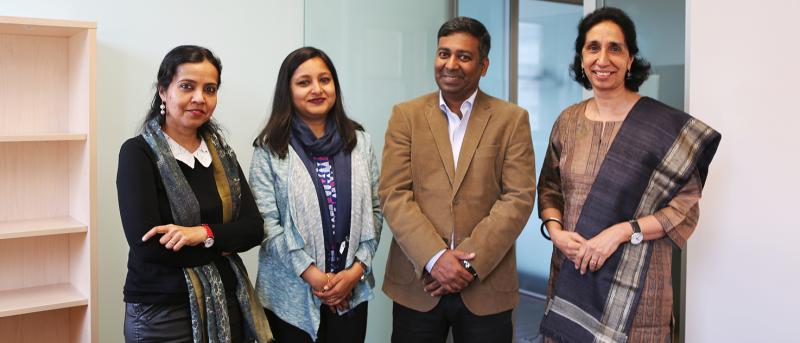 Hamied Fellowship Program Forges Links to India
An ongoing research exchange between faculty at the Columbia Mailman School and scholars in India is laying the groundwork for a series of innovative public health collaborations. The Yusuf Hamied Fellowship Program, supported by the celebrated Indian scientist and pioneering business leader, is stimulating research partnerships that address key public health challenges in India.
This April three Hamied Fellows from India were in residence at Columbia Mailman to meet with faculty and students, and present their research on topics from environmental and mental health to access to medicines. In the coming months, four Columbia Mailman Hamied Fellows will travel to India to pursue their own research projects. At least one student will also take part in the research exchange.
Yusuf K. Hamied, a member of the Columbia Mailman Board of Overseers, is known around the world for making anti-retroviral drugs affordable to millions of patients in African countries ravaged by HIV/AIDS. As chair of the family-owned Cipla, India's oldest pharmaceutical company, he also pioneered the development of multi-drug combination pills for HIV, tuberculosis, asthma, and other ailments chiefly affecting developing countries.
"The design of the Hamied Fellowships Program is facilitating extensive networking and promoting rich collaborations," said Gary Miller, Vice Dean for Research Strategy and Innovation at Columbia Mailman. "I am certain that this initiative will evolve into a series of outstanding research projects that will be mutually beneficial to India and the U.S."
In March, Miller delivered a Hamied Distinguished Lecture at the Columbia Global Center in Mumbai—a key partner in the fellowship program—on the topic of environmental determinants of global health. Last week, K. Srinath Reddy, president of the Public Health Foundation of India, gave the inaugural Columbia Mailman Hamied Distinguished Lecture at the School in which he argued to a standing-room-only audience that public health is the bridge to understand and solve some of the biggest challenges in India and the world.
Access to Medicines
The Hamied program pairs Indian and U.S. faculty with mutual interests so that they can build off each other's research questions. Access to medicines is a shared interest of Hamied Fellows Habib Farooqui, associate professor at the Public Health Foundation of India, and Bhaven Sampat, Columbia Mailman associate professor of health policy and management.
Farooqui is currently studying the use of antibiotics in India, something he says is not uniform across the country. Many low-income Indians lack access to the drug; by contrast, those in the middle class often use more powerful antibiotics than required, leading to an uptick in antimicrobial-resistant infections. In New York, the researcher attended two conferences, one organized by the Department of Health Policy and Management and another by the Columbia Precision Medicine Initiative.
"I'm grateful to the Mailman School and the Dr. Hamied Foundation for the opportunity to work with some of the best brains here at Columbia, including Dr. Bhaven Sampat, who is one of the stalwarts in public health," said Farooqui, noting that the two of them had discussed a comparative study of the Indian and U.S. health systems.  
"It has been great to get to know Habib over the past few weeks," said Sampat, a health economist interested in the effects of the globalization on drug access in India. "We have been thinking about ideas for joint courses and research."
Environmental Health
India Hamied Fellows Surinder Jaswal and Aditi Roy are each concerned with the connections between the environment and health. Jaswal is Professor and Deputy Director (Research) of the Tata Institute of Social Sciences where she is also Dean of the School of Research Methodology. She studies the effects of climate change on the mental health of urban migrant populations. Roy, a research scientist at the Public Health Foundation of India, examines the effects of air pollution on childhood development.
The two researchers enjoyed the opportunity to meet with Columbia Mailman faculty and students with whom they found resonant research synergies. Jaswal, a social scientist, became familiar with the work of Professors Mary Beth Terry, Jasmine McDonald, Ezra Susser, and postdoctoral scientist Robin Richardson, while Roy got to know the work of Professors Lynn Freedman, Frederica Perera, and Virginia Rauh. Roy is in the process of recruiting an MPH student to conduct a literature review as part of a collaboration with Max O'Donnell, assistant professor of medicine and epidemiology at the Columbia University Irving Medical Center.
Roy called her time at Columbia "a wonderful experience" that allowed her to network with other scientists on a critical public health challenge globally. "I think we have a great opportunity for longer-term collaborations," she said.
Also pursuing environmental health research are Columbia Mailman Hamied Fellows Mary Beth Terry and Jasmine McDonald. The two Epidemiology faculty will be examining the connection between air pollution and risk for breast cancer in India, which has one of the world's highest rates of Triple Negative Breast Cancer, the disease's most aggressive form. A fourth Columbia Hamied Fellow, Elena Ladas, who is the Sid and Helaine Lerner Associate Professor for Global Integrative Medicine, recently gave a workshop at the Columbia Global Center in Mumbai on the development of nutrition guidelines for children and adolescents with cancer.
Serving as faculty director of the Hamied Program is Kavita Sivaramakrishnan, a historian and health policy expert. Sivaramakrishnan, who is an associate professor of sociomedical sciences, worked for several years in the public-private health sector in India and has longstanding research collaborations with academic colleagues and NGOs across India in areas of aging in society, chronic disease politics, and the making of environmental risks. Her past experience in setting up academic collaborations while working for Public Health Foundation of India has informed her leadership of the Hamied Program. Currently, she is leading a Presidential Innovation Grant-funded study to examine intergenerational interactions in urban slums of Mumbai.
In her estimation, research collaborations across contexts are always a win-win. "The Hamied Program," said Sivaramakrishnan, "is blazing trails for research that will be beneficial for researchers both here at Columbia Mailman and in India, forging connections that promise to make a difference on any number of critical health challenges."
The Yusuf Hamied Program is funded to continue through 2023. Columbia Mailman faculty interested in applying this fall to be fellows in 2020 may email Caitlin Hawke at cmh2197@columbia.edu who is leading the administration of the program.