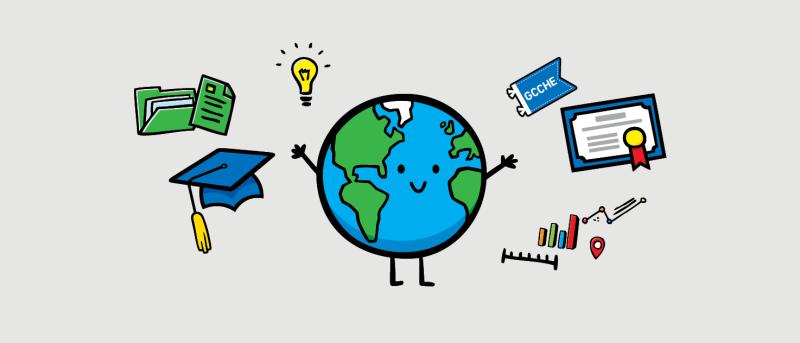 Global Consortium on Climate and Health Education Expands Competencies
The Global Consortium on Climate and Health Education (GCCHE), an international forum for developing curricula related to the health impacts of climate change, has announced an expanded set of key competencies for students of public health, nursing, and medicine. 
The result of lessons learned from the ongoing COVID-19 pandemic, the expanded competencies include added information on racial and ethnic disparities in health and the social and environmental determinants of health that make individuals and communities more vulnerable to climate-related health threats, as well as the importance of environmental justice and building resilience at individual, local, and global scales. The competencies now also include information on the connection between habitat and biodiversity loss and infectious diseases, and more on communicating climate and health information, and identifying ways to engage in interdisciplinary and collaborative climate response.
"The COVID-19 pandemic has shed light on global health vulnerabilities relevant to another ongoing global crisis—our rapidly warming climate," says Jeffrey Shaman, PhD, faculty director of GCCHE, and director of the Climate and Health Program and environmental health sciences professor at the Columbia Mailman School. "Human-driven destruction of ecosystems likely raises the risk of pandemics and may have played a role in the emergence of COVID-19. The pandemic also lays bare the social and environmental inequities that make people of color more vulnerable to health crises like COVID-19 and climate change."
The GCCHE educational recommendations aim to expand the number of health professionals equipped to recognize and respond to the health challenges of a warming climate, including deadly heatwaves, flooding, air pollution, and wildfires; greater spread of disease vectors like ticks and mosquitos; and growing food and drinking water insecurity.
The expanded competencies are organized to be more user friendly so educators can build content for students. The revised competencies were developed by the GCCHE Coordinating Committee and build on those originally published in 2018.
The Global Consortium on Climate and Health Education
The Global Consortium on Climate and Health Education (GCCHE) was launched in 2017 by faculty at Columbia University Mailman School of Public Health with the vision that all health professionals throughout the world will be trained to prevent, mitigate, and respond to the health impacts of climate change. To advance progress toward this goal, GCCHE created a virtual town square across all health professions by bringing together member institutions to share best scientific and educational practices; develop global standards for knowledge and practice on the health impacts of climate change that all graduates of health professions schools should possess, as well as share resources that member institutions can use for this purpose; build a pipeline of health professionals who focus their work on the health impacts of climate change; and support the development of global academic partnerships to foster mutual learning, particularly in under-resourced countries. GCCHE currently includes over 200 member institutions in over 30 countries on six continents, representing institutions with over an estimated 150,000 students. Representatives of health professions schools are invited to join GCCHE here.