Climate Resources for Health Education Initiative
Welcome to the Cliamte Resources for Health Education Initiative (CRHE)!
There have been increasing calls to include climate change in medical curricula. To our knowledge, there is no comprehensive resource available to medical student and residency programs that (1) guides how to implement an undergraduate medical curriculum on climate and health, (2) provides high-quality and expert-reviewed curricular materials that can be integrated into pre-existing residency curricula, and (3) invites interested trainees to build and share new content. 
A new collaboration of medical students, residents, and faculty at the Global Consortium for Climate and Health Education (GCCHE), Brigham and Women's Hospital (BWH), Massachusetts General Hospital (MGH), University of California San Francisco (UCSF), and Emory University School of Medicine is working to fill this gap.
Students will write Problem Based Learning (PBL) cases and residents will create slides to incorporate climate-health concepts into existing medical curricula. Medical students and residents will be paired with a faculty mentor to guide the content development. These products will then be reviewed by experts in the field.
Get Involved
If you are a student, resident, or faculty interested in participating developing this resources bank:
Watch the CRHE Orientation Video to get aquainted with our program, process, and materials
Questions can be directed to climateresourceshealthed@gmail.com.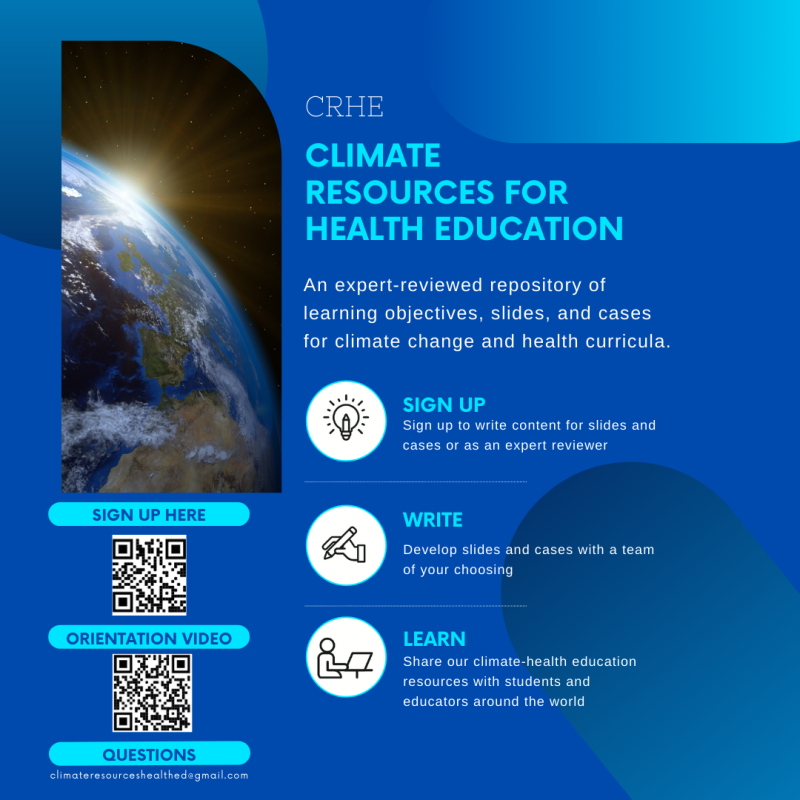 Learn More
Become a Member of the Global Consortium on Climate and Health Education Contact us for more information.
Join