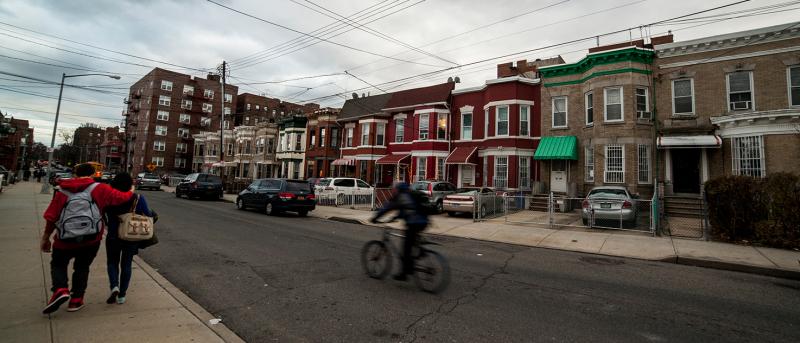 Study Examines Resilience of Immigrant Youth in Various Living Arrangements
A new study is the first to examine the resilience and emotional well-being of adolescent migrants from Latin America who came to the U.S. as unaccompanied minors, with special attention to the impact of household composition. The majority of youth interviewed for the study were resilient without signs of problematic emotional health, despite past exposures to violence and limited access to schooling. However, resilience and psychological well-being were lower in households in which youth did not live with family members and had no family member support.
The study was led by researchers at Columbia University Mailman School of Public Health. The findings are published in the Journal of Migration and Health.
The researchers conducted confidential interviews with 46 immigrant adolescent youth who had migrated overland from Latin America to the U.S through the U.S. Southern border as unaccompanied minors and had resettled in New York City,  where they were living in a variety of living arrangements: with parents,  with other family members (but not parents), or without any family members. They were recruited to the CAMINANDO study through three NYC community-based organizations offering services to migrant teens. All youth had been exposed to violence and came to the U.S. from households with limited financial resources.
Across the three resettlement household types, youth expressed desire to find better opportunities in the U.S. and highlighted the importance of finding support from adults—and for the group of youth who attend school—having supportive teachers and counselors. All groups experienced similar levels of life satisfaction.
Youth living with parents said they could rely on their parents to cover their basic needs and provide advice that empowered them to focus on their goals and to cope with daily hassles, possibly enhancing their outlook on life. On the other hand, these youth were more likely to experience a problematic level of perceived stress—potentially due to the challenges of readjusting to new family dynamics after separation. This group expressed greater interest in pursuing higher education, potentially influenced by a younger age of entry into the U.S. education system, their parents' having migrated before them, and the higher prevalence of females in the group (generally, females express more interest in higher education than males).
Youth living with siblings or other relatives saw them as parental figures and seemed to benefit from these relationships through material support and in navigating the challenges of a new country, establishing friendships through their siblings and other relatives, and coping with the loss of what they left behind. Compared to other groups, this group was more likely to have good friends and lower perceived stress.
Youth living without family were less likely to express positive affect, had less resilience, and needed to expend greater efforts to mobilize social supports compared to those living with family members. Youth who left their family behind and did not live with relatives in the U.S. were more likely to express feeling lonely, in part because they lacked a caretaker. They relied on support from other youth like them and sometimes from older immigrant co-workers. Youth living in shelters or communal living found support from staff and counselors.
Manuela Orjuela-Grimm, MD, study first author and assistant professor of epidemiology (and pediatrics) at Columbia Mailman School: "The lives of unaccompanied minor migrants living in the U.S. doesn't fit a single mold. Their emotional health and resilience are shaped by their US living arrangements, especially by the presence of parents and other family members who provide social support. Our study is unique in its ability to interview youth not living with parents, and especially to be able to include the voices of youth who are not in school, as these groups have been excluded from prior studies on migrant youth. Understanding the impact of living arrangements can guide the development of programs and resources to better meet their needs and support their healthy development." 
Study co-authors include Silvia Bhatt-Carreño, Maria Castro, Hector Pinilla, Daniela Rodriguez, Ambar Ruiz, Michelle Valentin, Arielle Richey Levine, Rossmary Gonzaleza, Marisa Zuleta, Marisa Pharel, and Paola Medina, in the Migration and Nutrition Epidemiology (MaNE) group at Columbia Mailman; Alexandra Restrepo Henao at Columbia Mailman and the Universidad de Antioquia in Colombia;  Maria Marti Castaner at the Danish Research Center for Migration, Ethnicity, and Health, University of Copenhagen; and Roberto Lewis-Fernández at New York State Psychiatric Institute.
The authors declare that they have no known competing financial interests or personal relationships that could have appeared to influence the work reported in this paper.
Funding for the study was supported by the Eunice Kennedy Shriver National Institute of Child Health and Human Development (grant P2CHD058486), awarded to the Columbia Population Research Center, Columbia University Global Mental Health Council Grant 2019-02, the Institute of Latin American Studies (ILAS) at Columbia University, and the Oak Foundation. The content is solely the responsibility of the authors and does not necessarily represent the official views of the National Institutes of Health or other funders.