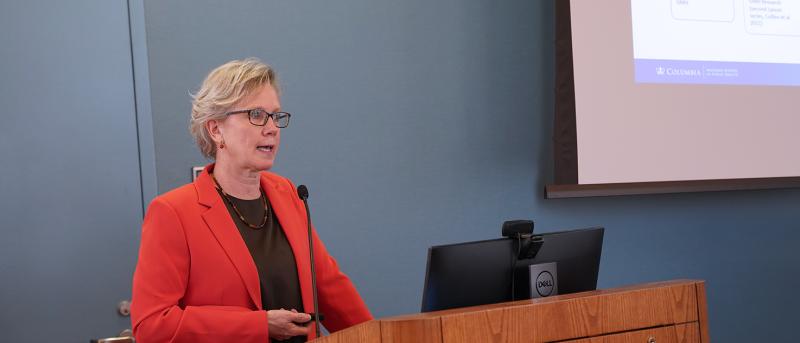 School Launches Interdisciplinary Global Mental Health Program
Columbia Mailman School has long been a leader in the study of population mental health, and its faculty have contributed decades of research on mental health around the world. Now, a new schoolwide program named GMH@Mailman (Global and Population Mental Health) will be the nexus of these research efforts and a catalyst of new interdisciplinary collaborations and educational programming with a special focus on prevention and health equity.
The October 10 launch event for GMH@Mailman took place on World Mental Health Day and was the first in a full schedule of Public Health Equity Week programming at the School.
In introductory remarks, Dean Linda P. Fried said global mental health is one of several critical areas of growth for the School's second century, with other areas that include climate change, obesity and chronic diseases, healthy longevity, food systems, and pandemic prevention. With support from the School's Centennial Grand Challenges awards, two interdisciplinary research projects that focus on global mental health are already underway. These research efforts, one of which focuses on migrants in Ecuador and the other on the migration experience of Afghan refugees, will serve as a template for future collaborations in global mental health.
"We know that this work will bring together faculty, staff, and student leaders across departments to generate the evidence we need for innovative public health approaches to promoting mental health, creating population resilience in the face of stressors, translating science into impactful population-based policies and strategies, and building the future leadership for our field," said Dean Fried.
Kathleen J. Sikkema, Stephen Smith Professor and Chair of Sociomedical Sciences, leads GMH@Mailman. The vision of the initiative, she said, is to position public health to "play a prominent role in understanding social determinants of mental health and developing and implementing interventions that address treatment and prevention." GMH@Mailman, which comes at a time of growing attention to global mental health, especially in the wake of the COVID-19 pandemic, will foster equitable partnerships and projects that address structural factors that shape mental health, including poverty and racism.
Ezra Susser, professor of epidemiology and psychiatry, added that global research partnerships must be "locally inspired and implemented" and U.S.-based researchers must take care to be "culturally congruent with the locale and compatible with local resources." He said these efforts should take a position of "decoloniality" that recognizes and redresses power imbalances between investigators in the U.S. and those in low- and middle-income countries.
A cross-departmental panel discussion between five faculty members and researchers echoed themes introduced by Sikkema and Susser. Kate Lovero, assistant professor of sociomedical sciences, noted how the definition of mental health has shifted from one that centers on illness to one that incorporates well-being, helping open the door to research on prevention. Despite this progress, Claire Greene, assistant professor of population and family health, noted that the burden of mental illness remains high, although efforts that target the social determinants of mental health may pay dividends. Alejandra Paniagua-Avila, a physician and DrPH candidate in epidemiology, spoke about her own work researching connections between the mind and body. Bob Fullilove, professor of sociomedical sciences and Associate Dean for Community and Minority Affairs, touched on the potential of interventions to prevent post-incarceration stress disorder and reduce recidivism. Jeremy Kane, assistant professor of epidemiology, spoke to ways to achieve more equitable collaborations with international partners in line with the goal of decoloniality outlined by Susser.
Kane also underlined the potential of interdisciplinary collaborations in an evolving field. "What we think of as global mental health is a lot different than what it was thought of twenty years ago or ten years ago or even five years ago. The field is expanding rapidly and appropriately, and we need expertise from many different fields."