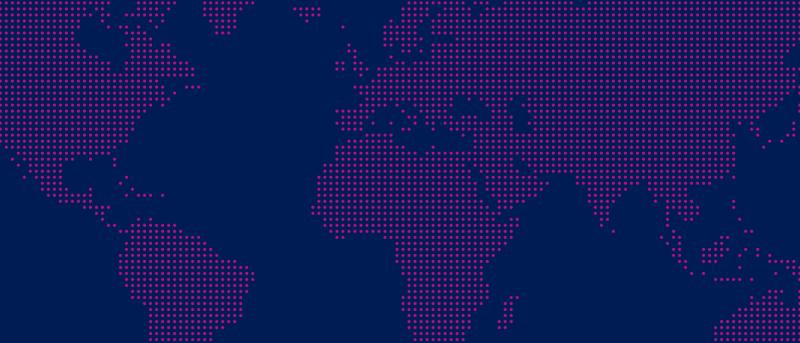 Righting the World's Wrongs
The new Global Health Justice and Governance program takes aim at the seemingly intractable problems that threaten women, girls, and other marginalized populations internationally and at home.
In January 2017, when U.S. President Donald J. Trump signed a memorandum reinstating and expanding the so-called "Mexico City policy" that barred U.S. global health assistance for organizations that perform abortions or even discuss it as an option, the action changed lives a world away from Washington.
Girls and women across Africa, Latin America, and South Asia who are pregnant as a result of sexual violence, for example, face one of three certain outcomes as a result: death in childbirth, common among the youngest pregnant adolescents; or death from septic shock after an unsafe abortion (a leading cause of maternal mortality). Option three? Parenting a child born out of rape.
"We have all the evidence in the world that unsafe abortion kills women and girls, but access to abortion is about politics and power," says Terry McGovern, JD, chair of the Heilbrunn Department of Population and Family Health. Her commitment to a human rights-focused approach to protect the health of vulnerable populations without power, on issues ranging from abortion to fracking to gender-based violence to food insecurity, led McGovern to found the School's new Global Health Justice and Governance (GHJG) program, which was launched in October 2018.
At a time when health inequities continue to grow; when human rights have come under renewed threat at home and abroad; and when climate change poses ever-greater challenges, McGovern, a veteran human-rights lawyer, believes that questions about laws, public policies, and governance systems—questions such as "Who makes the rules?" "For whom?" and "Based on what?"—must stand at the center of public health research and programs. If we fail to address such underlying systemic injustices, protecting and improving health will remain intractable challenges. GHJG focuses on advancing environmental, reproductive, and food justice, with a particular emphasis on how gender affects justice. It is the world's poor and otherwise marginalized who most suffer the fallout of the growing perils. "We know that environmental degradation is killing people," McGovern says. "We know that lack of access to sexual and reproductive healthcare prevents girls and women from leading healthy lives. So why are we unable to disrupt these injustices?"
By integrating the work of Columbia experts in public health, law, science, and public policy, and partnering with the communities it serves, the new program aims to do just that. Students from Columbia Mailman School and Columbia's Law School and School of International and Public Affairs, among other schools, will collaborate with grassroots organizations and other local partners, including activists and community health organizations. "We are providing a multidisciplinary approach that prioritizes community partnership to address and remedy the complex interplay of global and local governance around health," says Marta Schaaf, MPH, DrPH, who earned her MPH and doctorate from the Columbia Mailman School and who has worked with global NGOs for more than a decade. Adds McGovern, "We combine traditional public health approaches with law, policy development, and broad partnership to address the structural causes and political determinants of poor health outcomes. We tackle the interplay of various forces that result in injustice. These may be corruption, lack of governance, or discriminatory governance." The timing is right: There is increasingly more appetite within the global health establishment to acknowledge the role of governance as a determinant of health.
There is no shortage of U.S. policies that adversely affect health around the globe. For women and girls, however, the Trump administration's version of the Mexico City policy, also known as the expanded global gag rule, is particularly devastating. GHJG was not yet a formal entity in 2017, when McGovern launched an ambitious and ongoing study to look at the impact the rule was having on people's lives. Working with partners in Kenya, Madagascar, and Nepal, GHJG researchers have determined that the global gag rule significantly limits health providers' ability to deliver quality healthcare to women, and hinders debate and collaboration around abortion and other sexual and reproductive rights. "The gag rule was thrown on top of an already bad situation, since some people—both practitioners and patients— didn't realize that abortion is legal in many contexts in the first place," says McGovern. "So the gag rule has just increased fear around giving women and girls access to it. The impact has been ferocious at the global level. It's almost like abortion is not spoken about anymore. And this is completely contrary to what is good public health."
In Madagascar, the nonprofit Marie Stopes International (MSI), which promotes reproductive and sexual health, lost U.S. funding and was forced to close a family-planning voucher program that had delivered contraceptive counseling and care to women and adolescents living in poverty. In addition, 22 MSI outreach teams—often the only source of care for remote populations—are at risk. The Columbia Mailman School researchers will work with in-country partners over the coming months to try to find alternative ways of providing access to sexual and reproductive care.
Emily Maistrellis, MSc, senior program officer for GHJG, observes that sometimes providers lack information about what the global gag rule allows or are misinformed about the details, including by U.S. government employees. In Nepal, for instance, several staff members of an organization that complied with the rule shared with Columbia Mailman School researchers that they had been told by U.S. personnel that they could not hire any staff who had previously undergone an abortion. The actual rule says no such thing. A worker at a Nepalese health facility that declined to sign the rule reported, "If we bought a pen under U.S. funding, we would not be allowed to write a word related to safe abortion while using this pen," which is a faulty interpretation of the rule.
The GHJG team is looking beyond the near-term impacts of the global gag rule. Latanya Mapp Frett, JD, an adjunct assistant professor at the School who worked with McGovern to establish the project in Kenya, stresses the importance of documenting the rule's repercussions in a systematic way, so as to make lasting change at the national and international levels. "The early indication is, not only is it a bad policy on its face, but it has also resulted in serious negative outcomes for women around the world," says Mapp Frett, who recently became president and CEO of the San Francisco-based Global Fund for Women, which supports women-led groups fighting for justice in their communities. Comparable rules, she points out, have been repeatedly imposed and rescinded as the presidency has swung from Democratic to Republican. "If we're going to stop this ping-pong with the global gag rule, we have to outlaw it," she says when asked about the ideal outcome of the GHJG research initiative. "Because otherwise, every president that comes in will decide, on his or her whim, whether or not they want to have such a policy."
Among other GHJG projects underway is one focused on reducing the global epidemic of gender-based violence. In June, McGovern and Schaaf returned from Kisumu, in western Kenya, where they'd helped place two Columbia students, one each from law and public health, at a clinic focused on helping victims of violence. (The project, a partnership with ICAP, was paid for by Columbia University's President's Global Innovation Fund.) "We're taking a hard look at what programs to combat gender-based violence are being financed and what their impacts are," in particular where the law is concerned, says McGovern. They start by asking, What are donors supporting? For funders, it can be easier and less thorny to give to an organization that applies a bandage to a problem rather than to an NGO working to change deep-seated political issues that enable victimization.
The GHJG team will also evaluate how efforts are being judged a success or a failure. It's very possible, McGovern says, that the evidence standards currently being used to greenlight funding for some NGO work make it almost impossible for programs that are complex or very locally tailored to gain a foothold. "It seems like we're constantly repeating over and over some of the same mistakes as we try to make a lasting impact," says Mapp Frett. "I think what slows us down is our inability to point to the most effective ways to make an impact. Better research and documentation of what is happening in the field, and how that relates to policy, can help us help groups that are fighting for change to move public health work to the next level."
"A lot of the standards around how you prove something works are perhaps too simple, or misapplied," says McGovern. For instance, it could be that an indigenous women's group has come up with an appropriate method for solving a problem related to gender-based violence, but because of the group's small size or remote location, it has not been able to access support for its work. Depending on what they find, the GHJG team will propose changes to the evidence standards that funders use to determine success—an adjustment that could ultimately determine what programs secure resources.
In addition to its efforts in Kenya, Madagascar, and Nepal, the GHJG team is also examining justice and governance issues in Tunisia and Lebanon, where Goleen Samari, MPH, PhD, who joined Columbia Mailman School as an assistant professor in the Population and Family Health department in November 2018, is examining which NGOs work to address gender-based violence and what outcomes they have had.
GHJG's environmental work already is far-reaching, with legal researchers helping to address the fallout of fracking on disenfranchised American communities and inquiries underway as to how indigenous populations living near industrial contaminants are affected and might seek justice. As part of GHJG, Jeffrey Shaman, PhD, professor and director of Columbia Mailman School's Climate and Health Program, has begun collaborating with McGovern's team on issues such as the interaction between climate change and forced migration. "With sea level rise, island nations such as Kiribati, in Micronesia, are going to disappear," Shaman says. "What does that mean for its people? The international community doesn't have the appropriate treaties in place to handle such situations." As GHJG considers what legal and accountability frameworks might be established in order for governments to address this, Shaman helps provide expertise on the science. Justice issues also will come into play as extreme weather events proliferate, he notes. Intense flooding could lead to more contaminants being leached into water supplies, for example, with likely disparities in the communities impacted. "We need to understand that there's going to be enormous social inequity," Shaman says, "and that it's going to move along economic and racial lines based on the exposures of those groups." While still in the very early stages of development, the food program will likely also focus on the connection between climate change and access to food, and on women's role in food production.
"This is a really important time to implement multidisciplinary approaches that put human rights and justice front and center," says McGovern, who is optimistic about the program's potential for impact. Recalling her early days working with HIV-positive women who could not access treatment because AIDS was then defined as a male disease, she describes how she teamed with female doctors, nurses, lawyers, and public health experts to take on and permanently change the system. What those women taught her, she says, "was the strategic deployment of rage and love." Underpinning the strategy is science, and as GHJG's public health researchers ask key questions and uncover evidence about what works, they deploy that science in the service of health equity—with the aim of changing a whole lot more than hearts and minds.
---
Jocelyn C. Zuckerman is a Columbia University Graduate School of Journalism alumna. Her book about the palm oil industry, Planet Palm, will be published in 2020.