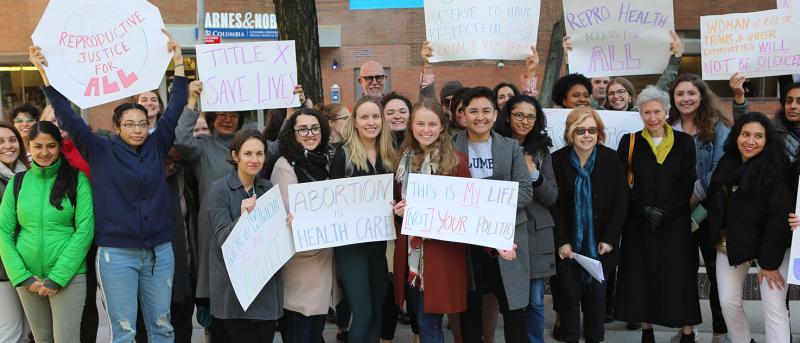 PopFam Launches Platform for Reproductive Justice
This Wednesday, the Supreme Court will hear arguments for June Medical Services v. Russo, the first abortion restriction case to come before the highest court since its conservative realignment. While individual states have chipped away at a women's right to choose, the result of the new Supreme Court case could begin to dismantle the federal right to abortion established by Roe v. Wade. 
In response to the Supreme Court case and other ongoing attacks on reproductive health, the Heilbrunn Department of Population and Family Health has launched Speak Evidence to Power, a platform to disseminate evidence-based perspectives on how obstructing access to reproductive health services is harmful to the health of Americans.
A November 6 rally outside the Columbia Mailman School served as an initial introduction of the initiative, as faculty and students from across the School shared their insights and expertise in support of reproductive justice. They spoke on the importance of access to reproductive health services; how restrictions on these services have affected women of color and other marginalized women, in particular; the lack of science on women's health; and the need to stand up in support of policies and funding for reproductive health.
This week, Speak Evidence to Power is formally launching with a new video that argues that public health researchers and practitioners must engage with the world under the framework that defines health as a human right. The goal of the initiative: provide accurate, research-based information to promote informed action on reproductive health matters. Featured speakers in the video include faculty members Terry McGovern, Lisa Bates, David Bell, and Micaela Martinez; postdoc Stephanie Grilo; and students Candice Charles, Maddie Medina, and Rocio Rodriguez Casquete.
Led by Terry McGovern, chair of Population and Family Health, with MPH student May Sifuentes and communications officer Margaret Kramer, the initiative is also informing audiences through regular blog posts and social media outreach.
"At a time when we're seeing intense pressure to restrict access to reproductive health services in the United States, it's crucial that we give voice to the research-based evidence in service of women's health," says McGovern. "Speak Evidence to Power is about holding our policymakers to account by bringing to bear the power of science and social justice."