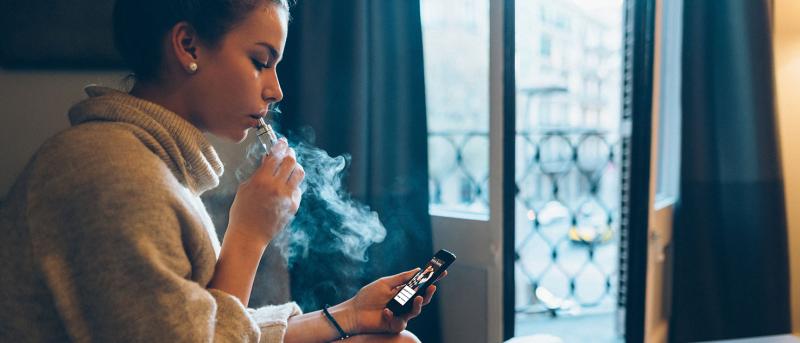 How Cannabis Vaporizer Brands Market Products to Young People on Instagram
A study by Columbia University Mailman School of Public Health researchers examines how cannabis vaporizer brands use Instagram to market their products by employing visuals that may appeal to young people and tagging popular musicians, social media influencers, and cannabis products to expand the brands' reach. Findings are published in the journal Drug and Alcohol Dependence.
Instagram has over 100 million monthly active users, with 25 percent between the ages of 13 and 24. In the United States in 2018, 72 percent of teenagers ages 13 to 17 said they used Instagram. Facebook (the company that owns Instagram) prohibits paid advertising of illegal, prescription, or recreational drugs; however, posts to brand pages and profiles, while frequently used for marketing purposes, are not subject to this policy.
The research was overseen by Daniel Giovenco, PhD, an assistant professor of sociomedical sciences at Columbia Mailman who studies social and environmental determinants of tobacco use disparities. Torra Spillane, MPH '17, a project coordinator in the Department of Sociomedical Sciences, conceptualized and spearheaded this study. Bryce Wong, MPH '19, previously a Lerner Center Research Fellow in Sociomedical Sciences, is a co-author.
The researchers performed a content analysis of Instagram posts uploaded between October 2017 and October 2018 by three popular cannabis vaporizer brands: Kandypens (731 posts), G Pen (454 posts), and Pax (71 posts). Posts had a wide reach, with a total of 467,700 followers across the brands, although reach may be wider as G Pen and Pax had public profiles with no age-verification process at the time of the study.
About a third of posts by the three brands tagged Instagram accounts of social media influencers or other individuals (34.3%); approximately the same portion of posts tagged other companies or their products (31.9%). Musicians (34.6%) and "cannabis influencers" (29.1%)—Instagram users with established relationships with cannabis brands who promote products through the platform—were the most common occupational identities in accounts tagged.
Two-thirds (68.0%) of posts depict someone using the product, although cannabis was rarely mentioned (8.9%) or depicted (10.0%) in posts. Few posts mention age restrictions (0.3%), health risks (5.2%), or health benefits (0.2%). Encouragingly, the three companies do not appear to be alluding to unfounded or weakly authenticated health claims about their products or cannabis consumption, a practice often employed by the recreational and medical cannabis industry.
Kandypens' website claims their products are for aromatherapy purposes, and the researchers found the brand's Instagram posts had few mentions of cannabis. However, the account frequently tagged users labeling themselves as cannabis influencers, suggesting that brands may indirectly promote themselves for use with cannabis in order to avoid regulatory oversight.
Visual Appeals to Young People
Three brands present themselves in different ways. Generally, G Pen posts images of musicians, video games, and youthful models in hip, urban settings. Pax presents upscale domestic images and relatively older models. Kandypens favors a retro "hippie" aesthetic with nearly all of its posts of young women, including sexualized images. (Kandypens requires users to report their age as over 18 to access its posts). Among the brands' Instagram posts that feature a person, 84 percent depict female users.
"Most cannabis users in the United States are men, so the widespread use of female models may indicate that cannabis vaping companies are attempting to reach to a broader audience, a strategy similar to those historically used by the tobacco industry," notes Spillane, the study's lead author.
Is More Regulation Needed?
The researchers write that Facebook could update its policies to include a mechanism for oversight and regulation of brand-owned pages that market cannabis and related products, including guidelines to protect the public's health, such as age-gating and information on consumer safety. Many states with recreationally legal cannabis restrict marketing practices including unfounded health claims, promotional activities, and youth targeting, although these rules do not restrict Internet marketing efforts, which might require federal policy action.
Spillane notes, "We'd like to see more research exploring cannabis marketing, including an expanded focus on the diversity of administration methods and substance forms. A better understanding of brand marketing can help inform relevant policies, educational interventions, and other initiatives that reduce population health risks and promote consumer safety."
Background on Vaping Cannabis
Vaping cannabis, which involves heating cannabis flower or concentrates to a vapor that users inhale, has recently gained mainstream popularity. Estimates of adults who have ever vaped cannabis range from 32 to 61 percent. Use is also high among young people, with research finding that almost half (44%) of adolescent cannabis users reporting lifetime cannabis vaping. Another survey found that past 30-day prevalence of cannabis vaping was 14 percent among high school seniors in 2019—a massive 86-percent increase over 2018.
Little research exists on the health effects of vaporizing cannabis, and evidence is mixed. Some experts express concern over high concentrations of THC in cannabis concentrates, dry herb, and other cannabis products that are frequently vaped, along with new additives, solvents, and flavor extracts that are largely unregulated. In 2019, cannabis vaping products, particularly those purchased from informal sources, were linked to an outbreak of lung injuries in the U.S.; vitamin E acetate, a thickening agent added to some THC vaping liquids, is thought to have played a major role. Conversely, vaping cannabis has been associated with fewer respiratory problems and may reduce exposure to smoke-related toxins and carcinogens when compared to smoking.
The study was supported by a grant from the National Institutes of Health (DP5OD023064). The authors report no conflicts of interest.