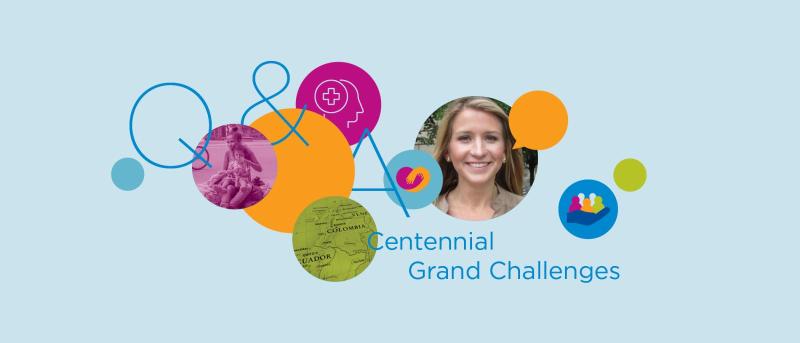 Grand Challenges Project Addresses the Complex Needs of Venezuelan Migrants
Since 2015, more than 7 million Venezuelans have fled their country following the collapse of Venezuela's economy, representing the second largest external displacement crisis in the world after Ukraine. Most of the displaced Venezuelans have fled to neighboring countries, where the trauma of displacement is combined with the stress of rebuilding their lives in a new setting.
Ongoing research by Columbia Mailman faculty with collaborators in Ecuador is uncovering new ways to support the needs of Venezuelan refugees, migrants, and asylum seekers there with a combined focus on mental health and economic livelihoods. The research is one of eight Columbia Mailman Centennial Grand Challenges projects that bring together an interdisciplinary team to address key public health needs of today and in coming decades.
According to Claire Greene, one of the study's principal investigators, the project in Quito, Ecuador had implications far beyond the borders of the country. Worldwide, more than 100 million people are displaced from their homes—a number expected to climb as climate change and conflict accelerate displacement. An estimated 22 percent of people in conflict-affected communities have a mental health problem—more than three times the rate of the general population.
In the following Q&A, Greene, assistant professor in the Program on Forced Migration and Health within the Heilbrunn Department of Population and Family Health, discusses the connections between economic security and mental health and what it is like to work with an international interdisciplinary team of researchers.
What are the origins of the project in Ecuador?
Greene: For several years, we've been partnering with the nonprofit HIAS, which provides humanitarian assistance to refugees. We're focused on the capital city of Quito where many Venezuelan refugees have settled. When we asked people how existing mental health and psychosocial programs for refugees and migrants can better their needs, they almost always tell us that they need their basic needs to be met. They need money. They need jobs. We found that people's economic situation predicted their ability to engage in mental health interventions and also impacted their outcomes in mental health.  
What is the project doing to link mental health and economic security?
Greene: Sometimes, humanitarian services are not provided in a way that promotes dignity and well-being. We want to be intentional about how mental health and economic programs can work together to help individuals and families more holistically. The HIAS economic intervention—known as the Socioeconomic Support Program, an abbreviated version of the Graduation Model—provides a combination of cash transfer as well as training in finding a job, entrepreneurship, financial literacy, and savings. It also promotes nutrition, as well as community integration and connectedness. On top of that, we want to be sure this intervention facilitates access to mental health supports and integrates strategies to promote psychosocial well-being.
What does your interdisciplinary team look like?
Greene: We are working across multiple specialty areas within public health but also through a cross-sectoral partnership with practitioners and people working on the ground to provide services to migrants as well as engaging with migrants as partners in this research. We are also working with policymakers. When I'm working with all these different stakeholders, I listen to how they identify the greatest needs and opportunities for change. It's a collaborative partnership. I can't imagine doing this work without the input of practitioners, policymakers, and communities. We meet every week and we're on WhatsApp all the time.
Working with people across disciplines opens your mind to new ways of looking at the world. We spent hours defining the concept of "community integration," as various members of our team enriched the definition, contributing concepts from mental health, economics, and so on.
What's next?
Greene: We just completed a process map that identifies opportunities for better linkages between economic and mental health services. Using those findings, we will co-design a strategy with community members and practitioners for better integrating the two that is sensitive to barriers that may exist. At the end of the day, economic and mental health services should work in concert. They are two sides of the same coin when it comes to supporting the lives and livelihoods of migrants in Ecuador and everywhere.