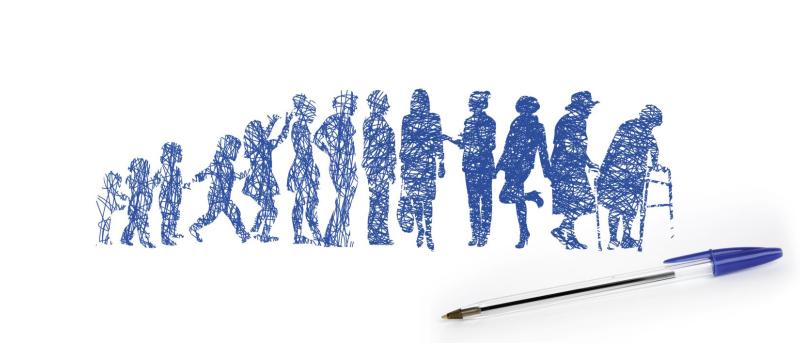 Rethinking My Longer Life
In an intergenerational class, one Columbia student explores aging and preparing for increased life expectancy with Dean Linda P. Fried
If I had lived before 1850, then my life expectancy would have been 24 years. Today, I am 25 and I feel as though I'm just getting started. In May I will receive my Master of Public Health degree from Columbia University and set out on my first full-time job. As a millennial, I can expect to have four to five careers and live well into my 80s. Thanks to improvements in public health and education, I am likely to live a longer and healthier life than all those who came before me. But what does all of this mean?
, Dean of the Mailman School of Public Health, gerontologist, co-founder of Linda P. FriedExperience Corps, and co-professor of a course I am taking called "(Y)our Longer Lives", asked us this question on our first day of class. Her eyes gleamed with excitement as she described the unprecedented opportunity we have found ourselves in today: 100 years of success in public health has added 30 more years to our lifespan. For the first time in human history, we have created an entirely new phase of life!
Dean Fried, a world-renowned aging expert, says she first became passionate about aging when she realized that instead of viewing our longevity as an immense success and opportunity, people were perceiving it as a complete disaster.
It's true, as our population continues to rapidly age, our country has zero plans in place for efficiently supporting everyone. Common concerns include the potential burden an older population could have on our health system, economy, and families. Globally, we face even more uncertainty. What high-income countries, like the U.S. and Japan, have achieved in 100 years, developing nations are doing in just 40—before their infrastructures and economies are prepared for an aging population. By 2050, China alone will have nearly 500 million people over the age of 60, which is about 160 million more people than the entire US population. Incidentally, China also has a legal retirement age between 50 and 60 years old, depending on gender and occupation. Clearly, if we do not start investing our time and resources in designing a world that supports healthy aging and embraces the oldest members of our population, then we will be wildly unprepared.
Despite these challenges, our public health success does not have to turn into a failure at all. This demographic transition has brought us opportunities that, if harnessed, could benefit everyone. Today, we have the healthiest and most educated group of people over the age of 65 that the world has ever seen. Research tells us that with age, comes greater emotional intelligence, creativity, and generativity, which are essential traits for solving the world's most pressing issues. We also know that multigenerational workplaces are more
productive and profitable
. 
Our current expectations for aging were designed by and for a much different world—one where people retired at 65 because they were not expecting to live into their 80s, 90s, or 100s. Retiring at 65 now, in our society that does not have any roles or responsibilities set-up for older adults, could mean living another 30 years feeling isolated and unengaged. Currently, the skills and talents of our oldest population are going untapped.
Before we know it, we too will be old – perhaps wishing that we had spent more time re-designing a society that embraces and supports older adults. A major component of "(Y)our Longer Lives", co-taught by Epidemiology professor Dana March, is imagining how we, as individuals, hope to age and experience our last phase of life.
In the class, which is offered to Columbia undergrads, graduate students, and auditors (many of whom are over the age of 65), we are asked to critically assess what our society needs to do to enable us and future generations to age and live happily into our oldest years. It is possible to support older adults in ways that benefit everyone. Possible solutions include offering phased retirement plans, building flexible work environments, creating life-long opportunities for education, making accessible community spaces, and providing more opportunities for older adults to give back. Breaking down ageism, age segregation, and many of the myths that come with aging and an older population are critical first steps towards creating this vision. Old age does not have to mean withering away at home or in a nursing facility. Just look, for example, at Okinawa, Japan where the oldest people on our planet live active and meaningful lives well into their 100s.
Before taking this course, I had not thought much about how I would like to spend my oldest years. This course has encouraged me to make intergenerational friendships and has challenged me to rethink my longer life in ways I never thought possible.
Dean Fried often reminds us that changing anything about a society takes around 40 years. In 40 years, I'll be 65. Hopefully, at that time, I will just be getting started on another creative and fulfilling stage of my life. So, listen up Millennials and Generation Z: our golden years can be just as active and purposeful as our earlier ones. We just have to build a society that enables it.
---
Katie Stack is a second-year MPH student in Sociomedical Sciences. In 2016, she graduated from DePauw University where she majored in Communication and minored in Sociology. Read Katie's 2017 Student Voices essay about her meeting with Malala Yousafzai. 
If you would like to contribute to Mailman Student Voices, please send a three to five-sentence pitch outlining your topic to mailmancomm@columbia.edu.