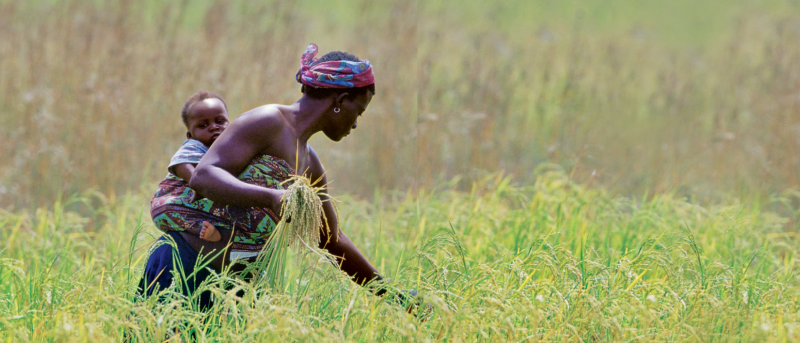 A World of Good
With a commitment to human rights, the School's faculty have a long history of working to battle pressing health threats across the globe—and are poised for progress in the future.
The little girl stretched her arms out in front of her, palms facing the sky. She couldn't be more than five or six, thought Joseph Graziano, PhD, but the lesions on her hands were identical to those covering the skin of the adults in the town where she lived. It was his first time in Bangladesh, but he already knew he and his team had made an unprecedented discovery.
Graziano was aware that lesions like the ones on the child's hands were caused by decades of exposure to arsenic. Yet the girl was too young to be showing these signs of poisoning from the metalloid. It was then that he realized that mothers drinking contaminated water were passing the toxins to their babies in utero.
A pharmacologist by trade, he had just completed 20 years of work in the Balkans. He had also done research on the effects of lead poisoning that led to the development of the oral drug used to treat children exposed to the heavy metal. Now, in 1999, as chair of Environmental Health Sciences (EHS) at Columbia Mailman School and professor of pharmacology at Vagelos College of Physicians and Surgeons, he had turned his attention to arsenic in the water in Bangladesh. "Safe drinking water to me is a human rights issue," says Graziano. "Life cannot go on without access to it. It is a fundamental part of life."
Graziano, one of the many people working on global public health across departments and programs at Columbia Mailman School, had first heard about the water problem in Bangladesh when he read a November 1998 article in The New York Times about "wells that pump poison." A week later, he found out that a geochemist colleague at Columbia University had read it too. Alexander van Geen, PhD, wanted to understand what made arsenic different in the South Asian country and why it was contaminating the drinking water. He and Graziano teamed up and were joined by Habibul Ahsan, MD, a Bangladeshi-American epidemiologist also at Columbia, who studied environmental and genomic effects on cancer and other diseases. Together, the three men and the rest of their multidisciplinary team would take dozens of trips to Bangladesh over more than two decades, working with local partners to better understand what was happening to the water, how it was affecting the people there, and what could be done to turn the situation around.
Working in areas that hadn't yet had any testing, they discovered the problem was shallow wells, which contained a high concentration of arsenic. The team's research would not only go on to ensure safe drinking water for some 70,000 people in Bangladesh, but also lead governments in the U.S. to make policy changes in their own states, lowering what is considered a safe level of arsenic in water. In Maine, legislators passed a bill that required wells to be tested for arsenic before properties are sold. Graziano retired earlier this year, but EHS professor Ana Navas-Acien, MD, PhD, is continuing to work on the issue,  looking at how the research in Bangladesh can be applied to Native American communities in the U.S. that are suffering from a similar problem. 
Graziano is one of many faculty members whose work has played an integral role in contributing to solutions around the world and working to narrow the gap in health disparities in everyday care and in situations of humanitarian and emergency response. The ground for this work was laid early in the School's history. One of its early leaders, Harold Brown, MD, DrPH, founded a program that sent public health students to work and do research in Suriname, Liberia, and St. Thomas.
Today, much of the School's global work originates in the Harriet and Robert Heilbrunn Department of Population and Family Health. Known as "PopFam," the department first started to take shape in 1975, when it was a center at the School. Headed by Allan Rosenfield, MD '59, an obstetrician/gynecologist who had helped develop Thailand's first family planning program, it would grow and expand, refining its focus to look at reproductive and maternal health through a human rights lens. "We did a lot of work in that period of trying to reconceptualize population, reproduction, and maternal-child health issues as human rights issues," says Lynn Freedman, JD, MPH '90, professor of Population and Family Health and director of the department's Averting Maternal Death and Disability (AMDD) Program. "Allan was a major supporter of that, and also magnified the voices of other people who tried to push that issue."
In 1985, Rosenfield and his colleague, epidemiologist Deborah Maine, DrPH, published a transformative article in The Lancet called "Maternal Mortality—A Neglected Tragedy: Where is the M in MCH?" (MCH stands for maternal and child health). It drew attention to the shockingly large number of women globally who were dying during pregnancy and childbirth. Healthcare providers, they said, were focusing on children and forgetting about their mothers. The article was a precursor to the Prevention of Maternal Mortality Network, which developed strategies to prevent maternal mortality and worked with 11 teams in Ghana, Nigeria, and Sierra Leone to carry them out, helping to build capacity in those countries. It would be followed by the creation of the AMDD Program, with the support of the Bill & Melinda Gates Foundation, which continues to work with partners around the world to support access to safe emergency obstetric and newborn care.
AMDD did the first work globally that assessed women's experience of care, working in Tanzania to carry out pioneering studies that would document and measure disrespect and abuse of women during childbirth, leading to the development of the field now called respectful maternity care. It has also worked with several countries' ministries of health, including those in India, Ethiopia, and Bangladesh, to expand access to quality emergency obstetric care, helping to develop training programs and prepare facilities to carry out lifesaving procedures like cesarean sections, and to change policies regarding who can perform them, broadening the definition to include more medical professionals than just obstetrician/gynecologists. The key, Freedman says, is to "give others support with tools and research they may not previously have had access to, so that they can address the issues they're facing in creative ways within their own circumstances, both cultural and environmental."  She adds, "Working with people on the ground, we recognize that they will ultimately be the ones who best analyze and solve their own problems."
For Terry McGovern, JD, the Harriet and Robert H. Heilbrunn Professor of Population and Family Health and chair of the Harriet and Robert Heilbrunn Department of Population and Family Health, it's those relationships built with local partners that are key to making impactful changes. "We've really come to understand that our role is not necessarily in leading," she says. "It's in partnering."
The School's Reproductive Health Access, Information, and Services in Emergencies (RAISE) Initiative, for example, was the first to take on access to contraception and abortion in a humanitarian context and led to the development of an interagency group that looks at the sexual and reproductive health of refugees. RAISE often partners with major humanitarian organizations, governments, and United Nations bodies to determine the most effective ways to provide sexual and reproductive healthcare to refugees, internally displaced persons, and others affected by humanitarian crises, including access to contraceptives in the Democratic Republic of the Congo and to post-abortion care in South Sudan. Without this work, "these services would not have existed for these women and girls," says Monette Zard, MA, the Allan Rosenfield Associate Professor of Forced Migration and Health and director of the Program on Forced Migration and Health. Zard's program, the first of its kind in a school of public health, was launched following the Rwandan genocide, when reproductive health wasn't considered essential for those fleeing conflict or forced to migrate. It now looks at all forms of displacement and their effect on the health of those who need to be on the move.
Other aspects of reproductive health are the focus of the Gender, Adolescent Transitions, and Environment (GATE) Program, which works to improve the integration of menstrual hygiene management (MHM) and pubertal health transitions into global humanitarian response, and to provide better access to gender-supportive solutions to sanitation around the world. The program, run by Marni Sommer, DrPH '08, MSN, RN, associate professor of Sociomedical Sciences, has implemented projects on menstruation and Ebola, and menstrual disposal, waste management, and laundering in emergencies. It has also created a toolkit for emergencies, providing practical guidance for those working on MHM programming in humanitarian response situations around the world.
Zard has been at the forefront of a new frontier in research: understanding the role climate change plays in forced migration. Her new project looks at how migrants coming from Mexico and Guatemala, many pushed from their homes by climate change, are forced onto more dangerous routes because of U.S. policies. As they are kept in holding patterns that can last for months, even years, they are stuck without access to health services; the humanitarian system struggles to track them and offer them services. She theorizes that this has significantly affected the health and mortality of the migrants and is in the process of quantifying the effect. "We want to make that visible to the world so that policymakers can understand that these strategies are operating to the detriment of migrants and refugees who are doing what they are legally entitled to do: reach safety," she says.
The containment of refugees closer and closer to their country of origin is another phenomenon Zard's program plans to look at in more depth. She wants to better understand the impacts this is having on the physical and mental health of those trying to flee, as it often leaves them without status and confined for years. Zard says the Program on Forced Migration and Health is also trying to quantify the sheer impact that living with such wide-sweeping uncertainty can have on people's health. Quantifying is the first step toward proposing solutions that could save lives. 
Goleen Samari, MPH, PhD, assistant professor of Population and Family Health, is one of the researchers looking into this new line of study. A demographer focusing on social inequities and health, she uses data to examine how racism, gender inequities, migration-based inequities, and xenophobia mold population health. Her work on anti-Muslim sentiment was among the first to bring attention to the racialization of religious minorities and Islamophobia as a public health issue, and has been used to create more inclusive policies while also driving resources to communities that would not have received them otherwise. An analysis Samari published on the impacts of the 2017 Muslim travel ban on preterm births among women from countries that were banned from immigrating to the United States concluded that "structurally xenophobic and racist policies in the U.S. may have a harmful effect on birth outcomes and early life indicators of life-long health outcomes." Given that xenophobia and racism exist in many places around the world, her work could have a far-ranging impact. 
Part of what drives Samari to specific research questions is the lack of data available on certain populations. She would like to embark on more comprehensive national data collection efforts that will help fill in these gaps. "A lot of people fall back on the notion of 'We don't have the data to answer that question,'" she says. "It's a big hope of mine that we can collect that data and answer those questions."
Being part of the Harriet and Robert Heilbrunn Department of Population and Family Health, Samari says, has given her the unique chance to work with other like-minded individuals and to have a positive impact on the communities she studies. "There are very few places that are truly as interdisciplinary and multidisciplinary," she says. "Public health is a field of social justice, and the School truly allows me to pursue research that is in the interest of social justice."
Honoring a Global Health Leader


 
The Allan Rosenfield Building is the heart of the School's campus, a fitting memorial to a force for good who led the Columbia Mailman School from 1986 until his death in 2008. In a remembrance of Allan Rosenfield, MD '59, New York Times columnist Nicholas Kristof called him "one of the giants in the world of public health."
Early in his career as an obstetrician/gynecologist, Rosenfield "chose not to go into a lucrative private practice but to serve the needs of the developing world," recalls his wife Clare Rosenfield, MA, MS, LCSW. They spent their first year of marriage in Nigeria, then moved to Thailand, where he worked for the Population Council, expanding access to birth control with his then-revolutionary idea of using trained non-physicians and midwives to administer care. He then joined the School as the founder of what is today the Harriet and Robert Heilbrunn Department of Population and Family Health and helped start the Averting Maternal Death and Disability Program. A speech he gave at the International AIDS Conference in Durban, South Africa, on the urgent need to care for all women living with HIV, both before and after they give birth, gave rise to the groundbreaking MTCT-Plus Initiative that, for the first time, offered HIV treatment to both mother and child.
During his tenure as dean, the School grew in reputation and size. "The School had no building of its own when he started," his wife recalls. In 2001, it moved to its current home, which was later named for him. He traveled the globe with an indefatigable work ethic, facing seemingly insurmountable odds alongside world leaders, his moral compass pointing the way. Long after he used a wheelchair due to amyotrophic lateral sclerosis, he came to work every day and made time to visit anyone he knew who was in the hospital, even friends of friends. "The School had the feeling of a family. His colleagues were his equals," Rosenfield says. "He had a strong motivation to be of help. He offered to the world a model of selfless service. He always said, 'The challenges are great, but together we can make a difference.'"
---
Jill Langlois lives in São Paulo, Brazil. Her work has appeared in National Geographic, Smithsonian, and The New York Times.