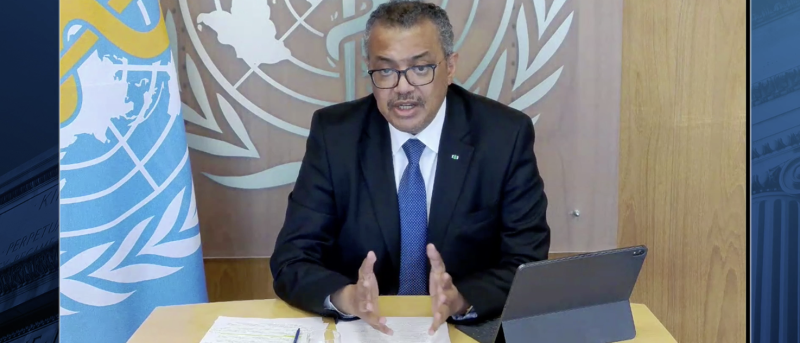 WHO Leader Discusses the Pandemic and Public Health With Dean Fried
A Columbia University World Leaders Forum conversation between Tedros Adhanom Ghebreyesus, Director-General of the World Health Organization, and Linda P. Fried, Dean of Columbia Mailman School of Public Health, underscored the importance of robust public health cooperation between nations, particularly in response to global health crises like COVID-19. The event also acknowledged the School's public health contributions in the context of its centennial celebrations. (Watch video of the event.)
In opening remarks to an online audience, Columbia University President Lee Bollinger spoke of the humble beginnings of what became the Columbia Mailman School and its subsequent development into a global leader in addressing the world's biggest health challenges, from climate change to pandemic prevention. "Recent events have demonstrated better than any lecture ever could just how indispensable this work is to the safety and security of our global society," he said.
In his address following an introduction by Dean Fried, WHO Director-General Tedros identified some of the biggest obstacles to addressing COVID-19, as well as efforts WHO is taking to strengthen global pandemic preparedness and response. He began by saying successful public health campaigns depended on both sound science and public trust, quoting Columbia Mailman School Professor David Rosner that New York City's response to the 1918 influenza pandemic relied on "moral, political, and legal authority." Now, more than a century later, during another global pandemic, that authority has waned, Tedros said.
Tedros said one of the biggest failings of the ongoing pandemic is the "horrifying inequity" in the availability of vaccines between the richest and poorest countries. Low-income countries have received less than half of one percent of the world's vaccines; in Africa, just 4 percent of people are fully vaccinated. To remedy the situation, the WHO chief called on the countries and companies that control the vaccine supply to accelerate the delivery of a promised 1 billion vaccine doses, as well as to share technological know-how and intellectual property for local production. "We need a global realization that no country can vaccinate itself out of this pandemic in isolation from the rest of the world," he said.
Currently, the WHO is working to establish regional hubs in low- and middle-income countries to produce vaccines, although technology transfer is needed to begin production. Other initiatives include a WHO Hub for Pandemic and Epidemic Intelligence that opened in Berlin, Germany, earlier this month, and a forthcoming WHO Academy in Lyon, France, which will train public health workers in emergency preparedness and response. This November, the WHO is organizing a special session of the World Health Assembly to work toward a new international treaty for pandemic preparedness and response, in part to define national obligations on issues such as vaccine production.
Tedros went on to argue for more robust investments in public health, both on the global and local levels. A well-trained and well-paid health workforce with adequate facilities and supplies that has earned the trust of the communities it serves is the first line of defense against an infectious outbreak—"but also against other communicable and non-communicable diseases, and for the health impacts of air pollution and climate change," he said.
Echoing remarks by Dean Fried on public health as a public good, the Director-General concluded, saying, "the pandemic has taught us that health is not a luxury but the foundation of social, economic, and political stability. Health is not a cost to be contained but an investment to be nurtured. And health is not a privilege but a fundamental human right."
Finally, Tedros wished the School a happy birthday, saying, "the research you do and the education you provide are more important than ever."
Student Questions
Among those directing questions to the WHO chief were two Columbia Mailman students. DrPH student Joanne Michelle Fernandez Ocampo asked for his insights on the leadership needed to build global health trust. Tedros responded by calling for leadership that goes beyond electoral politics, expressing his disappointment that the pandemic was politicized. Instead, countries' political leaders need to make the case that global cooperation is "in our own national interest."
First-year master's student Michaela Comizzi asked what skills and experiences helped Tedros prepare to lead the WHO. The Director-General said his training in public health was "central," but so too were his experiences as minister of health and in foreign affairs in Ethiopia. He added that he did not plan to be a health minister or Director-General—"it just happens," he said. "I do everything I can in good faith, and go wherever that takes me."
Watch video of the conversation: