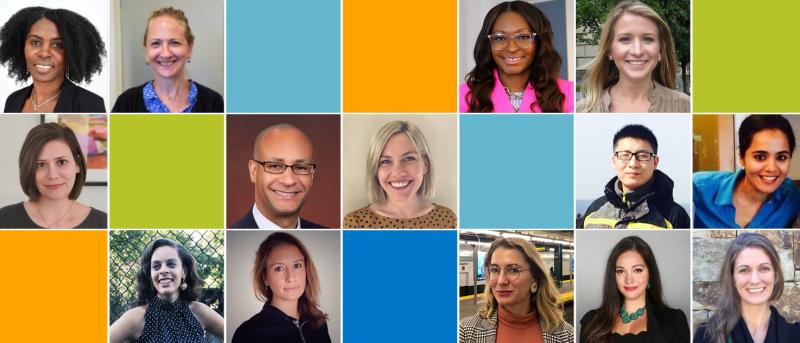 Fourteen public health experts have joined as full-time members of the Columbia Mailman School faculty since last fall, bringing experience in finding solutions to a broad swath of health challenges—COVID-19, climate change, organizational ethics, the health risks of flame retardants, HIV, heart disease, mental illness, and more.
Sorcha Brophy, Assistant Professor of Health Policy and Management 
Sorcha Brophy is an organizational sociologist who explores the challenges organizations face as they create ethics policies. Her recent studies explore attempts by professional medical associations to provide leadership on racial health equity. She has also led studies on how organizations' ethics policies do not typically produce intended behavioral change. This fall, she will be teaching "Issues & Approaches in Health Policy and Management." Previously, she was Assistant Instructional Professor, Harris School of Public Policy, University of Chicago. She earned her PhD in sociology at Yale University.   
Delivette Castor, Assistant Professor of Epidemiology and Medicine
Delivette Castor is an epidemiologist who studies how to deliver innovations at scale by examining biomedical, behavioral, and structural factors that affect infectious diseases in low- and middle-income countries and marginalized populations in the U.S. Her primary appointment is in the Department of Medicine, Columbia University Irving Medical Center. Previously, she led implementation research activities within the President's Plan for AIDS Relief (PEPFAR) where she designed, implemented, and evaluated HIV interventions, and introduced and scaled-up novel prevention technologies. She earned her PhD from Columbia University.
Jessie Ford, Assistant Professor of Sociomedical Sciences  
Jessie Ford is a sociologist who conducts research at the junction of social science and public health, with an emphasis on how expectations and inequalities around gender and sexuality shape sexual violence, health, and pleasure. Her work seeks to answer questions such as: What facilitates a healthy sexual interaction, why do people have unwanted sex, and when does an experience shift over into sexual assault? As a post-doctoral researcher in Sociomedical Sciences, she researched the effect of structural stigma on the sexual health of gay and bisexual men in the United States. She earned her PhD from New York University. 
Julie Franks, Assistant Professor of Sociomedical Sciences (in ICAP)
Julie Franks is a social scientist who focuses on HIV testing and prevention in the US. and sub-Saharan Africa. She leads research to test innovative bio-medical approaches to HIV prevention and to improve the delivery of prevention services for groups most impacted by HIV, including sex workers and transgender individuals. She also has expertise in training and supporting HIV peer educators and their supervisors. She is a founding staff member of ICAP's Harlem Prevention Center and supports ICAP's community-based prevention efforts in sub-Saharan Africa. She holds a PhD from the State University of New York at Stony Brook.
M. Claire Greene, Assistant Professor of Population and Family Health
M. Claire Greene is a psychiatric and substance use epidemiologist in the Program on Forced Migration and Health. Her research focuses on improving the effectiveness and implementation of mental health and psychosocial support programs in humanitarian settings. She develops, evaluates, and scales-up interventions in diverse settings and populations globally, in collaboration with governmental and non-governmental organizations, international agencies, and academic institutions. She co-teaches "Investigative Methods in Complex Emergencies." She received her PhD from Johns Hopkins Bloomberg School of Public Health.
Michael Joseph, Vice Dean for Education and Associate Professor of Epidemiology
Michael Joseph is a highly regarded teacher and curricular innovator with a record of expanding access to public health education to improve equity in the field. As Vice Dean for Academic and Student Affairs and associate professor of epidemiology and biostatistics at SUNY Downstate School of Public Health, Joseph helped drive a substantial increase in enrollment, including Black, Latinx, and first-generation college students. In 2013, he was recognized with the SUNY Chancellor's Award for Excellence in Teaching. His research has focused on HIV transmission risks among heterosexual Black men. He received his PhD from the University of Michigan. (Read more about Joseph here.)
Alison Kupsco, Assistant Professor of Environmental Health Sciences
Allison Kupsco is an environmental toxicologist and epidemiologist whose doctoral research in fish models focused on molecular processes triggered by environmental exposures, including flame retardants, selenium, and climate change. Now working as an epidemiologist, her research centers around epigenetic biomarkers for children's environmental health, including examining the effects of prenatal exposures to flame retardants on childhood obesity via the mitochondria. She earned a PhD from the University of California-Riverside and completed a post-doc at Columbia Mailman under Andrea Baccarelli.  
Adana Llanos, Associate Professor of Epidemiology
Adana Llanos is a molecular epidemiologist whose research focuses on the molecular factors and sociobiologic mechanisms that cause cancer disparities. Her research seeks to address cancer outcomes disparities, through collaborative studies that center on cancers that disproportionately affect minority and medically underserved populations. She also focuses on cancer epidemiology and surveillance in populations of African ancestry by subgroups based on birthplace. Previously, she was an assistant professor of epidemiology at Rutgers School of Public Health. She holds a PhD from Howard University.
Kate Lovero, Assistant Professor of Sociomedical Sciences
Kate Lovero focuses on improving adolescent mental health in low-resource settings. Currently, she is collaborating with the Mozambican Ministry of Health to develop services for adolescent depression and anxiety. She is also beginning work on training primary care providers in Mozambique to screen and provide an intervention for adolescents with suicide risk. Previously, she was a NIH Global Health Equity Scholar and Fulbright Postdoctoral Fellow in Brazil. She earned her PhD in Neuroscience from the University of California, San Francisco.
Nour Makarem, Assistant Professor of Epidemiology
Nour Makarem pursues research at the intersection of preventive cardiology, sleep and circadian science, nutrition, and epigenetics. Her research addresses the role of sleep, diet, and rest-activity patterns in cardiovascular risk. Additionally, she examines the influence of health behaviors on epigenetic mechanisms related to aging that can alter susceptibility to heart disease. Her goal is to improve risk prediction and inform precision behavioral interventions to promote cardiovascular health equity, particularly among immigrant populations. She earned her PhD from New York University.
Sen Pei, Assistant Professor of Environmental Health Sciences
Sen Pei studies transmission dynamics of infectious diseases using mathematical models and computational tools. His recent studies focus on the spatial spread of influenza, dengue, and COVID-19, as well as the transmission of antimicrobial-resistant pathogens in health care systems. His goal is to better understand the environmental, social, and ecological drivers of disease transmission, to improve surveillance, forecasting, and control of infectious outbreaks. Previously, he served as a research scientist in Jeffrey Shaman's lab. He earned his PhD from Beihang University in China.
Karampreet Sachathep, Assistant Professor of Professor of Population and Family Health (in ICAP)
Karampreet Sachathep is an epidemiologist whose work spans infectious disease research, public health programs, and implementation science. Her research focuses on the prevention and treatment of HIV, SARS-CoV-2 surveillance, sexually transmitted infections, and reproductive health. She currently serves as Associate Director for Survey Integration for the CDC-funded Population-based HIV Impact Assessment (PHIA) Project, a study of 400,000 children and adults in 13 African countries and Haiti. Recently, she has provided technical guidance and leadership to Ministries of Health in SARs-CoV-2 surveillance efforts in Malawi and Cameroon. She earned her PhD from Johns Hopkins University.
Katherin Schilling, Assistant Professor of Environmental Health Sciences
Kathrin Schilling is a geochemist who develops stable metal isotopes as biomarkers to answer a wide array of research questions, relevant for the diagnosis, prevention, and control of diseases and nutrient status. She uses techniques from the earth sciences to solve research questions in the biomedical sciences. She explores how isotopic biomarkers can trace environmental sources of exposure to carcinogenic metals, as well as help detect changes in metabolic processes caused by disease development and progression. Previously, she served as an associate research scientist at the Lamont-Doherty Earth Observatory. She earned her PhD from Johannes Gutenberg University in Germany. 
Cecilia Sorensen, Director of the Global Consortium for Climate and Health Education and Associate Professor of Environmental Health Sciences
Cecilia Sorensen conducts research on the links between climate change and health, including studies on how wildfire smoke is increasing ICU admissions, the links between heat stress and chronic kidney disease, and how climate change threatens to widen existing gender-based health disparities. In 2017, she was named the first Climate and Health Science Policy fellow through a joint program between the National Institute of Environmental Health Sciences and the University of Colorado. She earned her MD at Drexel University College of Medicine and completed residency training in emergency medicine at Denver Health. (Read more about Sorensen and GCCHE here.)