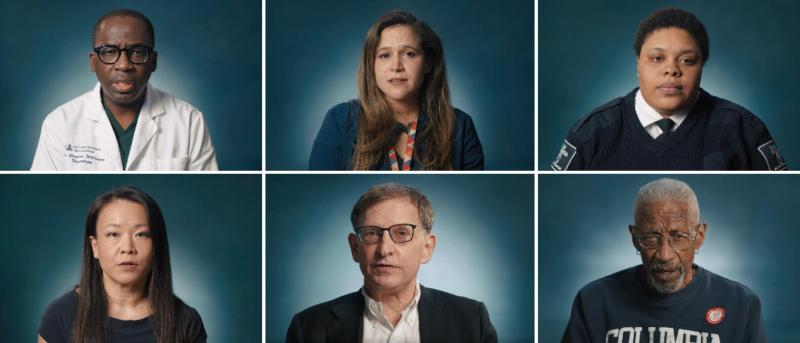 Vaccine Campaign Asks New Yorkers to "Roll Up Your Sleeves"
This week, the Columbia Mailman School and others launched a series of public service announcements (PSAs) to encourage eligible people to get vaccinated against COVID-19. The PSAs feature community leaders and Columbia University Irving Medical Center (CUIMC) employees sharing their stories of why they were motivated to get vaccinated.
The PSAs, which are part of New York State's "Roll Up Your Sleeves" initiative, will air on broadcast networks and be shared on social media to help address inequities in vaccine education and access, particularly among underserved communities hardest hit by the pandemic. The PSAs are featured in a special section of the Columbia Mailman website, where additional videos will be added in the coming weeks. On April 8, Professors David Bell, Wafaa El-Sadr, and Ian Lipkin rang the closing bell at the New York Stock Exchange to mark the launch of the campaign. (Watch a video of the event below.)
The PSAs were directed by film producer and Contagion screenwriter Scott Z. Burns, who led production in collaboration with Lipkin, director of the Center for Infection and Immunity. They are the result of a months-long partnership between the CUIMC, the New York Task Force for Vaccine Equity and Education, and the Federation of Protestant Welfare Agencies. Lipkin helped lead a CUIMC-wide recruitment effort for employees who were willing to share their stories and serve as vaccine advocates. Other leading New York-based filmmakers, including Jane Rosenthal and Kerry Orent, assisted with the production and distribution. 
The videos are not the first Lipkin-Burns collaboration. Last March, the duo collaborated on a series of educational videos about COVID-19 that featured the stars of Contagion, including Matt Damon, Kate Winslet, Laurence Fishburne, and Jennifer Ehle. Lipkin served as a scientific advisor for the 2011 pandemic thriller.
The PSAs were filmed safely in Hess Commons in the Allan Rosenfield Building in adherence with all health protocols. Participants include Columbia Mailman Professors Ian Lipkin and Robert Fullilove, as well as other CUIMC staff and community and religious leaders.   
In his video, Fullilove speaks to how his decision to get vaccinated resonates with his own family history dating back to the 1918 pandemic:
"My grandfather treated the Spanish Flu in 1918 in the Delta of Mississippi. My grandmother died in that epidemic, which inspired my dad to become a physician, and me to get vaccinated. I'm proud to come from a family of Black physicians. They've been in my heart and on my mind as I helped battle COVID-19. With the vaccine this fight can finally come to an end," he says.