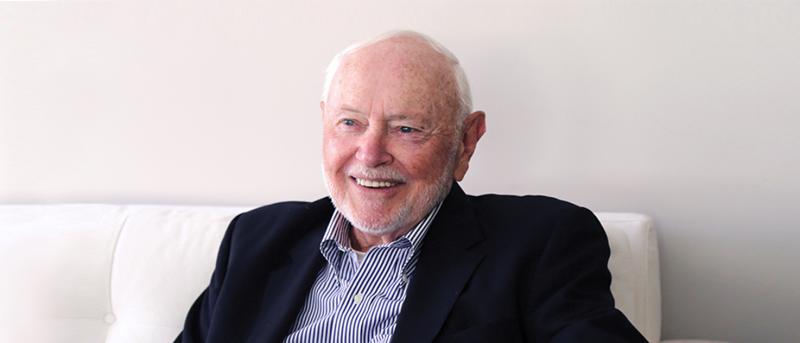 Sidney Lerner, a leader in harnessing the power of marketing and communications for public health, died at the age of 90. A longtime member of the Columbia Mailman School Board of Advisors, he and his wife, Helaine Lerner, supported the creation of our School's Lerner Center for Public Health Promotion. Lerner was
also the founder and force behind 
Meatless Monday
, a campaign that influenced and improved nutrition, eating habits, and population health all over the world.
"We are deeply saddened by the loss of a dear friend of our School, Sid Lerner," said Linda P. Fried, Dean of Columbia Mailman School. "Sid was passionate about public health and used his singular genius for marketing and communications for the benefit of health and humanity. He made invaluable contributions to our School through this support and distinguished service on our Board. We will miss him dearly."
An advertising industry legend within the storied realm of "Mad Men," Lerner's decades-long career on Madison Avenue includes crafting unforgettable campaigns for familiar household products, writing six works of non-fiction, and leading his own creative and consulting business, Sid Lerner Associates. Undoubtedly, his most influential campaign was Meatless Monday, which sought to address obesity, poor nutrition, and climate change (meat production is a major source of methane, a potent greenhouse gas).
Since its inception in 2003, Meatless Monday has had a global reach, with 37 countries and thousands of communities, schools, and restaurants participating. In 2019, Mayor Bill de Blasio announced that all New York City public schools would adopt Meatless Monday. The Columbia Mailman School community embraced the concept too, and many students, faculty, and staff began their weeks with a vegetarian diet, and took up other Mondays campaigns, including Move It Monday, which promoted physical activity.
Lerner, a generous philanthropist to public health causes and institutions, believed that public health needed to do more to adopt techniques used to market major brands in order to be successful in an environment saturated with messages promoting unhealthful behaviors. "[The goal] is to start bringing more contemporary marketing, media, and social networking procedures to sell the good stuff and help counteract the very sophisticated marketing tools that get us to line up for all those extra soft drinks and all those extra calories we consume during the day that we didn't 50 or 60 years ago," he told the blog REAL in 2013.
"Sid Lerner understood that a well-crafted message, delivered effectively, could change attitudes and behavior. He applied his legendary marketing skills to the health of populations, with passion. These efforts have been consequential and constitute a very meaningful public health legacy​," said John Rowe, professor of Health Policy and Management and a member of the Board of Advisors.
Created in 2014, the Lerner Center for Public Health Promotion, one of three such centers at schools of public health, works to facilitate health, prevent disease, improve healthcare quality and outcomes, and promote health equity in population health. To meet these aspirations, the Lerner Center focuses on social and behavioral factors associated with health, evaluates, and analyzes public health promotion campaigns, and works to understand the science behind effective campaign models. The Lerner Family has also supported the Heilbrunn Department of Population and Family Health, as part of their commitment to sexual and reproductive health.
The Lerner Center for Public Health Promotion brings together students, scholars, and practitioners from various schools, departments, and disciplines across Columbia University and other academic centers around the region. It also serves as a training resource for scientists and educators to improve their capacity to communicate to external audiences including media and policymakers. Gina Wingood, Sidney and Helaine Lerner Professor of Public Health Promotion, serves as director.
"Sid was a gifted storyteller, passionate about life, public health, and of course the Monday Campaigns. The Lerner Center for Public Health Promotion at Columbia University will always remember Sid's advocacy, generous spirit, and zest for healthy living," said Wingood.