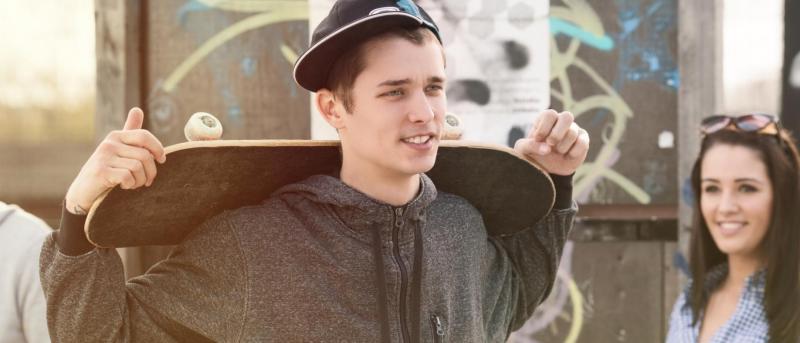 To Reduce Teen Pregnancy, Time to Stop Ignoring Men
CDC Funds Its First Grant for Male-Focused Teen Pregnancy Project
In the national conversation around teen pregnancy, one very important group is often completely left out: young men. Slowly—very slowly—that's been changing. This year, the Centers for Disease Control (CDC) funded its first-ever grant to a teen pregnancy prevention program focused on males: a five-year, $3.6 million project led by David Bell, associate professor of Population and Family Health at the Mailman School.
Over the years, many tactics and programs have been developed to reduce teen pregnancy rates—with the vast majority designed for young women. "We have so very few, if any, evidence-based models on working with guys to reduce teen pregnancy," says Bell. With teen pregnancy rates already falling sharply, the CDC is now prioritizing the half of the population that's been ignored.
In 2013, more than 270,000 babies were born to teenagers between the ages of 15 and 19 in the United States. While that marks a significant decline from years past—at its estimated peak in 1990, there were 522,000 live births for that same age cohort—teen pregnancy rates in the U.S. are still much higher than our European counterparts. Compared with women who delay having babies, teen mothers are less likely to graduate from high school and more likely to face poverty as adults, and their children are more likely to become teen parents themselves.
How can we motivate teens, particularly young men, to make healthy decisions about sex and contraception? For Bell, it's about seeing the world from their perspective.
At its center, the project will focus on a tried-and-true method of creating behavioral change: motivational interviewing. A type of counseling that revolves around the patient, motivational interviewing helps people define what they want to change, what that change looks like, and how they can create that change. Working with motivational coaches and aided by a smartphone app, Bell and his colleagues are working to make the program responsive and supportive of the decisions of study participants.
Melanie Gold, professor of Pediatrics and Population and Family Health at Columbia University Medical Center, designed a teen pregnancy prevention program for young women that has already proven effective at reducing rates of unprotected sex. Together, with the CDC support, Bell and Gold are now tailoring that project to work for young men.
The project will recruit nearly 650 young men through the Young Men's Clinic, where Bell has served as medical director for the last 16 years, and two local high schools: George Washington High School in Washington Heights and John F. Kennedy High School in the Bronx, where Dr. Gold is the medical director. Participants will be divided into two age groups, 15-19 and 20-24, and then placed into randomized control groups. In one arm of the study, young men will work with motivational coaches to encourage pregnancy prevention measures like condom use, talking with their partners about contraception, and use of healthcare services, while the control group will be motivated to develop healthier diets, exercise habits, and to stop smoking. At the end of the 60-week study, researchers will analyze the data collected to determine whether this style of coaching, aided by the app, is effective in lowering rates of unprotected sex.
This project fits squarely into the focus of Bell's career: involving young men in sexual and reproductive health. "After the age of 15, most guys drop out of going to a doctor, and so that's where my interest piqued," says Bell. "I wanted to explore what we can do about that, and how can we engage young men in our healthcare system." His previous studies have explored male intimacy in relationships and male access to emergency contraception such as Plan B.
Stepping back from the specifics of the study, Bell sees its broader potential to cultivate greater inclusion of young men in programs that encourage behavioral change. "We have so few things that work with young men—particularly young men of color—in a positive way," says Bell. "This project is on the forefront of working with this population in that positive way and I think we can foster more like it for our nation and culture overall."