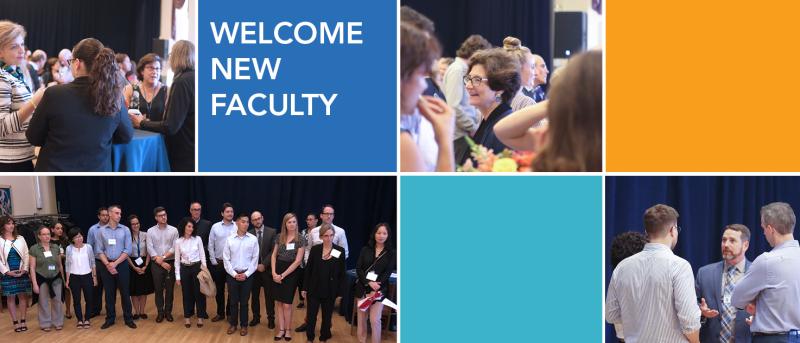 Record Number of Faculty Join School
This fall, the Columbia Mailman School of Public Health is welcoming the largest number of new full-time faculty members in recent memory—22 since a year ago.
"We have a lot to celebrate in this new class of faculty," says Dean Linda P. Fried. "Their numbers are matched by their many talents and the innovative public health science they bring to our School. I look forward to working with each one of them in the months and years ahead."
The new academic cohort bring expertise across the spectrum of population health science, pursuing advanced methods and areas of inquiry, such as the study of the exposome—the measure of cumulative environmental exposures—while making headway on urgent issues, from access to abortion services to gun violence. One common theme is an interest in translating research into policies or interventions that improve the health of communities.
"Over the years, more options for effective and safer HIV medicines have become available, along with more choices for HIV prevention interventions. But that is not enough," says Harriet Nuwagaba-Biribonwoha, newly appointed assistant professor of Epidemiology and research director at ICAP in Eswatini (formerly Swaziland). "We must continually work to improve the way HIV prevention and treatment programs are implemented and utilized by populations at risk."
As it celebrates its 15th year, ICAP has five new faculty on its team, including experts in implementation science, a field that studies the uptake of research findings into routine practice.
Maria Lahuerta, assistant professor of Epidemiology, is deputy director of the Strategic Information Unit at ICAP, where she oversees the design and implementation of systems to monitor and evaluate country- and project-specific programs. She also leads surveillance, evaluations, and research efforts.
Matthew Lamb, MPH '04, a member of the ICAP Strategic Information Unit, is an expert in improving the efficient utilization of data for informed decision-making. His research focuses on identifying best practices in public health approaches to HIV prevention, service delivery, and treatment in resource-limited settings. 
Andrea Low, assistant professor of Epidemiology, is lead epidemiologist on the multi-country Population-Based HIV Impact Assessment and project director for the Lesotho Violence Against Children Survey. She is currently analyzing the impact of drought and other factors on HIV and risk behaviors in southern Africa, with a focus on adolescent girls and young women.
Harriet Nuwagaba-Biribonwoha, assistant professor of Epidemiology, is currently the research director at ICAP in Eswatini where she manages implementation science research and a health research training program. She brings years of experience in HIV programs and research spanning multiple African countries and Europe.  
William Reidy, assistant professor of Epidemiology, focuses on implementation science research and supporting the global scale-up of HIV/AIDS prevention and medical care services. He has worked as an investigator or in a strategic information role on projects in numerous countries in sub-Saharan Africa and in Asia. 
Beyond ICAP, several more faculty in Epidemiology are covering a swath of issues—children's health, chronic disease, health disparities, infectious disease, injury prevention, and obesity.
Sandra Albrecht, assistant professor of Epidemiology, focuses on the social, environmental, and clinical determinants of obesity and type 2 diabetes in U.S. immigrants and Hispanic communities. She is interested in how biology interacts with social and cultural factors to impact glucose metabolism in diverse samples of Hispanics in the U.S. and in Latin America. 
Lauren Houghton, assistant professor of Epidemiology, takes a life-course approach and uses mixed-methods to understand hormonal factors in breast cancer carcinogenesis, focusing primarily on exposures during puberty. She is currently exploring how digital menstrual health can be used in the dissemination and implementation of the latest breast cancer science. 
Christopher Morrison, assistant professor of Epidemiology, examines the ways social and physical conditions affect population health, particularly injuries and alcohol-related harms. His recent work has focused on associations between ridesharing and motor vehicle crashes, bicycle infrastructure and bicycle crashes, and firearm laws and firearm violence. 
Rupak Shivakoti, assistant professor of Epidemiology, focuses on studies that examine the role of inflammation in HIV and TB outcomes, both in the U.S. and internationally. He is also studying approaches to reduce inflammation by modulating diet and gut microbiome. 
 
Jeanette Stingone, assistant professor of Epidemiology, uses data science to study early-life exposure to air pollution and child health outcomes, including asthma, cognitive health, and birth defects. She also specializes in studies of the exposome, defined as the totality of environmental exposures from conception onward. 
Wan Yang, assistant professor of Epidemiology, studies how infectious diseases spread through the population, as well as methods to model and predict the spread of infectious diseases and other health outcomes. Her recent work with Jeffrey Shaman in Environmental Health Sciences has examined the transmission dynamics of influenza, Ebola, and measles. 
In the Department of Health Policy and Management, four new faculty are taking a close look at issues, including factors shaping decisions made by patients and physicians, and access to health insurance and care among vulnerable populations.
Julius L. Chen, assistant professor of Health Policy and Management, is an economist who studies strategies to improve the production and financing of healthcare. His current research examines innovation in care delivery and provider payment models, and he will be teaching a course on healthcare finance.
Stephen Coussens, assistant professor of Health Policy and Management, uses methods from econometrics and machine learning to investigate topics in health economics, policy, and behavioral economics. His research has focused on clinical decision-making by emergency physicians and its impact on patient health outcomes and healthcare costs.
Jamie Daw, assistant professor of Health Policy and Management, evaluates policies that determine access to needed health services, from gaining health insurance to connecting with providers and ultimately, receiving high-quality care. Her research focuses on access to care around childbirth among low-income women and families.
Kai Ruggeri, assistant professor of Health Policy and Management, studies how policy influences population behavior, and how integrating evidence into policies can improve economic outcomes and population well-being. Current projects focus on large-scale behavioral insights related to economic and health choices.
In the Department of Population and Family Health, three new faculty largely have a global focus, with research interests including human rights, humanitarian settings, health equity, implementation science, and reproductive health.
Sara Casey, MPH '02 DrPH '16, assistant professor of Population and Family Health, is the director of the Reproductive Health Access, Information and Services in Emergencies (RAISE) Initiative, which works to improve contraceptive and abortion-related services in countries whose health systems have been weakened by war or natural disaster.
S. Patrick Kachur, professor of Population and Family Health, is a public health physician with 30 years' experience in global health. His scholarship has examined the effectiveness and equity of malaria and child health interventions. Currently, he coordinates implementation science partnerships with a focus on expanding access to quality primary health care services. 
Monette Zard, associate professor of Population and Family Health, is the new director of the Program on Forced Migration and Health. An expert in international human rights and refugee law, she teaches the course, "Protection of Human Rights in the Contemporary World," on the basics of the international legal system. 
In the Department of Biostatistics, three new faculty bring expertise in methodology to shed light on complex research projects on health issues such as HIV, mental health, and personalized medicine.
Jianhua Hu, professor of Biostatistics, is director of the Cancer Biostatistics Program. She is focused on developing methods addressing unconventional data analysis challenges in biomedical studies to improve disease diagnosis, prognosis, and treatment, in areas such as genomics and proteomics, imaging, and personalized treatments. 
Caleb Miles, assistant professor of Biostatistics, develops statistical methods in the areas of interference, measurement error, and mediation analysis with the ultimate goal to bring relief to populations suffering from poverty and disease. His applied work has largely been in HIV/AIDS.
 
Linda Valeri, assistant professor of Biostatistics, is an expert in causal inference with a focus on statistical methods for causal mediation analysis, measurement error, and missing data. She is interested in translating statistical methods in public health to improve our understanding of mental health, environmental determinants of health, and health disparities.  
Last but not least, in August, the School welcomed Gary Miller, professor of Environmental Health Sciences and a leading authority on exposome research. He is also Vice Dean for Research Strategy and Innovation, a position created to foster research collaborations across departments and disciplines.
"The best science happens when we find ways to work together," says Miller. "I look forward to working with this highly talented group of faculty to forge connections so we can tackle some of our most challenging health problems."