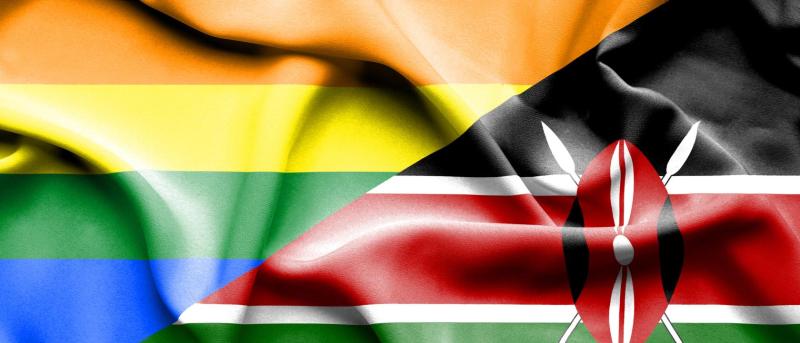 Rainbow Childhoods
Columbia Mailman Public Health Student, Connor Wright, launches a practicum project designed to support LGBTIQ data collection in Kenya.
In May I received a celebratory email stating, "Today is a thrilling day for LGBTIQ+ persons and a significant win for human rights in Kenya! … A five-judge bench ruled that the petitioners' rights were violated after forced anal exams." This ecstatic response was my first introduction to LGBTIQ+ rights in Kenya and marked the beginning of my summer practicum there.  
As a Columbia Mailman Public Health student studying population and family health and as a homosexual male, I understand the connection between sexuality and health. I have distinct memories of my coming out experience not revolving around celebration, but taken as a declaration that I had a major risk factor for HIV/STIs, discrimination, issues with mental health, and physical harm. It seemed that most people were worried about the potential tribulations my future held. And they were right to have concern: in the United States alone approximately one in six gay and bisexual men will be diagnosed with HIV in their lifetime
1
; LGB individuals are found to have higher rates of psychiatric disorders across the diagnostic spectrum
2
; and LGB youth are four times more likely to attempt suicide than their heterosexual counterparts
3
.
However, I count myself among the lucky that my health risks are dramatically reduced due to my privileged status among queer sub-groups: a white, cis-gender, gay male from progressive California, pursuing a master's degree in equally progressive New York City. These statistics don't even begin to scrape the surface of this intersectional health issue, and how race, sex, gender expression/identity, and geographic location, and other determinants of health have profound effects on an individual's overall health status and experience.
In Africa, 30 states criminalize same-sex relations. In these regions not only does the queer community face penal repercussions, but even more damaging is the rhetoric around LGBTIQ+ individuals. Films depicting queer experiences are banned in Kenya, and in an interview with CNN, the country's president, Uhuru Kenyatta, backed his stance that homosexuality goes against the cultural belief of Kenyans and that it is not an issue of human rights. He recently stated, "I won't engage in a subject that is of no importance to the people of Kenya." Despite ongoing efforts to promote heteronormative behavior and de-legitimize queer persons, change is happening. In addition to the court decision that I learned about in May, youth organizations like The African Queer Youth Initiative are forming and advocating for their rights, and the banned Kenyan film Rafiki, illustrating an LGBT love story, was shown at the Cannes Film Festival. Slowly, the queer community is forcing society to have these conversations.
Yet there is a consistent push back. The erasure of queer Kenyan experiences is not only harmful in its rhetoric and intention, but it fuels the capacity of religious, social, and institutional organizations to deny LGBTIQ+ Kenyans their rights and further promote violence and discrimination. Without queer acknowledgment, there can be no information and data on the queer Kenyan experience, which limits the organizational programming to target the needs of this population and provide them with services.
I began my practicum search by meeting with Mark Canavera, the co-director of the CPC Learning Network, and discussing my interests: forced migration, human rights, and LGBTIQ+ health. Upon sifting through these topics, the ubiquitous gap in research about LGBTIQ+ childhoods arose naturally. The available information, which was quite minimal, was increasingly specific to the generalized queer experience of those in the United States and similar Western countries such as Israel, France, and The Netherlands. All of the research highlighted very specific, white, Western, privileged LGBTIQ+ experiences and none from countries outside of this perspective. In many regions around the world social, cultural, and political factors restrict data collection associated with LGBTIQ+ experiences. Without any demographic and health data on this specific sub-population, there can be no programming targeting the queer communities who need it the most. From there, The Rainbow Childhoods Initiative was born to help address this gap. My practicum proposal was clear: probe the diversity of children of alternative sexual orientations, gender identities/expressions, and sex characteristics by opening a research framework to be conducted and collected by local LGBTIQ+ organizations. It was an unspoken understanding that this research should not be conducted by the CPC Learning Network, but rather by the queer communities of each country involved in Rainbow Childhoods Initiative because who would be more familiar with the queer experiences of any nation than those who lived them?
After reaching out to advocates, researchers, and organizations in Africa, Southeast Asia, the Middle East and South America, Rainbow Childhoods was launched in Thailand and Kenya in May, 2018. I worked alongside the Gay and Lesbian Coalition of Kenya, and Alison Sussman, a fellow Mailman student, worked with the Thai Transgender Alliance.
Working in Kenya alongside individuals who are at the forefront of the fight for recognition and equality, primarily in a society whose institutional organizations deny LGBTIQ+ persons their civil rights, was incredible. Working within communities where lives are shaped around the struggle for visibility reminds me of why I came to Columbia. Each practicum comes with its challenges, but the overall experience, skills, and perspective I gained in Kenya have motivated me to continue focusing my public health career on reflecting the LGBTIQ+ health experience on a global scale. 
---
Connor Wright is a 2nd year MPH candidate in the Heilbrunn Department of Population and Family Health. He received a BS degree in International Public Health/International Health from Tulane University School of Public Health and Tropical Medicine.  
If you would like to contribute to Mailman Student Voices, please send a three to five sentence pitch to mailmancomm@columbia.edu.