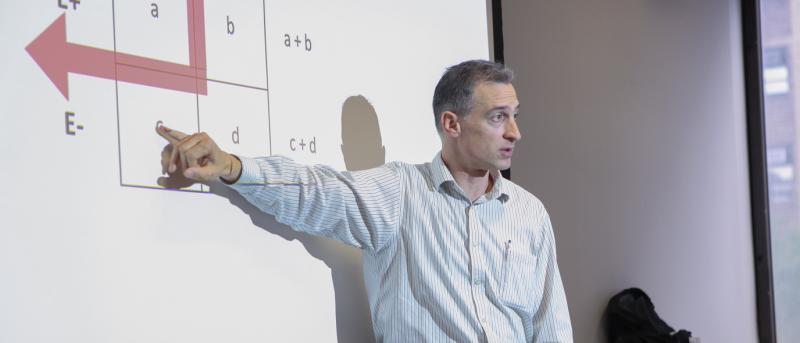 Preventing Gun Violence Begins in the Classroom
It's a topic rarely covered in a public health classroom, but hopefully, one day it will become more common. Columbia Mailman School's "Gun Violence in the United States: Evidence and Action," one of the country's few public health courses on preventing firearm injury and death, invites students to examine the science on gun violence within the political and legal contexts that support or stymie collective action. 
On a recent Monday afternoon, Ted Alcorn, one of the course's instructors, told the class a tragic story of a young woman who was about the same age as the students when she was shot and killed by a former boyfriend. The tragedy, which was devastating to her family and friends, is unfortunately just one part of a national picture of largely unchecked violence, dominated by firearms.
Each year, 34,000 people in the United States are killed by guns—including in intimate partner violence, community violence, suicide, mass shootings, and those that the legal system deems "justifiable."
"Once seen strictly as a criminal justice concern, gun violence is increasingly understood to be a public health issue," says Alcorn, a journalist and former research director at the advocacy group Everytown for Gun Safety. "We designed this course to equip students to engage not just with the science of preventing gun violence, but to understand how that science intersects with our political realities. The goal is getting to a place where we can marshal the evidence to effect change."
At the Monday afternoon class, Alcorn described the murder of the young woman, students reviewed a collection of studies on intimate partner gun violence, which like every other type of gun violence is a far greater problem in the United States than in other comparable countries. Unlike other gun homicides or gun suicide, in which men are more often the victims, domestic violence homicides disproportionately affect women. Nationally, half of women killed by guns are killed by intimate partners and family members. When an abuser has access to a firearm, his partner is five times more likely to be murdered.
Charles Branas, chair of the Epidemiology Department and the course's co-instructor, invited the class to take a close look at a 2003 research study that identified risk factors for female homicides in the context of abusive relationships, including the perpetrator's access to a gun. He asked students to consider questions: how the study was designed, how terms like domestic abuse are defined, and what conclusions can be drawn from it. Perhaps the biggest takeaway: guns are highly lethal. "It may seem obvious," said Branas, "but in situations where guns are present the chances of dying are excessive and we seem to overlook this." Groups working to prevent domestic violence have used evidence like this to restrict abusers' access to guns as a top priority.
For more than a decade, Branas's own research has challenged conventional thinking, presenting evidence that the risk of gun death is disproportionally high in rural areas, where suicides are the biggest contributor, and actually at higher rates than urban areas where homicide risk is more common. His research was cited in the landmark 2008 Supreme Court decision, District of Columbia v. Heller that upheld the individual right to possess firearms but affirmed the constitutionality of reasonable restrictions. In another prominent study, he found that people who carried guns were more likely to be shot than those who were unarmed. In recent years, even as federal funding for gun violence research dried up, his research has continued, zeroing in on creative ways to reduce urban gun violence by restoring vacant and abandoned spaces in cities.  
Over the last 50 years, despite sustained rates of gun violence above other developed nations punctuated by high-profile mass shootings, policymakers have done little to address the problem.  During the class, Alcorn walked students through a half century of federal efforts, from the 1968 Gun Control Act, signed into law after the assassinations of Robert Kennedy and Martin Luther King Jr., to more recent initiatives to address domestic gun violence, including the 1997 Lautenberg Amendment, which restricts access to firearms by people convicted of misdemeanor crimes of domestic violence. That Congress even took that step reflects the unique status of domestic gun violence as an area of greater consensus.  "There is a lot of bipartisan support to address this issue," Alcorn told the class. "Yet we still have a lot of gaps to fill."
Through the fall, the Columbia Mailman course covers gun violence from multiple angles: the beliefs and behaviors that constitute American gun culture; the roles played by government, the legal system, and mass media; and various interventions aimed at prevention. Along the way, students, whose interests span injury prevention, chronic disease, and health policy, write briefs as if they were outlining the issues for policymakers, drawing on the best available science to support their positions.
Justin Lee, an MPH student in Epidemiology, relishes the opportunity to pull back the curtain on gun violence.
"I want to see the issue in an unfiltered way," Lee said. "Everyone needs to take the issue of gun violence seriously to evolve as a country. To do that, it's important to understand what the research is saying."