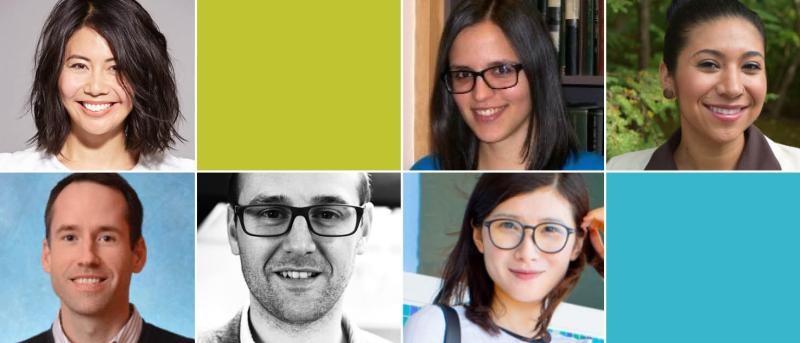 New Faculty Bring Fresh Ideas
Six scientists come with diverse expertise on issues from substance use and chemical exposures to organizational behavior and data from wearable devices
They look at how chemicals can accelerate the aging process, the ecological drivers of infectious disease seasonality, perceptions of medical marijuana laws, and more. They have been honored for their discoveries and quoted in the media. They are new faculty and researchers joining the Mailman School this fall.
Yuna S.H. Lee, who is joining Health Policy and Management as an assistant professor, studies how healthcare organizations can manage work environments to promote creativity and ultimately, improved quality of care. She has a PhD in Health Policy and Management from Yale and has worked with government agencies, academic medical centers, consultancies, and think tanks. Her paper on how healthcare organizations can take advantage of staff's creative ideas to improve the patient experience was recognized by the Academy of Management. At Mailman, she is teaching a class in managerial and organizational behavior.
Micaela Martinez, previously an infectious disease ecologist at Princeton, is joining the Department of Environmental Health Sciences as an assistant professor in the Climate and Health program. Martinez's research focuses on understanding the drivers of seasonality in infectious disease systems. In a 2016 article in PLOS Biology, she proposed that women could time pregnancies to reduce risk for Zika based on the seasonal nature of transmission. A recent story in The Atlantic reports on her quest to improve availability of mosquito data in the U.S.   
Pia M. Mauro, previously a post-doctoral fellow in Epidemiology, is now an assistant professor. Mauro, who is funded through the University Provost's Office has research interests that include substance use and co-occurring psychiatric disorders, access to treatment, health equity across racial/ethnic subgroups, and health policies, such as medical marijuana laws. She was first author of a 2015 paper in the journal Addictive Behaviors that reported older adults who frequently used cigarettes or prescription drugs to cope with stress had greater odds of poor self-reported health than those who used the substances with less frequency. 
Brandon Pearson is joining Environmental Health Sciences on November 1 as an assistant professor. Pearson, a neuroscientist, is coming from the German Center for Neurodegenerative Diseases at the Helmholtz Association. Earlier this year, he was lead author of an article in Current Environmental Health Reports highlighting the potential for chemicals and drugs to accelerate aging, as well as methods to mitigate these "gerontogenic" outcomes.  
Kai Ruggeri is the new director of the School's GRAPH—Global Research Analytics for Population Health—program. He is also a lecturer in analytics for decision-making in Health Policy and Management. Ruggeri comes from the Department of Psychology at the University of Cambridge, where he directs the Policy Research Group. He studies how policy influences population behavior, and how integrating evidence into policies can improve economic outcomes and population well-being. 
Yifei Sun, incoming assistant professor of Biostatistics, brings expertise in developing statistical methods and machine learning techniques to apply to complex data, such as from electronic health records and wearable devices. Sun earned a PhD at Johns Hopkins, and is author of a 2017 article in the Journal of the American Statistical Association that proposed a new method for evaluating lifetime medical costs using the SEER-Medicare-linked database. She has received honors for her research from the American Statistical Association and Johns Hopkins.
"I'm looking forward to working with colleagues in Biostatistics and across the School," says Sun. "I'm very excited to be here!"