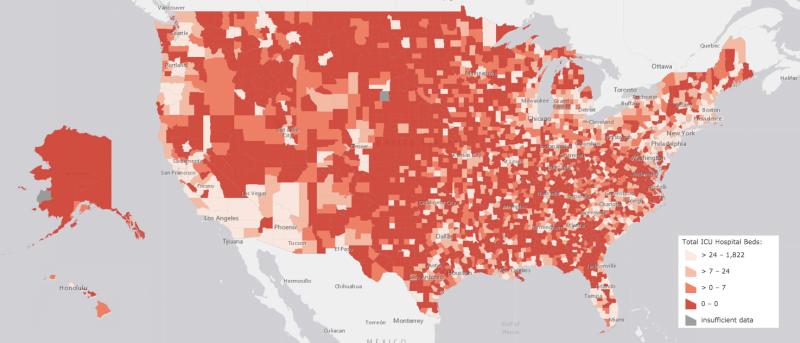 Mapping the Areas Most Vulnerable to COVID-19 Hospitalizations
As COVID-19 engulfs the world, every nation experiences the pandemic differently. Within the United States, too, areas like New York City, have been hit harder than others. Now, an epidemiologist at Columbia University Mailman School of Public Health has created an interactive mapping tool to shed light on healthcare capacity in counties with populations particularly vulnerable to severe COVID-19 infection and the need for a hospital visit.
Andrew Rundle, associate professor of epidemiology, in collaboration with Policymap.com, harnessed federal data from the Census Bureau, Centers for Medicare and Medicaid Services, and the Health Resources & Services Administration to create maps that reveal the numbers of older people and numbers of people with underlying chronic conditions—both populations especially vulnerable to severe COVID-19 disease. His team also mapped the availability of total hospital beds and intensive care beds to understand which communities are at risk of having their healthcare systems overwhelmed by COVID-19 patients. [March 26 Update: Charles Branas, chair of epidemiology and an expert in disaster preparedness and emergency medical capacity, worked with Rundle to add a feature to visualize the localized impact of added ICU beds.]
The results are publicly accessible with new features and data updates planned. The project was originally outlined in a blog maintained by Columbia's Built Environment and Health Research Group.
The interactive map allows users to visualize multiple data sets and to zoom in on areas by county to see the underlying data. Users can identify find areas of the country with the greatest number of people age 65 and older per available ICU bed, for example, or counties with high numbers of seniors with underlying health conditions per ICU bed. In New York City, by the measure of those aged 65 and over per ICU bed, Manhattan is best situated, and Queens the least. Rockland County, New York, is even worse off, as are large sections of the nation.
"I hope public health officials and policymakers will use this tool to identify the particular vulnerabilities of American communities so as to provide them with the necessary resources to prevent unnecessary deaths from COVID-19," says Rundle. 
The Built Environment and Health Research Group is an interdisciplinary consortium of researchers who study how neighborhood environments influence health. The team includes researchers from Columbia University's Mailman School of Public Health and the Columbia Population Research Center, Drexel University, University of Washington and American University.