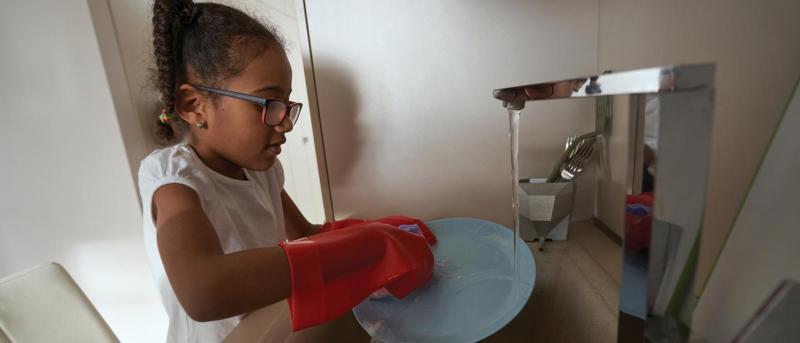 Lead Service Lines in NYC Disproportionately Impact Hispanic/Latino Communities and Children Already At Risk
Findings support immediate need for full identification and replacement of lead service lines in NYC and NY State
Results from a study just released by Columbia University Mailman School of Public Health show major inequities in the location of lead service lines across New York City. Communities with large numbers of Hispanic/Latino residents and those with children who are already highly vulnerable to lead exposure from numerous sources are disproportionately impacted by water service lines that may contain lead. Study findings are published online in the journal Environmental Health Perspectives.
There is no safe level of lead exposure for children. Even at lower levels of exposure, lead is associated with impaired cognitive function, attention-related behavioral problems, and diminished academic performance. Lead service lines are a significant source of lead to drinking water, even when source water contains no lead.
Out of over 850,000 residential service line records analyzed, over 136,000 (16 percent) were potentially made of lead, and over 227,000 (27 percent) were made of an unknown material, which could also include lead. In total, over 40 percent of service lines in the city could contain lead. 
The largest absolute number of potential lead and unknown service lines were in Brooklyn (91,377) and Queens (66,508), respectively. Relative to other boroughs, a larger proportion of service lines with potential lead were in the Bronx (21 percent) and Queens (20.5 percent); Brooklyn had the largest proportion of service lines made of unknown material that might also contain lead (33 percent).
The researchers determined whether service lines that could contain lead were evenly distributed throughout NYC. The researchers established that communities with higher proportions of Hispanic/Latino residents had a higher prevalence of service lines that could contain lead. The researchers also identified that potential lead service lines were also more likely to impact communities where children were already highly vulnerable to lead from all sources, including paint, dust, and water. 
"Our objective was to evaluate whether the location of lead service lines was associated with community race, ethnicity, and child vulnerability to total lead exposure," said Anne Nigra, PhD, assistant professor of Environmental Health Sciences at Columbia Public Health. "Our goal was to help inform equitable interventions, especially the replacement of all lead service lines. These findings support that policymakers in New York City and New York state should consider these inequities in lead service line locations when prioritizing lead service line replacement efforts. They should work to immediately identify and replace all lead service lines."
The researchers also found differences within boroughs of the city. Specifically, potential lead service lines were associated with higher proportions of non-Hispanic White and non-Hispanic Asian residents in the Bronx and Manhattan, and higher proportions of non-Hispanic Black residents in Queens.
Although the U.S. EPA Lead and Copper Rule requires public water systems to conduct routine compliance monitoring for lead at taps throughout the distribution system and intervene to reduce lead corrosion, current regulations are inadequate to reduce water lead exposure and eliminate racial/ethnic disparities in water lead exposure, according to the researchers.
The Infrastructure Investment and Jobs Act of 2021 allocated billions of dollars to improving drinking water quality across the US, but individual states set the prioritization criteria for determining which municipalities receive funding for lead service line replacement efforts. Under NYS's current lead service line replacement program, municipalities are prioritized for funding if those municipalities are low income (median household income <150 percent of regional average), are likely to have a high number of lead service lines (500 or more homes constructed before 1939), and have a high percentage of children with elevated blood lead levels (>0.5 percent children with blood level >5 μg/dL. 
"The high number of service lines that might contain lead in residential buildings throughout NYC and the significant inequities in lead service line prevalence underscores the importance of prioritizing lead service line replacement for the most impacted communities," noted Nigra. "Our findings suggest that NYC communities with known potential for child lead exposure from paint and dust may also be highly vulnerable to water lead from lead service lines."
Nigra and colleagues point out that numerous studies have called for justice-oriented interventions and policies that protect the most highly exposed communities. And while advancing environmental justice necessitates that all lead service lines should be identified and replaced, efforts should also prioritize the most impacted communities. "Improvements to public health demands attention to all potential lead sources, including water, soil, and paint," observed Nigra. "Future analyses in New York and around the nation should consider the pathways through which these inequities arose, including assessing differential disinvestment by neighborhood and patterns of residential segregation."
Co-authors are Wil Lieberman-Cribbin, Columbia Mailman School of Public Health; Benjamín C. Bostick and Steven N. Chillrud, Lamont-Doherty Earth Observatory, Columbia University; and Daniel Carrión, Yale University School of Public Health.
The study was supported by NIH (OD031849), National Institute of Environmental Health Sciences (ES009089), Eunice Kennedy Shriver National Institute of Child Health and Human Development (CHD058486).
According to Rob Hayes, director of Clean Water with Environmental Advocates NY, who was not involved in the research, studying the findings by Columbia Public Health researchers have direct relevance to New York state policy relevance. When asked about the relevance of these findings for state and local policy, he said:
"The extraordinary research of Dr. Nigra and her colleagues at Columbia Mailman School confirms what we have long suspected: that the most vulnerable members of our society are most at risk of dangerous lead exposure when they turn on the tap. Every New Yorker deserves clean water—it's long past time to replace all of the lead water service lines causing contamination. While New York is receiving an influx of federal funding to get the lead out, it won't be nearly enough to replace every lead pipe, leaving behind too many New Yorkers in low-income communities and communities of color. It's now up to city and state leaders, from the Mayor to the Governor, to equitably distribute available funding and enact new investments and policies to put New York on the path to 100 percent lead pipe replacement in the next 10 years. We hope that Governor Hochul will sign the Lead Pipe Right to Know Act and make New York a leader in water transparency."
Media Contact