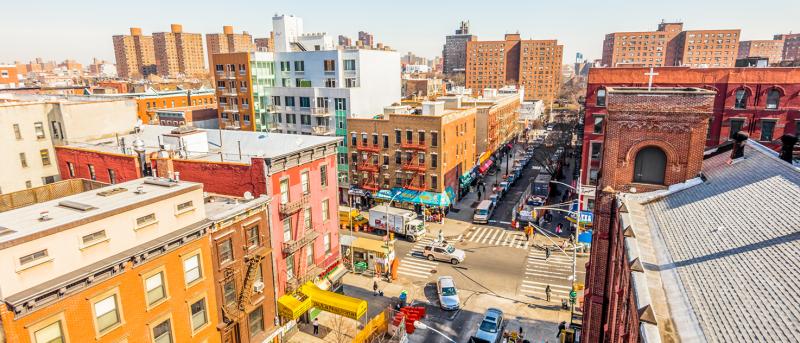 ICAP Leads Community Effort to Fight COVID-19 in New York City
ICAP is best known for its public health work internationally, but for years it has run two research centers in New York City, not far from its headquarters at Columbia University Mailman School of Public Health. Alongside with their regular work on HIV, malaria, tuberculosis, ICAP's Harlem and Bronx Prevention Centers are now busy in the fight against COVID-19.
While the vaccination effort in New York City is gaining speed, there is still considerable risk for transmission of SARS-CoV-2, the virus responsible for COVID-19. Similar to how the pandemic arrived last spring, cases are concentrated in low-income communities of color.
These COVID-19 disparities are thought to stem from underlying chronic conditions, including diabetes, heart disease, and obesity. Yet health vulnerabilities do not exist in a vacuum and must be understood in a context of historical injustices—such as policy decisions to locate polluting highways and industries in low-income communities of color, and crowded living conditions related to disinvestment. However, much still remains to be learned about how historically marginalized groups were rendered vulnerable to the pandemic.
Jessica Justman, senior technical director at ICAP and associate professor of medicine in Epidemiology, is the principal investigator for ICAP of the COMPASS Study—Community Prevalence of SARS-CoV-2 Study—which is helping fill in information about the disparate impact of the virus. The study is being conducted by the National Institute of Allergy and Infectious Diseases' COVID-19 Prevention Network at 26 sites across the country, including ICAP's Harlem and Bronx Prevention Centers.
"This research is studying the demographic and social factors and medical illnesses associated with COVID-19 from the perspective of the general population in communities rather than hospitals or medical clinics," explains Justman. "The data collected through this population-based survey will give us a greater understanding of the extent of current and prior COVID-19 and will therefore help us project future disease risk."
COMPASS investigators are recruiting a diverse group of participants to assess current and past infection, as well as medical history and demographic information. COMPASS researchers recruit participants at venues with high foot traffic, such as parks and outside supermarkets, as well as outpatient clinics and nursing homes. Recruits are tested in tents and are notified if they test positive for active infection.
The results will help shed light on a number of unanswered questions, including how children may or may not impact the spread of SARS-CoV-2; the impact of other medical conditions on people who have SARS-CoV-2; demographic and social risk factors such as housing instability and food insecurity; knowledge about and attitudes and practices on COVID-19 and public health measures to deal with COVID-19 in the community; and racial and ethnic health disparities, including access to testing and other public health resources.
Clinical Trials
ICAP in New York City has also played a key role in several high-profile clinical trials related to preventing COVID-19. Both the Bronx and Harlem Prevention Centers are participating in a national study for Regeneron Pharmaceuticals to assess the safety and efficacy of a one-time subcutaneous infusion of monoclonal antibodies in preventing COVID-19 in household contacts of individuals infected with SARS-CoV-2. The therapy works by blocking the virus's spike protein from binding to human cells. Early data finds it to be effective.
Ellen Morrison, principal investigator of the Regeneron Study at ICAP, explained that household transmission continues to fuel the COVID-19 epidemic. "This is particularly problematic for the multigenerational households living in the Bronx and Harlem," she said. "Children attend school and the younger adults are the essential workers in our communities; unfortunately, this increases risk, especially for older members of the household."
The Harlem site was one of 215 research sites that assessed the safety and efficacy of the single-dose Johnson & Johnson vaccine, now widely available in the U.S.  At the Bronx Prevention Center, ICAP was involved in a trial for the AstraZeneca vaccine, which is currently being used in a number of countries worldwide.
The success of the clinical trials, as well as the COMPASS study, owes to ICAP's positive reputation in the communities it serves built over many years, and to its partnership with community organizations, which helped spread the word about the studies. Recruitment was not difficult, showing it is possible to overcome vaccine hesitancy.
"If you give people the opportunity and make it accessible, people will accept it," says Sharon Mannheimer, associate professor of Epidemiology and Medicine, chief of infectious diseases at Harlem Hospital, and lead on ICAP's studies in Harlem. "People were very grateful to have the opportunity to participate."
Through these research trials, ICAP has played an important role in assessing the safety and efficacy of COVID-19 vaccines throughout all of New York City's diverse populations.
"Different groups of people may have different responses to the same vaccine. It's important that communities of color, who have historically been under-represented in clinical trials, have the opportunity to participate in the COVID-19 vaccine trials," said Jessica Justman. "Diversity in these clinical trials will be critical to individual wellbeing and to a successful public health response to COVID-19."