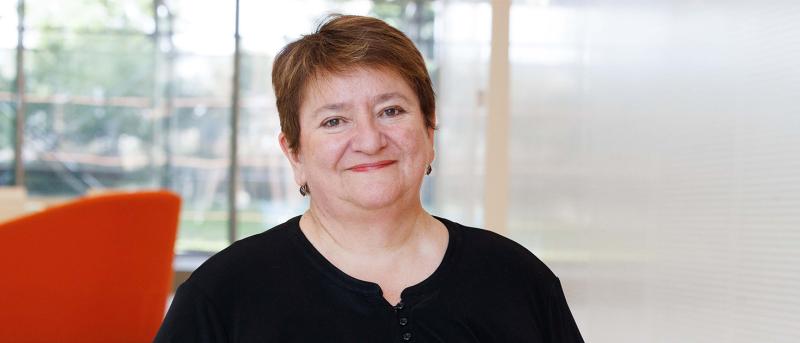 Helen de Pinho Named a Provost's Senior Faculty Teaching Scholar
Columbia University Provost Mary Boyce has selected Helen de Pinho, Columbia Mailman School Associate Dean of Educational Programs and Assistant Professor in the Heilbrunn Department of Population and Family Health, to be a 2023 Provost's Senior Faculty Teaching Scholar. The university-level role is limited to senior faculty who are outstanding teachers and well-respected for their research contributions.
During their yearlong tenure, eight Senior Faculty Teaching Scholars from across the University are afforded the opportunity to create a vision and plan for supporting, changing, and innovating the culture of teaching and learning within their own department or school and across campus. (Read about previous cohorts and details about the program on the University Center for Teaching and Learning website.)
"I am excited to have this opportunity to collaborate with my fellow teaching scholars across the university," says de Pinho. "I hope to have the opportunity to share Mailman's experience in developing innovative approaches to the integration of science and practice, requiring students to explore and address the fundamental systems giving rise to inequities in health outcomes."
As Columbia Mailman Associate Dean of Educational Programs, de Pinho works with colleagues in the Office of Educational Initiatives to implement schoolwide core and certificate programs, consult on the development of new educational initiatives, and amplify and support academic functions across the School's six departments. She is also chair of the Curriculum Committee. 
De Pinho is the faculty lead for the ISP (integrated science and practice) course, as well as one of the Core Studio leads, as part of the Core Curriculum. She teaches the Systems Thinking concentration and two DrPH core courses on leadership and practice. She is the 2017 recipient of the School's Teaching Award for ISP, and second award in 2018 for leadership in this work.
A leading expert in systems thinking in public health, de Pinho's research work focuses on task-shifting and human resources in sub-Saharan Africa to reduce maternal deaths.
"I am thrilled that Helen was selected for this honor," says Michael Joseph, Columbia Mailman Vice Dean of Education. "She plays a major role in our educational efforts here at Columbia Mailman and is beloved by all students who have the pleasure of being taught by her."