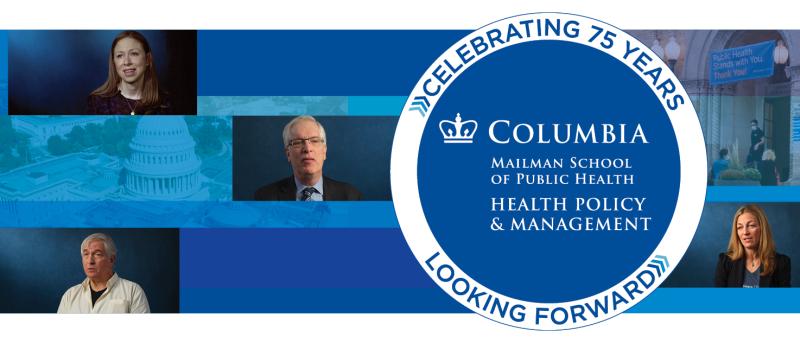 Health Policy and Management Celebrates 75 Years
The year 1945 was a turning point for the American healthcare system. It was also a big year at the Columbia Mailman School, which saw the creation of the Division of Hospital Administration, known today as the Department of Health Policy and Management.
Last week, the Department celebrated this milestone with an online event that reflected on the evolution of the healthcare system over the last 75 years, and how faculty, students, and alumni have played a part in shaping and shedding light on these changes. It was also an occasion to debut a special commemorative video.
"The Department of Health Policy and Management is critical to bringing impact to everything we do as a School," said Dean Linda P. Fried. "It is at the core of our teaching programs… and at the core and the translation vector for our research programs, bringing translation of science and scholarship into policy, leadership, and management for our health system."
In the spirit of the era of the department's founding, the event featured a "fireside chat" with three Health Policy and Management chairs present and past: Professor Michael Sparer and Emeritus Professors Larry Brown and Sherry Glied. The trio reflected on a range of issues, including what the pandemic means for the future and possibilities for health reform. James A. Morone, a professor of political science and urban studies at Brown University gave a keynote address that covered the history of health policy in the United States, beginning in 1945, the year the Kellogg Foundation funded the creation of a Division of Hospital Administration at Columbia University.
Morone explained that post-war optimism in science and medicine led to large federal investments through the Hills-Burton Act to fund the construction of hospitals, and the National Institutes of Health, to support biomedical and public health advances. At the same time, a bitter partisan divide emerged over the question of a national health plan. While government investment grew, so too did distrust in government and scientific expertise—a sentiment on full display today as the public health response to the pandemic has become a political issue.
Sparer said the current moment is both promising and precarious for public health. While the field has long been misunderstood and underfunded, applications for schools of public health are now way up, and new federal funds are earmarked to expand the public health workforce. Yet many barriers remain: distrust of government and science are getting worse, as is the tendency to blame health problems on individuals not society, and an over-reliance on technological fixes. Going forward, he said, we need the vaccine roll-out to go well and the economy to rebound. "We need some renewed faith in government to do something well."