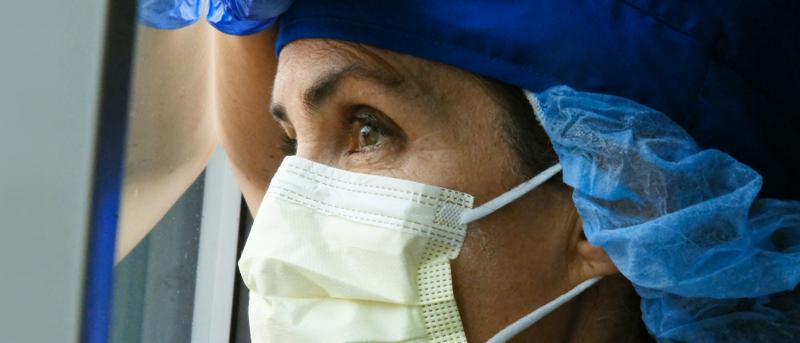 Global Study Examines Mental Health of Frontline Healthcare Workers
Columbia University Mailman School of Public Health researchers, in collaboration with colleagues at the University of Chile, launched a yearlong study of the mental health impacts of the COVID-19 pandemic on frontline health care workers in more than 20 countries around the world. The Covid-19 HEalth caRe wOrkErS Study (HEROES) study will survey thousands of clinicians and support staff over time to generate insights into the experience of healthcare workers in different countries, with different resources and strategies to address surges in illness. The surveys will screen for signs of acute stress, substance use, anxiety, and depression, as well as physical symptoms and the availability of social supports.
There is very little existing research into the mental health status of healthcare workers during a pandemic and HEROES is among the first studies to assess the mental health of healthcare workers in various health settings during a pandemic on a global scale. The study seeks to learn whether the mental health status of healthcare workers and other non-clinical workers changes over time If so, do mental health symptoms spike early then fade, or is there a delayed onset? Is daily applause for healthcare workers protective, and could it provide the psychological support to help them persevere in the short term? Is the trajectory of mental health impacts linked to the public health strategies employed in these countries?
"Around the world, frontline healthcare workers are putting in long hours under constant risk of infection and intense pressure of caring for a high volume of sick patients, some of whom die under their supervision," says epidemiology doctoral student Franco Mascayano, MPH, who developed the study with Ezra Susser, MD, DrPH, professor of epidemiology and psychiatry. "We expect to find that they are experiencing serious mental health consequences that in some cases continue after the worst of the pandemic is over. The effects of working in these conditions may even contribute to higher rates of bodily illness."
After developing the study concept, Mascayano and Susser enlisted the partnership of  Mascayano's mentor and Susser's longtime collaborator Ruben Alvarado, PhD, a psychiatry professor at the University of Chile's School of Public Health, who recently launched a similar study of Chilean healthcare workers. The study expanded globally as Columbia doctoral and post-doctoral students on the team, who had decamped to their home countries due to the pandemic, established research partnerships in Italy, Spain, Armenia, Colombia, Guatemala, the Netherlands, and Saudi Arabia, with additional countries expected.
"We want to understand who is most vulnerable, and how best to time supportive services. Along with clinicians, we expect support staff such as janitorial and food workers will also be affected," says Susser, who is also collaborating on a similar study of healthcare workers in New York State with Columbia Mailman epidemiology professors Guohua Li, DrPH, MD, and Christina Hoven, DrPH, and others at the Columbia University Irving Medical Center and elsewhere. (For more on the New York study, read a story by Columbia News.)
"In the short term, this research will yield data of immediate utility to health systems and governments on questions such as how to prioritize mental health treatment and other social supports, and to whom," says Susser.
Additional Background on the HEROES Study
Study participants will include both clinical and non-clinical staff: doctors, nurses, EMTs, imaging technicians, patient transportation workers, psychologists, janitorial and maintenance staff, food workers, administrators, and more. Respondents will complete surveys four times over the next 12 months with information on their mental and physical health along with a detailed picture of their work and life situation, including their proximity to COVID-19 patients, availability of PPE, whether or not testing is available to them, whether they tested positive, whether anyone they know died of COVID-19, whether they trust their workplace and their government can adequately respond to the crisis, the availability of psychosocial supports, among other questions.
The University of Chile, with the support from the government of Chile, is providing a data center for the global study, which will allow researchers to curate and archive data from participating countries to enable comparative analyses across countries and within-country analyses.
Bruce Dohrenwend, professor of epidemiology, and Linda Valeri, assistant professor of biostatistics, both at Columbia Mailman School, are also involved in the study. Additional Columbia Mailman students on the study team include doctoral candidates Gonzalo Martínez-Alés, Arin Balalian, Lubna Alnasser, Adriana Maldonado, Francesca Moro, Javier Narvaez, Alejandra Paniagua-Avila, Victor Puac-Polanco, Alexandra Restrepo; postdoc Elisabeth van der Ven; and masters students Keely Dennis and Thamara Tapia.