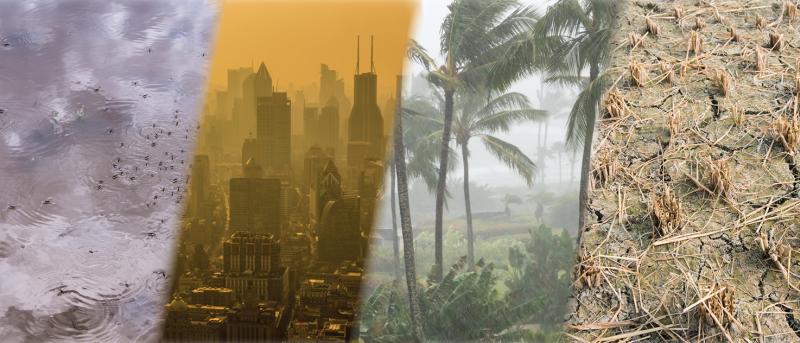 Experts Respond to UN Climate Report
The IPCC report finds severe impacts to the environment and human health will likely happen as soon as 2040
A report released last week by the United Nations' scientific panel on climate change finds that, absent "unprecedented" changes to the global economy, severe impacts of the warming planet will take place as soon as 2040. Several Columbia Mailman School faculty whose work addresses the health impacts of climate change shared their thoughts on the Intergovernmental Panel on Climate Change (IPCC) report and how the public health community should respond to its findings.
When every country in the world signed the Paris Climate Agreement in 2015, the global scientific and policy communities were largely focused on avoiding a 2ºC (3.6ºF) global temperature rise from pre-industrial levels. At that time, the small island nations at greatest risk of disappearing under rising sea levels asked the IPCC to project what might take place at a more modest temperature rise of 1.5ºC (2.7ºF). Written by 91 scientists from 40 countries and drawing on more than 6,000 studies, the current report finds impacts at this lower threshold will be much more severe than previously understood, with numerous risks for the environment and for human health, including spikes in heat- and ozone-related illness and vector-borne diseases, as well as food and water shortages. These outcomes will take place by 2040 unless carbon emissions are cut to nearly half their current levels within 12 years.
For more than a decade, faculty in the School's Climate and Health Program, the first of its kind in a school of public health, have advanced science on the health impacts of warming temperatures, including mortality estimates related to summer temperature spikes and the implementation of early warning systems for heat waves. Columbia Mailman is also home to the Global Consortium on Climate and Health Education (GCCHE), a hub that provides curricular resources and standards for more than 170 member schools and programs dedicated to educating their students on the health impacts of climate change.
"The connections between rising global temperatures and human health are many and complex," says Jeffrey Shaman, associate professor of Environmental Health Sciences and director of both the Climate and Health program and GCCHE. "We need research to understand these interactions in order to develop ways to adapt to these changes and build resilience while transitioning from fossil fuels to green energy. Right now, the number of people studying the health impacts of climate change is relatively small. Given the magnitude of this problem, it's crucial that we train many more people to do this work."
Infectious Disease
One area of ongoing study for public health researchers is the connection between climate change and infectious disease. The IPCC report states that risks for some vector-borne diseases, such as malaria and dengue fever, are projected to increase with warming from 1.5°C to 2°C, including potential shifts in the geographic range of mosquitos and other vectors. Simon Anthony, assistant professor of Epidemiology in the Center for Infection and Immunity, is a lead researcher in the USAID-funded PREDICT project, which conducts global surveillance for pathogens that can spill over from animal hosts to people. Close to 70 percent of emerging viral diseases—as well as those like HIV/AIDS, West Nile, Ebola, SARS, and influenza with which humans have a longer track record—are zoonoses, infections that originate in animals.
"There are some good indications that climate change will also increase the risk of disease emergence," says Anthony. "For example, warming temperatures can cause insect vectors to migrate and colonize new habitats, which can result in the introduction of pathogens into new areas. Climate change also leads to environmental change, and there is growing evidence to show that environmental change is a driver of disease emergence. While we don't fully understand all the specific mechanisms that lead to disease emergence, large-scale ecological disruptions, like climate, do seem to be closely linked."
Climate Refugees
Pacific island nations including the Marshall Islands, Fiji, Tuvalu, Kiribati, and Vanuatu that called on the IPCC to draft its new report are situated barely a meter above the ocean. The report projects the sea will rise close to that level by 2100 even if warming does not exceed 1.5°C, driven by the expansion of water as it warms and melting polar ice. The result would render much of these island nations uninhabitable, driving people from their homes. Around the world, millions of people are expected to be climate refugees, not just from coastal flooding and storms, but the whole gamut of climate impacts: forest fires, droughts, and political conflict fueled by these stressors.
Already, the United Nations reports that there are more refugees than at any time in human history—currently, there are more than 65 million displaced people, worldwide. Monette Zard, director of the Columbia Mailman Program on Forced Migration and Health and associate professor of Population and Family Health, follows these trends as she and her colleagues work with humanitarian partners and affected countries to design programs that protect the health and livelihoods of displaced populations.
"The IPCC report highlights the need to radically rethink the legal and institutional frameworks that we have in place to respond to the protection and assistance needs of people on the move," says Zard. "This system is already under strain and does not recognize climate change or environmental factors as a legal basis for granting refugee protection to those who cross international borders. Moreover, the vast majority of displacement associated with climate change occurs within the borders of nation states, and there is currently still no legally binding instrument at the global level that guides protection and assistance responses for these so-called 'internally displaced.' Our public health and public policy responses must be adapted to local context and take the needs and wishes of affected communities into account."  
Public Health Response
The IPCC report outlines a number of avenues to respond to climate change, from a steep tax on carbon to adaptation methods such as coastal defenses, green infrastructure, sustainable agriculture, and social safety nets. "Increasing investment in physical and social infrastructure is a key enabling condition to enhance the resilience and the adaptive capacities of societies," the authors conclude.
"Global climate change is one of the biggest crises facing humankind," says Linda P. Fried, Dean of the Columbia Mailman School. "These changes endanger everyone's health, starting with our most vulnerable communities, including older people in low-income countries, whose numbers are rapidly growing. Climate change is both an unprecedented challenge and a unique opportunity to chart a collective course for a healthy and equitable world. By cutting carbon emissions, we have the chance to reduce the impacts of climate change, and also lower air pollution, another major contributor to disease. By working to make the most vulnerable areas more resilient, we can improve the health and wellbeing of everyone."