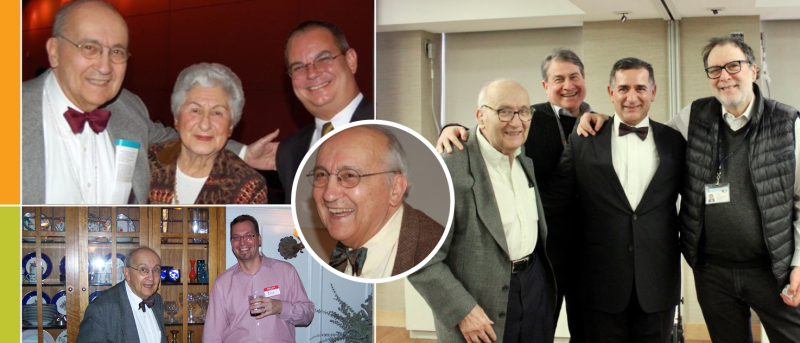 Eugene Litwak In Memoriam
Eugene Litwak, emeritus professor and former head of the Department of Sociomedical Sciences, died earlier this week. An innovative social theorist and public health leader, he advanced the field of sociomedical sciences, helping position Columbia Mailman School at its forefront.
As head of the then-division from 1985 to 1996, Litwak broadened its focus on social science research and doctoral training to embrace health promotion and disease prevention with an emphasis on training MPH students. He also supported interdisciplinary collaborations. During this period, the number of division faculty doubled. The MPH program, barely present in the early 1980s, flourished under his direction.
In his scholarly work, Litwak applied social theory to explain how different social structures, from large institutions to family relationships, are matched to the type of tasks undertaken in activities of social life, including in schooling, housing, and care for the elderly. He was interested in understanding how linkages across social groups explained the conflicting norms of different social structures.
Eugene Litwak was born in 1925 in Detroit. He received a BA from Wayne State University and a PhD in sociology from Columbia University. At the start of his career, he worked as a researcher at the Cornell University Housing Research Center followed by positions at the Johann-Wolfgang Goethe University, Frankfurt, and the Family Student Center at the University of Chicago. In 1956, he returned to Columbia and later joined the faculty of the School of Public Health. He also held appointments at the University of Michigan School of Social Work, Ann Arbor; University of Tel Aviv; Andrus School of Gerontology, University of Southern California; and served as a fellow at the Center for Advanced Study in the Behavioral Sciences at Stanford University.
Since 2007, the Department of Sociomedical Sciences has hosted an annual public lecture named in honor of Professor Litwak. The next Litwak lecture will take place this Spring.
"Eugene was the most important intellectual influential on my life," says Peter Messeri, professor emeritus in SMS. "His lasting legacy was to support us to do what we wanted to do. He was there to help us think through how to do it with the highest level of intellectual rigor and integrity."
"He was politically deeply committed to working people and humanity and was a fierce defender of faculty rights," says David Rosner, a historian and professor in the department. "I loved him—his openness, kindness, support, and warm intelligence embodied the best of Mailman and Columbia."
"It is an honor to serve as the chair of SMS, recognizing that Professor Litwak's vision and commitment to academic excellence and social justice significantly impacted the successful trajectory of our department," says Kathleen Sikkema, professor and chair of the Department of Sociomedical Sciences.