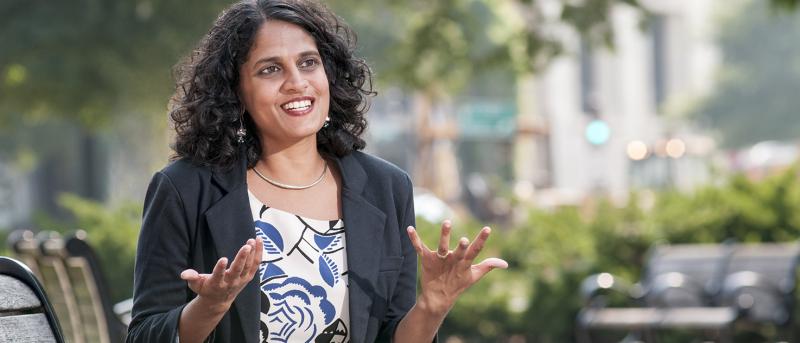 An Environmental Health Scientist Widens the Lens
As the saying goes: beauty is only skin deep. Yet the way beauty is defined often inflicts damage that cuts deeper. In her research, Ami Zota, an incoming faculty member in the Department of Environmental Health Sciences, has exposed the hidden risks of chemicals used in beauty products and documented their disproportionate harms among women of color.
Beyond a simple account of environmental risk factors, Zota, who will join the Columbia Mailman faculty in June, has widened her scientific lens to account for the roles played by social forces and societal injustices in shaping exposures. Over the last decade, she has shared her insights on these injustices with community groups and policymakers to change how consumer products are used and regulated.
Zota's research on beauty products and intimate care products uncovered high levels of endocrine-disrupting chemicals in the bodies of the women who use them—especially Black and Latinx women. Uniquely, her research linked heavy use of these products to racist attitudes and policies around personal appearance—for example, workplace rules prohibiting dreadlocks. "Most of how we think of the use of these products is individualized, and we don't typically think about the social context and structural factors that drive how we define beauty," she says. "In fact, environmental exposures are determined by upstream factors like structural racism."
In 2019, she was invited to testify about her findings to California policymakers as they considered new regulations on beauty and personal care products. Passed in 2020, the Toxic Free Cosmetics Act bans the use of 24 hazardous ingredients in these products. Just last week, she testified to Washington State legislators who are proposing a similar bill in their state. California and New York have also passed laws banning discrimination based on hairstyle and texture.
Zota, who is currently an associate professor at the George Washington University Milken Institute School of Public Health, traces her interest in environmental justice to a semester she spent in Madagascar during her undergraduate studies at the University of North Carolina at Chapel Hill. "I saw how community health and wellbeing were tied to ecological health. Poverty was a threat to the natural world." She went on to earn an MPH and ScD in environmental health at Harvard T.H. Chan School of Public Health and completed post-docs at the Silent Spring Institute and UCSF.
Her research on phthalates and other environmental health risks has attracted considerable media attention. Journalists regularly seek out her insights, knowing her reputation as an environmental health expert who uses clear language. She also brings diversity to the usual roster of voices. "As a woman of color, I offer a different perspective in a field that is still largely composed of older white men," says the professor, whose parents were both born in rural India. "But I came to realize I don't want to be alone in that role."
It was that realization that led her to create Agents of Change in Environmental Justice, a leadership training program for early-career environmental health scientists from systematically marginalized backgrounds. Launched in 2019, the program emphasizes research translation, science communication, and public engagement around topics in environmental justice. "We need new solutions. Business as usual is not going to help us with monumental challenges like climate change," Zota says. "These younger scientists have a lot of ideas that can help us. I want them to become the face of this field."
So far, four Columbia Mailman trainees (past and present) have participated as fellows in the nine-month program. Ashley Gripper, '17 MPH, now a PhD student at Harvard, wrote a personal essay on Black farming that was shared widely on social media and even covered by NPR. An Agents of Change podcast features the views of fellows and invited guests, including a forthcoming episode with Columbia Mailman Professor Diana Hernandez, whose work focuses on communities of color in New York City.
Zota's Columbia Mailman connections go further. Over the last two years, she has partnered with WeACT, a Harlem-based environmental justice group long affiliated with Columbia, on community-driven research and helped to educate their members about harmful environmental chemicals in the beauty industry. Andrea Baccarelli, chair of Environmental Health Sciences, is a collaborator; he is a co-investigator on her NIH grant focused on understanding epigenetic regulation of uterine fibroids, a gynecologic disorder that disproportionately impacts Black women. He also co-authored two papers on the links between phthalates and uterine fibroids. Last summer, Zota was one of the instructors in a Columbia Mailman/Harvard boot camp on environmental justice. 
"Columbia is a perfect fit," she says. "My vision is to advance environmental justice and health equity through science, training the next generation, communication, and advocacy. I'm able to build on all of these at Mailman. So much is possible."