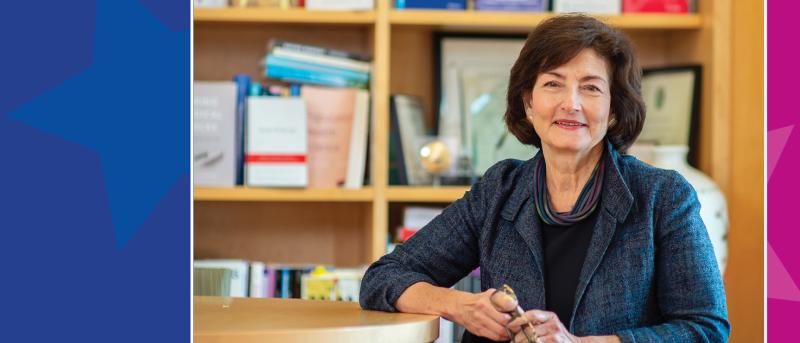 Dean Linda P. Fried Awarded Kober Medal for Scientific and Mentorship Achievements
Dean Linda P. Fried has been awarded the Association of American Physicians' 2022 George M. Kober Medal, in recognition of her groundbreaking contributions to the science of healthy aging, particularly the science defining the clinical syndrome of frailty and for prevention of frailty, disability, and cardiovascular disease. Fried is a former president of AAP (2016-2017), the first dean of a school of public health to serve in that role.
The Kober Medal, one of the highest honors in academic medicine, is given annually to an AAP member who has had an enormous impact on biomedicine through their scientific discoveries and the many outstanding young scientists that they have trained. Past recipients of the Kober Medal include 13 Nobel laureates and many world-renowned physician-scientists and clinician-scientists, including Anthony Fauci, director of the National Institute of Allergy and Infectious Diseases. Fried was honored by the AAP at a ceremony on April 9.
"Dean Fried's seminal work has transformed how we think of aging and has changed the lives of people around the world. Her dedication to helping people lead the most fulfilling, productive lives they can exemplifies the highest values of public health and medicine," said Katrina Armstrong, Chief Executive Officer of Columbia University Irving Medical Center and Dean of the Faculties of Health Sciences and the Vagelos College of Physicians and Surgeons. "Dean Fried's work to create healthy longevity has revolutionized health on a global scale and provided a transcendent vision of a society where people of all ages flourish."
An internationally renowned scientist, Fried has dedicated her career to creating a health span that matches increased life expectancies. Trained in general internal medicine and geriatrics, and cardiovascular and chronic disease epidemiology, she has led major NIH-funded population-based studies to determine the causes and consequences of frailty, chronic diseases, multi-morbidity, loneliness, and disability in aging. She has been the principal investigator of major longitudinal cohort studies, including the Cardiovascular Health Study and the Women's Health and Aging Studies I and II; and was a recipient of the NIH MERIT Award. She has also served as principal investigator of NIH-funded randomized controlled trials, including the GEM trial of Gingko Biloba and the Experience Corps trial, and of the Older Americans Independence Center.
"I am honored to receive the AAP's Kober Medal, which has an extraordinary history, and I share this award with the remarkable colleagues and students with whom I have worked to promote healthy longevity. This medal is an important recognition of the potential to escalate capabilities to prevent ill health and extend health span in our now-longer lives. This is essential to developing vibrant societies of longer lives and to creating a Third Demographic Dividend," said Fried, who is also the DeLamar professor of public health and director of the Robert N. Butler Columbia Aging Center.
Fried co-chairs the National Academy of Medicine's 2019-2022 Global Commission on a Global Roadmap for Healthy Longevity, an initiative that will make strategic recommendations from the realms of public health, medicine, social science in the context of emerging science and technology. She is also the co-designer and co-founder of Experience Corps, a community-based senior volunteer initiative and evidence-based public health program that places older volunteers in public elementary schools to support both the academic success of the children and the health of the volunteers.
Fried has received a number of other notable awards in recognition of her scientific contributions to public health and medicine, including the French INSERM International Prize in Medical Research; the American Federation for Aging Research's Irving Wright Award; the American Geriatrics Society's Henderson Award; the Women in Medicine Legacy Foundation's Alma Dea Morani Renaissance Woman Award; and the Alliance for Aging Research's Silver Innovator Award. She is an elected member of the U.S. National Academy of Medicine, currently serving on its Executive Council, and of the AAP and the Council on Foreign Relations; and serves on the Aging Society Network and the World Economic Forum's Council on Longevity.