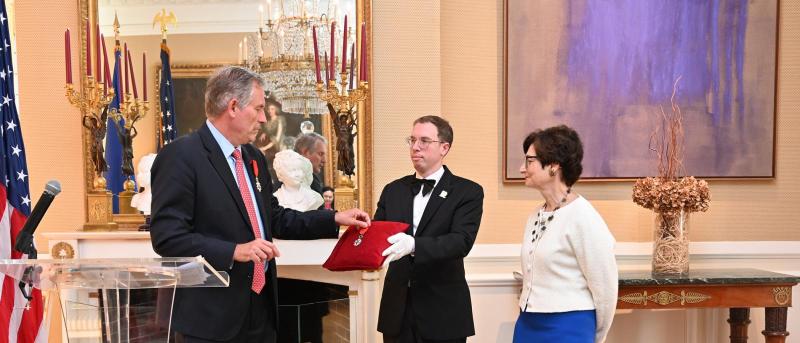 Dean Linda P. Fried Receives France's Prestigious Legion of Honor
The honor recognizes her leadership in research and education, in France and worldwide
The French Ambassador to the U.S. Laurent Bili presented Linda P. Fried, Dean of Columbia University Mailman School of Public Health, with his country's Insignia of the Chevalier of the Légion d'Honneur at a September 11 decoration ceremony. The Legion of Honor, France's highest order of merit, recognizes the Dean's positive impact on France and on a global level, both through her scientific advances on aging and as a public health leader who forged consequential scientific and educational connections between the U.S. and France.
The ceremony took place at the Résidence de France in Washington, D.C., among historic portraits of Lafayette, George Washington, and a bust of Benjamin Franklin. Attendees included Dean Fried's family and friends, fellow researchers, and Columbia Mailman colleagues from across her career.
"Thanks to your strong leadership in the intersection between science and social issues, the groundwork has been laid for innovative scientific policy for years to come," said Ambassador Bili. "You have done so much to expand our knowledge, enhance our well-being, and promote scientific collaboration and friendship between the United States and France that it is only right that France should recognize your exceptional achievements," he added.
In her remarks after accepting the honor, Dean Fried referenced the 18th Century French philosopher Jean-Jacques Rousseau and his concept of the common good of the whole society, saying, "Our work together with our French partners since then offers just such a foundation for a new social contract, enacting the recognition that public health, its science and its practice, is a collectivist enterprise and accomplishment—and never more so than in this century."
Dean Fried has established and led educational and research partnerships for decades with French and European governmental agencies and independent scientific institutions to improve population health across a breadth of areas, including healthy longevity and climate and health. In 2009, Dean Fried was instrumental in launching Columbia University's first global center in Europe. Since then, in partnership with Moise Desvarieux, professor of epidemiology, they built the foundations of an Atlantic Alliance for Public Health to advance educational and scientific links between the two countries. As part of this effort, the School partnered with EHESP, the French School of Public Health; under the arrangement, Columbia Mailman faculty teach EHESP students in Rennes and Paris. The School also joined EHESP and colleagues across Europe to co-launch the first European master's in public health to be awarded the prestigious Erasmus Mundus label. 
On the research front, Columbia Mailman and INSERM, France's counterpart to the U.S. National Institutes of Health, have built a joint vision of interdisciplinary scientific collaboration focused on chronic disease prevention. The School has worked with EHESP Deans to meet a commitment by ASPHER (Association of Schools of Public Health in the European Region) to understand and mitigate the health impacts of climate change to the European public health agenda. Other research efforts focus on multimorbidity prevention and treatment, aging, and migration. Led by Gary Miller, Vice Dean for Research Strategy and Innovation, the School has also developed research geared toward analyzing the exposome—environmental exposures that are the complement to the genome as distinct and major causes of disease, health, and aging.
Dean Fried's scientific work examines ways to create stronger bases for health across our now longer lives. She defined frailty as a new clinical syndrome and identified novel opportunities for its prevention. In 2016, INSERM recognized her for these scientific accomplishments with its International Prize in Medical Research. Today the INSERM laboratory in Toulouse is the flagship of an innovative network of frailty clinics across France, building on the Deans' and others' scientific work in this area.
Dean Fried concluded her remarks, saying, "My goal and our goal, always, is to create knowledge, through science, and then bring it forward for the wellbeing of our population. I know that my colleagues here today join me in that.  I hope that the knowledge and models we have built offer compelling evidence that we do better together, and we can together be even bolder in our goals."