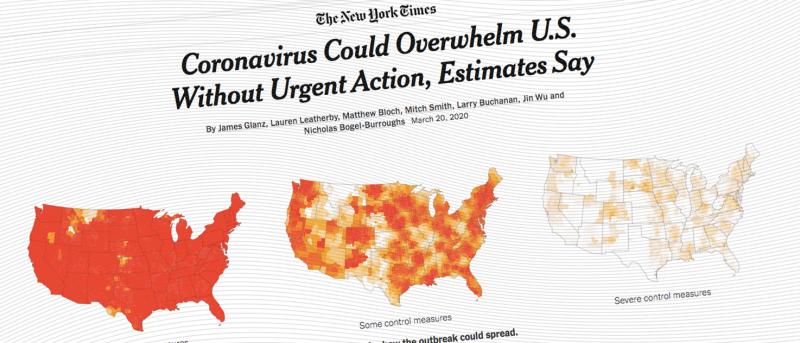 Coronavirus Research: Direct to The New York Times
To fast-track and amplify the audience for their research, scientists at Columbia University Mailman School of Public Health collaborated with the New York Times to publish their findings on the spread of coronavirus. Two prominent articles examine the potential impact of the pandemic in the United States and how the virus initially spread outside of China. 
For the first article, which appeared on March 20, Jeffrey Shaman and Sen Pei used a New York Times database of known cases and Census Bureau transportation data to model how the outbreak could spread in the United States. The results present three scenarios based on the degree to which the country broadly adopts control measures like closing schools, banning mass gatherings, testing, and quarantining sick people and their contacts. 
The researchers found that these measures are needed across the country, even in areas so far relatively untouched by the coronavirus. They project that coastal cities will feel the brunt of coronavirus cases sooner than the rest of the country. The more the country adopts control measures, the more it can flatten the curve, greatly reducing and delaying the peak of the outbreak.
A second article looks at why severe travel restrictions in China were insufficient to prevent the global spread of the virus—distant outbreaks had already been seeded by the time those measures were instituted. The March 22 report featured Shaman's estimates of the proportion of Wuhan residents traveling outside their city on January 21 who were infected.
Previously, Shaman and collaborators published an analysis, which found that undetected, mild and asymptotic cases were largely responsible for the rapid spread of the virus, and that control efforts by China helped slow the outbreak. The results initially appeared in February on the pre-print server MedRxiv and more recently in the journal Science, with the later publication attracting widespread attention, including coverage in the New York Times.
"We're looking at something that's catastrophic on a level that we have not seen for an infectious disease since 1918," Jeffrey Shaman, a professor of environmental health sciences, told the newspaper, referring to the Spanish Flu. "And it's requiring sacrifices we haven't seen since World War II. There are going to be enormous disruptions. There's no easy way out."