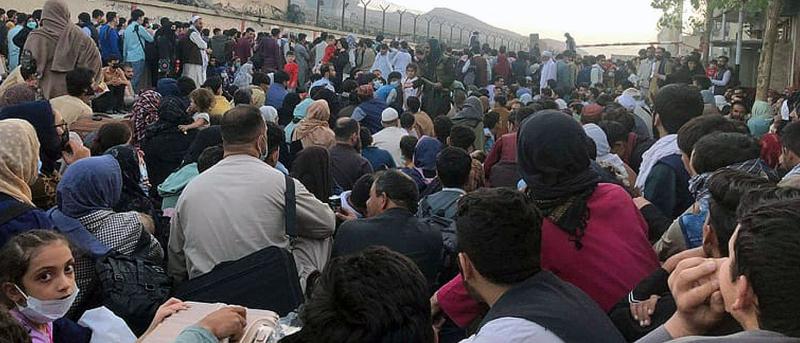 Columbia Mailman Student Helps Afghani Refugees Find Asylum
At age 39, Taylor Hirschberg is one of the oldest students in his class. But no one could accuse this goal-driven individual of pursuing public health on a lark. Over the last 20 years, he has traveled the globe doing HIV/AIDS activism and humanitarian logistics, while writing as a journalist. Now, even as he is immersed in Columbia Mailman School's Core curriculum for first-year students, Hirschberg is leading urgent efforts to evacuate LGBTQ+ people out of Afghanistan after the Taliban takeover.
In the following Q&A,
Hirschberg opens up about his background, the situation in Afghanistan, and his ambitions for the future, which include opening the world's first forced migration research center focused on LGBTQ+ populations.
Let's start with Afghanistan. What's happening? How did you get involved?
Last year, in the early part of the pandemic, a friend of mine in Venezuela was shot in the face because he is gay. I helped him get asylum and wrote about it a cover story for Out, which is the highest circulation LGBTQI+ magazine in the world. The story was about my friend's ordeal and the larger situation of what is happening to queer people in the region. Based on the article, and years of experience working with the LGBTQI+ community in humanitarian settings, this summer, I was invited in August to speak at the Global Human Rights forum in Malmo, Sweden, and Copenhagen. While there several of my friends from my time in Afghanistan began messaging me asking for help to get out. What was more surprising is that many who had read my article also found a way to contact me and ask me to get them out. They told me how they faced violent discrimination and were running for their lives for fear of Taliban execution.
At the conference, several governments leaders and MP's were in attendance. It was at this time that I was asked to help a group called Skateistan, an organization that was featured in the Oscar-winning documentary Learning to Skateboard in a Warzone, to get their staff and beneficiaries out of Afghanistan. They're not a queer organization because queer organizations aren't allowed in the country, but they are a safe space for non-gender-conforming individuals and LGBTQI people. I worked with government officials in Europe and the U.S. and we were able to get well more than 100 people out of the country, including LGBTQI+ and gender non-conforming individuals. In recent media coverage, there was footage of a baby passed over a fence; that was one of the people we were helping. It was intense. I didn't get a lot sleep.
Right now, I'm leading a coalition of individuals that include activists, USAID contractors, retired U.S. veterans, professors, and researchers to make arrangements for a chartered flight to evacuate another 347 or more persecuted Afghanis. Included in this are some of Afghanistan's most famous artists, election officials, and activists both in the LGBTQI+ community and women's activist community. We're not just trying to protect people; we're protecting these historic firsts from being erased.
How did you get into public health? What are your goals for the future?
I come from a small town in Appalachia. My family didn't have a lot of money and when I came out of the closet, I was even homeless for a while. Being a part of these vulnerable and underserved groups taught me that helping these groups around the world was the type of work I knew I wanted to spend the rest of my life doing. After college, I made the decision to follow love to Brazil where I got involved in HIV work, and ended up moving to Brazil where I started an NGO to connect migrant and indigenous populations with HIV/AIDS services. I left the country after the soft coup that ousted President Dilma Rousseff.
After leaving Brazil I joined MSF [Doctors Without Borders] where I did logistics work in a dozen countries. During this time, I fell in love with my now-husband, who is from Lebanon. Based on his experience, I got involved with forced migration and human rights for LGBTQI+ people. There are over 82 million people who have been forcibly displaced from their homes due to violence, human rights violations, climate change. Among this growing group of people are members of the LGBTQI+ community who have been forced from their homes because they live in one of the 69 countries that criminalize homosexuality. It's a global emergency.
I realized I needed to go back to school to learn more about public health and forced migration and get credentials so I can take on leadership roles. I was accepted by several top schools. But I was drawn to Mailman and PopFam in particular [the Department of Population and Family Health] because it hit the sweet spot between research and development. My goal is to open the first academic research center focused on forced migration of LGBTQ+ communities. Right now, there is almost no research in this area. The School was very supportive and secured funding for my studies from the Hearst Foundation, which enabled me to be awarded a Centennial Scholarship. To be in a place where activism and compassion are supported and encouraged has been something I've never felt in my life. It's reinvigorated my passion for public health and helping others. Columbia has inspired me to become something greater than I ever imagined possible.