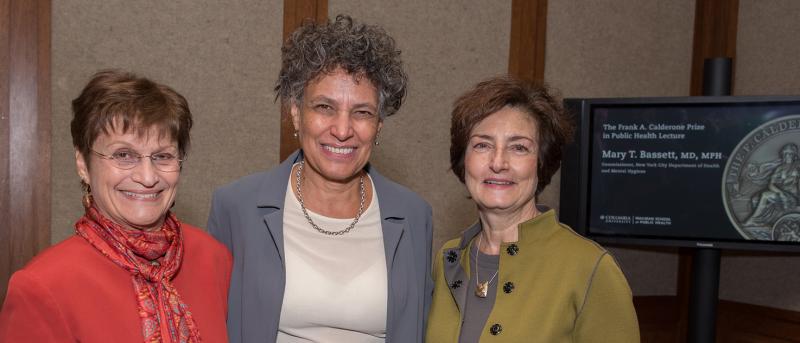 Columbia Mailman School Awards Public Health Prize to New York City Health Commissioner Dr. Mary T. Bassett
Dr. Mary T. Bassett, Commissioner of the New York City Department of Health and Mental Hygiene, was awarded the Frank A. Calderone Prize by the Columbia University Mailman School of Public Health at a ceremony held this morning at the Paley Center for Media in Midtown. The Calderone Prize, the most prestigious award in public health, is awarded every two years to an individual who has made a transformational contribution in the field, with selection by an international committee of public health leaders.
"Commissioner Bassett has been focused on health equity at every stage of an exceptional public health career," said Dean Linda P. Fried, who presented the Calderone Award to Dr. Bassett. "Her recognition of the role of race as a driver of health disparities, her record of publication on excess disease burden among people of color, and her ability to synthesize years of experience in the developing world with her role in New York City elevate her to the pantheon of prior Calderone winners."
At the award ceremony, Health Commissioner Bassett delivered an original lecture entitled, "Public Health Meets the Problem of the Color Line," where she underscored the importance of explicitly naming racism in advancing health equity work.
In her more than 30 years of experience in government, hospitals, and non-profits, Health Commissioner Bassett has made a significant impact on public health both locally and around the world. As an activist and a scholar, Bassett bridged the divide between academic and applied public health, on disease prevention at Harlem Hospital and at the Department of Community Medicine at the University of Zimbabwe, and in support of health equity with the Rockefeller Foundation in South Africa. At the African Health Initiative and the domestic Child Abuse Prevention Program at the Doris Duke Charitable Foundation, she worked to strengthen health systems in Ghana, Mozambique, Rwanda, Tanzania, and Zambia. 
As Deputy Commissioner of Health Promotion and Disease Prevention at the Department of Health and Mental Hygiene, Bassett spearheaded campaigns to ban smoking in public places, eliminate trans fats in restaurants and require chain restaurants to post calorie information — initiatives that have become global models, adopted widely in cities in other countries. Commissioner Bassett has worked to address obesity and diabetes and cardiovascular disease, which threaten the health of the most vulnerable in the city. Responding to the Black Lives Matter movement, she wrote in a 2015 New England Journal of Medicine article that health professionals must do more to end racial disparities and discrimination.   
Born and raised in New York City, Health Commissioner Bassett earned her bachelor's degree in History and Science from Harvard University, master's degree in Public Health from University of Washington in Seattle, and her medical degree from Columbia College of Physicians and Surgeons.
The Calderone Prize is named for Frank A. Calderone, who had a distinguished career in public health, leading him from the New York City Department of Health and Mental Hygiene to important posts at the World Health Organization. Instrumental in shaping the WHO's policies and structure, he also raised support for its continued operation. In 1986, the Calderone family established this prize to mark Frank Calderone's lifelong commitment and recognize exceptional public health leaders. The Calderone Prize has been previously awarded to Peter Piot, MD, former Executive Director, UNAIDS, and Under Secretary-General, United Nations; Mary Robinson, MA, former UN High Commissioner for Human Rights and former President of Ireland; and Nafis Sadik, MD, Special Advisor to the Secretary-General of the UN and former Executive Director, United Nations Population Fund, among other public health luminaries. 
Watch the Livestream here.
https://livestream.com/accounts/7100374/events/6512479/player?width=640&...