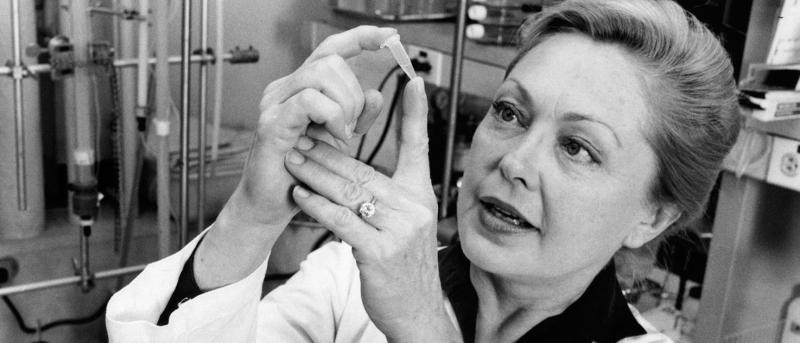 Columbia Acquires the Papers of AIDS Activist Mathilde Krim
The Augustus C. Long Health Sciences Library at the Columbia University Irving Medical Center announced the acquisition of the papers of the late Mathilde Krim, a scientist, pioneer AIDS activist, and philanthropist. Krim had a decades-long connection to the Columbia Mailman School, which gave her an honorary degree in 1988, and where she served on the Board of Overseers for many years. In 2015, the University established the Dr. Mathilde Krim-amfAR professorship of global health in her honor; ICAP Director Wafaa El-Sadr is the chair's inaugural recipient.
"Dr. Krim was a treasured member of our Board of Overseers and a visionary leader who really propelled research on HIV prevention and treatment," says Dean Linda P. Fried. "She was a beneficent friend of all those affected, creating resources to financially support the equity of access to care and treatment. We are honored to receive her papers and continue her legacy."
An insightful scientist, Krim partnered with many members of our faculty to raise understanding about the importance of fighting stigma and ignorance with the same urgency scientists used to combat the virus. She was also a driving force behind the development and passage of legislation that remains the backbone of the U.S. federal response to AIDS.
As a co-founder of the AIDS Medical Foundation in 1983, Krim was at the forefront of philanthropic and scientific responses to AIDS long before the world fully understood its catastrophic global reach. Two years later, AMF joined forces with Elizabeth Taylor's California-based National AIDS Research Foundation to form the American Foundation for AIDS Research—amfAR. As amfAR's Board Chair for two decades, Krim presided over a research portfolio that contributed to the development of new classes of antiretroviral drugs, modeled the first successful community-based clinical trials network, and founded a collaborative research and education network focused on Asia's growing HIV epidemic.
El-Sadr and Krim met in the 1980s at the height of the HIV epidemic in New York City and the U.S. and went on to serve as a member of amfAR's Board for several years. El-Sadr was honored by amfAR for her groundbreaking research on women and HIV/AIDS on World AIDS Day 2004. (For more on Krim's influence on El-Sadr, listen to her appearance on the Person Place Thing podcast.)
"From day one, for those of us involved in confronting the HIV epidemic or who were affected by it, Dr. Krim was a consistent source of inspiration," said El-Sadr. "She stood strong against those who peddled fear and ignorance… Dr. Krim's papers serve as a lasting legacy of a remarkable woman who so eloquently and effectively linked science, humanity, advocacy, and action."
A Treasure Trove of Materials
Like El-Sadr, Ronald Bayer, professor of Sociomedical Sciences in the Center for History and Ethics, met Mathilde Krim in the 1980s when she invited him to investigate the ethical challenges relating to the emerging AIDS epidemic—research she then funded. That meeting sparked a long friendship and decades of scholarship by Bayer. Krim was also instrumental in Bayer's recruitment to the Columbia Mailman School in 1989. "She was deeply interested in the ethical issues such as how you conduct clinical trials to protect the privacy of participants," Bayer remembers.
After Krim died last year, Bayer got a call from her daughter, Daphna Krim, who was looking to find a permanent home for her mother's archive. Bayer put her in touch with Stephen Novak, head of Archives & Special Collections at the Augustus C. Long Health Sciences Library, who facilitated the transaction. The Krim archive adds to the library's extensive public health collection, including papers belonging to Mailman faculty Jack Elinson, Joe Wray, Mervyn Susser, and Zena Stein; records from the School's Center for Population and Family Health, the precursor to the Department of Population and Family Health; and those from the Visiting Nurse Service of New York and the Maternity Center Association of New York.
Spanning the late 1960s to the early 21st century, the Krim papers document her professional life through correspondence, minutes, reports, reprints of scientific articles, laboratory notebooks, scrapbooks, photographs, and audiotapes. The archive will be open for research after they have been organized and cataloged, a process that takes one to two years. "Researchers will have the opportunity to use the papers to write the history of AIDS in all its many aspects—scientific, political, social, personal," says Novak, "and in a variety of publications—academic books, popular nonfiction, articles, policy studies."
According to Bayer, Mathilde Krim was a unique force in the fight against HIV as a scientist, philanthropist, and activist. "She lived each of these roles to the fullest," he says. "She had the energy and credibility and resources to transform a disease shrouded in stigma to one treated with seriousness and respect. She never lost sight of the fact that a scientific struggle for better medical care is also a moral struggle for decency and justice."