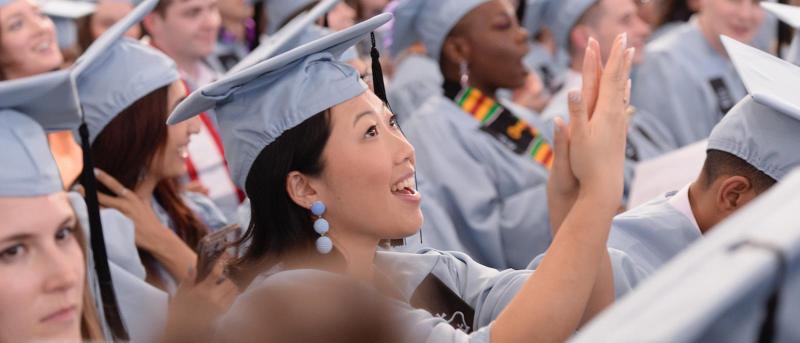 Class Day Celebrates 2023 Graduates
On May 16, Columbia Mailman School Class Day celebrated the achievements of more than 950 graduates from the Class of 2023—the largest graduating class in the School's history. It was also the most international class with graduates representing more than 40 countries. (Watch a video of Class Day ceremony below.)
Most graduating students began their studies in the fall of 2021, as the public health community introduced vaccines and other interventions to address the COVID-19 pandemic, and as students and teachers returned to the classroom.
"You are graduating at a moment in history when the world desperately needs the expertise you are leaving here with, needs your training, and needs your passion, and needs your leadership. And you, we are confident, are ready," said Dean Linda P. Fried, in introductory remarks. "On behalf of the entire Columbia Mailman School community of faculty, staff, and alumni, we congratulate you and look forward to all that we are confident that you will accomplish to strengthen the opportunity for health for everyone in the coming months, years, and decades."
The 2023 Class Day Speaker was Brian Castrucci, DrPH, MA '06, president and chief executive officer of the de Beaumont Foundation. He also received the School's Visionary Leadership Award. Castrucci earned his master's degree in the Department of Sociomedical Sciences.
In his address, Castrucci called public health "both meaningful and rewarding," but said real change is difficult, as vested interests protect the status quo on problems like gun violence, reproductive justice, hunger, and homelessness. Nevertheless, he said, taking on these big challenges is necessary. "As public health practitioners, we can no longer be content just describing disease and proposing prevention strategies. We must question those in power."
Castrucci shared practical lessons with graduates, urging them to address upstream social and economic drivers of health, reframe research to spotlight resilience, seek common ground with organizations and people whose values may differ from theirs, engage with policy, and think big. He concluded by saying, "Challenge the orthodoxy. Stay imaginative. Fight the temptation to succumb to 'business as usual.' And never stop thinking about what is possible."
Class Speaker Chinmayi Balusu, MPH '23, spoke to how public health practitioners must often face unwanted surprises, from infectious disease outbreaks to the discovery of new health inequities. To these challenges, she said, "Our Mailman education has taught us how to think critically, act collaboratively, and respond with agility." In conclusion, Balusu called on her fellow graduates to "embrace the unexpected and recognize that it sometimes takes the most difficult situations to give rise to the greatest opportunities for growth."  
In remarks to the graduating class, Katrina Armstrong, Chief Executive Officer of Columbia University Irving Medical Center and Dean of the Faculties of Health Sciences and the Vagelos College of Physicians and Surgeons, asked graduates to take lessons from the experience of the COVID-19 pandemic by recalling the difficult and scary moments, as well as the public health triumphs. "I want you to remember all of why you do this work and why it matters so much," she said. "[The pandemic] showed us that change is possible. We can come together and change how we take care of our communities and how we take care of our world."
Alumni Board President Kyle R. MacDonald, MPH '19, welcomed graduates to the alumni community. MacDonald said his career progressed quickly since he graduated. Currently, he is chief science and program officer at the Alliance for a Healthier Generation, a non-profit focused on whole child health and health equity—a position he calls his "dream job." MacDonald credited the Columbia Mailman community, which he said, "played a part in helping me unlock countless opportunities and grow into a public health leader."
Michael Joseph, Vice Dean for Education, announced teaching awards for Professors Stephanie Grilo, Merlin Chowkwanyun, Heather Butts, and Christopher Morrison. At a separate awards ceremony earlier in the day, more than 40 students were presented awards in recognition of excellence in scholarship and service.
In the days prior, the School hosted a Multicultural Ceremony and a Delta Omega Induction Ceremony. The day following Class Day, graduates participated in the Columbia University Commencement.
Following the Class Day presentation of doctoral and masters students, Dean Fried, led graduates in the recitation of the Public Health Oath, which begins with the words, "Health is a human right."
Watch the Class Day Video