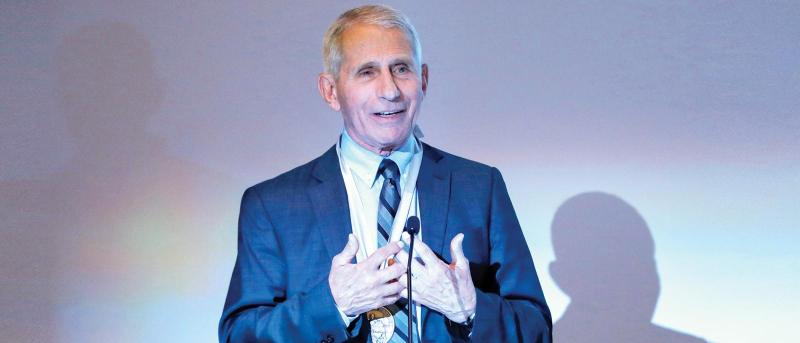 Anthony Fauci Receives Public Health's Highest Honor
Anthony Fauci was awarded the Frank A. Calderone Prize, the most prestigious honor in public health, at an April 27 ceremony in Alumni Auditorium on the Columbia University Irving Medical Center campus. A day earlier, he was honored at the School's Centennial Gala. Administered by the Columbia Mailman School, the Calderone Prize recognizes individuals who have made a transformational contribution to the field, selected by an international committee of public health leaders. (Watch a video of the event below.)
A household name and public health hero, Anthony Fauci served as the director of the National Institute of Allergy and Infectious Diseases (NIAID) from 1984 to 2022, and as the chief medical advisor to the president from 2021 to 2022. Fauci advised seven Presidents on HIV/AIDS and on initiatives to bolster medical and public health preparedness against emerging infectious disease threats such as pandemic influenza and COVID-19. In his decades of service, he has testified to U.S. Congress 275 times—likely more than anyone else in the history of the country.
"When the world found itself terrified of a respiratory illness called COVID-19, you provided steady, scientifically based guidance to all of us. You have been consistently the leader we believe. Your commitment to humanity is unparalleled and a model for all of us. You have saved countless lives. To say you have had a profound impact on millions of people would be an understatement," said Dean Linda P. Fried, who presented the Calderone Prize to Fauci.
After accepting the medal, Fauci delivered an original lecture to a rapt capacity audience. He focused on his work on HIV/AIDS, particularly his role advising U.S. Presidents. Fauci said his life changed after reading early reports of the disease later called AIDS, dedicating himself to addressing the public health crisis. In the laboratory, he conducted pivotal studies that underpin the current understanding of the disease. Later, in his role as director of NIAID, he helped shape policies that turned the tide against HIV/AIDS. (A day earlier, he spoke about another public health crisis—COVID-19—at the Columbia Mailman School Centennial Gala.)
In the early 1980s, Fauci briefed President Ronald Reagan about the emerging outbreak, pushing for faster drug availability under compassionate use. Into the presidency of George H.W. Bush and beyond, Fauci met with HIV/AIDS activists, who were often friendly in private but publicly contentious. As the first successful therapies became available in the 1990s, he explained the science behind them to President Bill Clinton, who gave the go-ahead for the creation of an AIDS Vaccine Research Center (the Center was later responsible for the breakthrough mRNA vaccine for SARS-CoV-2).
A crucial moment came when Fauci spearheaded the President's Emergency Plan for AIDS Relief (PEPFAR), which was announced by President George W. Bush in 2003. PEPFAR has since saved more than 20 million lives throughout the developing world. In recent years, U.S. presents have looked for ways to end the HIV/AIDS epidemic using new tools like PrEP (pre-exposure prophylaxis), as well as an emphasis on implementing equitably distributed interventions for treatment and prevention. "Ending HIV/AIDS depends on following the science," Fauci concluded.
Columbia Mailman Students Visit Anthony Fauci's Home
Screened prior to the medal presentation, a special video documented a recent encounter between Columbia Mailman students Antony Nguyen and Jordan Williams as they traveled by train to the home of Anthony Fauci to interview the public health leader. The student pair queried the Calderone Prize winner about his proudest moment (PEPFAR), his concerns for the future (another pandemic), and why he is optimistic ("because there are a lot of bright young people interested in public health.") Of his legacy, he said he wants people to remember that "I gave it everything I had."
Nido de Esperanza Wins City Health Award
Ashwin Vasan, Commissioner of the New York City Department of Health and Mental Hygiene and member of the Columbia Mailman School faculty and Board of Advisors, presented the Drs. Frank and Mary Calderone City Health Award to Nido de Esperanza, a nonprofit organization that since its founding in 2016 has provided culturally sensitive infant care services to 160 families in Washington Heights and beyond.
In remarks, Francesca Calderone-Steichen said Nido de Esperanza had special meaning for her since her mother, Mary Steichen Calderone, MS '42, had a lifelong interest in the health of mothers and babies. In the early 1930s, the elder Calderone worked with her father, the legendary photographer Edward Steichen to create a photo picture book for early childhood called The First Picture Book: Everyday Things for Babies (Francesca Calderone-Steichen presented an inscribed copy of the book to Gisselle Pardo, the organization's co-executive director, who also accepted the City Health Award).
Francesca Calderone-Steichen said her mother and father, Frank Calderone, also worked to improve the nutritional health of mothers and babies on the Lower East Side through the Mother's Health Organization. Later, Mary Steichen Calderone became the first female director of the Planned Parenthood Foundation of the United States and the founder of the Sex Information and Education Council of the United States.
"Today we honor Nido de Esperanza, whose intensive supportive and caring work for young mothers and their babies and work my mother did in the 20s and 30s, work that is successful to family outcomes," Francesca Calderone-Steichen said.
Calderone Prize Ceremony Video