The Calderone Prize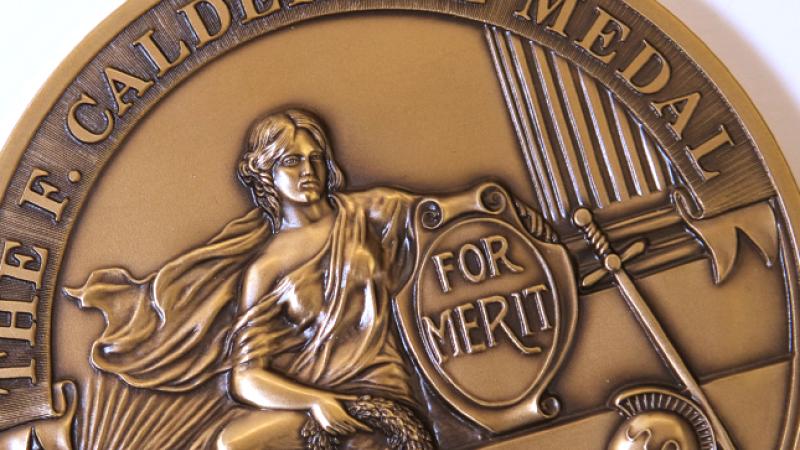 Every two years, the Columbia University Mailman School of Public Health presents the field's most prestigious award, the Frank A. Calderone Prize in Public Health, to an individual who has made a transformational contribution in the field of public health. In addition to the Calderone medal and an award of $50,000, prize winners deliver a special lecture on their work. Prior Calderone lectures are archived here.
The prize recognizes an individual who has accomplished work of extraordinary distinction in the field of public health or made a specific discovery or contribution that has had long-term national or global implications in such areas as communicable disease, environmental health, epidemiology, social and/or behavioral medicine, health policy, or any aspect of health promotion or disease prevention.
On Thursday, April 27, 2023, the 2023 Prize will be awarded to Anthony S. Fauci, MD, Former Director, National Institute of Allergy and Infectious Diseases (NIAID) and National Institutes of Health (NIH), Bethesda, Maryland.
Nomination and Selection
Candidates are nominated for the Frank A. Calderone Prize in Public Health by individuals in public health and related fields with an abiding interest in excellence in the public health arena. The award recipient is chosen by a selection committee comprised of, but not limited to, the following representatives:
Linda P. Fried, MD, MPH
Selection Committee Chair
Dean and DeLamar Professor of Public Health
Columbia University Mailman School of Public Health 
Mary Bassett, MD, MPH+
Director, François-Xavier Bagnoud Center for Health and Human Rights 
T.H. Chan School of Public Health at Harvard University
Georges Benjamin, MD, FACP
Executive Director
American Public Health Association
Francesca Calderone-Steichen, MPH*
Harvey D. Fineberg, MD, MPH+
President
Gordon and Betty Moore Foundation
Laura Magaña, PhD, MS
President and CEO
Association of Schools and Programs of Public Health
Alfred Morabia, MD, MPH, PhD
Editor-in-Chief
American Journal of Public Health
Peter Piot, MD, PhD+
Director
London School of Hygiene and Tropical Medicine
Ariana Calderone Stahmer*
*Denotes a non-voting member of the Selection Committee
+Denotes a past recipient of the Calderone Prize
History of the Calderone Prize
Frank A. Calderone
Born in 1901, Frank A. Calderone was raised and educated in New York City, where he graduated from Columbia College and earned his MD from New York University. In 1938, after receiving his MPH from Johns Hopkins University, he joined the New York City Department of Health as District Health Officer, embarking on a career in public health that would extend throughout his life.
Dr. Calderone served the City of New York until 1946, when he was named director of the Headquarters Office of the United Nations Interim Commission of the World Health Organization (WHO). He was instrumental in shaping the WHO's policies and structure and in raising funds to support its continued operations. He held key positions in the permanent organization, including chief technical officer and New York office director. Subsequently, he was appointed medical director of the United Nations Secretariat Health Service.
History of the Frank A. Calderone Prize in Public Health
The Frank A. Calderone Prize in Public Health at Columbia University Mailman School of Public Health was established in 1986 through the generosity of Dr. Calderone and his family to mark his life-long commitment to the health of the public. Several years before the award was established, Calderone's father, Salvatore Calderone, commissioned the renowned firm of Dieges & Clust to design and strike a 'medal of merit' in solid gold. Only a few were made, and only one is still in existence—the model used by Tiffany & Co. to create today's Calderone Medal. Dr. Calderone, who passed away in 1987, arranged for the endowment of the prize and medal in his will.