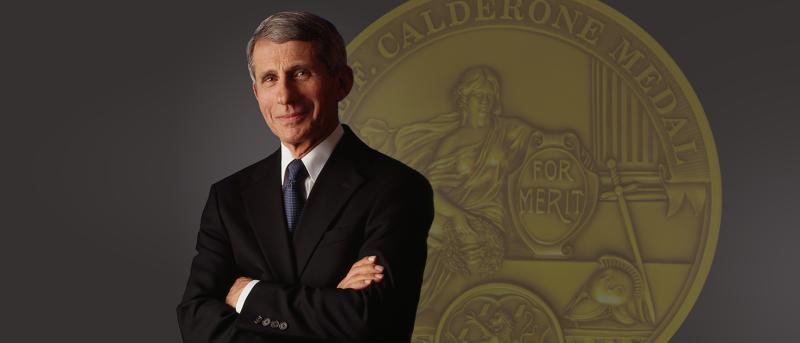 Anthony Fauci to Receive the Frank A. Calderone Prize in Public Health
Dr. Anthony S. Fauci, MD, will be presented with Columbia University's Mailman School of Public Health's Frank A. Calderone Prize on April 27, 2023, in recognition of his extraordinary contributions to protecting and improving the public's health. A renowned public health champion with a distinguished public service career spanning more than fifty years, Fauci is the Former Director of the National Institute of Allergy and Infectious Diseases (NIAID).
Among the most prestigious honors in the field of public health, the biannual Calderone Prize is awarded to an individual who has made a transformational contribution in the field, with selection by an eminent international committee. The Calderone Prize is a cherished part of Columbia Mailman School's history and tradition. Established in 1986 through the generosity of the family of the late Frank A. Calderone, this award honors his distinguished career as a leading figure in the New York City Department of Public Health, and a pioneering officer of the World Health Organization. The Calderone Prize has been previously awarded to public health luminaries, including Mary Bassett, former New York City Commissioner of Health and Mental Hygiene; Peter Piot, former executive director of UNAIDS and under-secretary-general of the United Nations; Mary Robinson, former UN High Commissioner for Human Rights and former President of Ireland; and Nafis Sadik, special advisor to the Secretary-General of the UN and former Executive Director of the UN Population Fund.

Fauci served as director of NIAID from 1984 to 2022, overseeing an extensive research portfolio devoted to preventing, diagnosing, and treating infectious and immune-mediated diseases. He was a key advisor to seven Presidents and their administrations on global HIV/AIDS issues, and on initiatives to bolster medical and public health preparedness against emerging infectious disease threats such as pandemic influenza and COVID-19. He also served as the chief medical advisor to President Joe Biden. He has been involved in the scientific effort on HIV/AIDS since AIDS was first recognized in 1981, conducting pivotal studies that underpin the current understanding of the disease and efforts to develop therapies and tools of prevention. He was one of the principal architects of the President's Emergency Plan for AIDS Relief (PEPFAR), which has helped save more than 25 million lives throughout the developing world.
Fauci is a member of the U.S. National Academy of Sciences, the U.S. National Academy of Medicine, and many other professional societies. He has received numerous awards for his scientific and global health accomplishments, including the Presidential Medal of Freedom, the National Medal of Science, and the Mary Woodard Lasker Award for Public Service.  He has been awarded 58 honorary doctoral degrees and is the author, coauthor, or editor of more than 1,400 scientific publications, including several major textbooks.