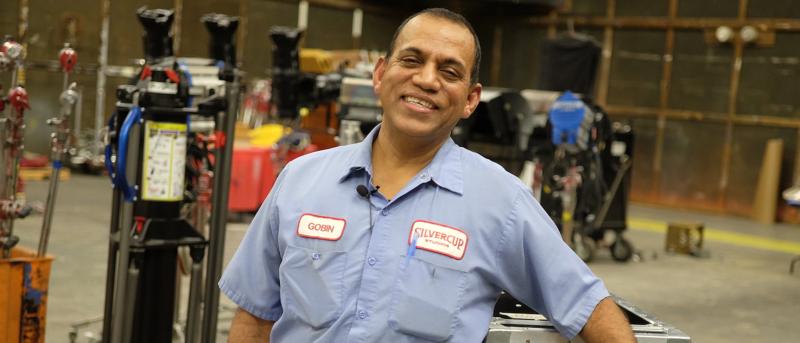 Age Smart Employer Award Finalists Chosen
Thirteen NYC Companies Named for Outstanding Workplace Practices from Columbia Aging Center
National Grid, Silvercup Studios and the Bronx Zoo are three of 13 New York City businesses being honored by the Columbia Aging Center at the Mailman School of Public Health for valuing workers of all ages. As our population ages and more people work longer, the award aims to highlight industries and businesses using strategic practices to hire and retain valuable workers over age 50. These employers were selected from among 100 applicants, including businesses and nonprofit organizations from all five boroughs and a broad array of sectors.
 
The finalists include:
 
National Grid (utility company, 2,485 NYC employees) A supplier of natural gas, electricity, and green energy sources in New York, Massachusetts, Rhode Island, and the United Kingdom, National Grid recruits workers with more than 20 years of experience directly from competitors, makes paths to advancement clear, and invites retirees to work as instructors in training centers or during emergencies.
 
The Bronx Zoo: (zoo, 2,400 employees including seasonal staff) The nation's largest metropolitan zoo receives 2 million visitors annually. The zoo accommodates the personal needs of its more than 2,000 employees by being flexible with scheduling, adapting physical tasks to the abilities of workers and providing advancement and leadership training opportunities for workers of all ages.
 
Urban Health Plan, (nonprofit healthcare provider, 897 employees) Urban Health Plan makes a point of hiring residents of the communities it serves, including people in their 50s, 60s, and 70s. A rigorous and ongoing training process that includes mentorship prepares many employees to rise through the ranks.
 
WithumSmith+Brown: (accounting firm, 860 employees) This accounting firm, with offices in Midtown and throughout the U.S., designs workspaces based on the input of its staff, gives everyone a mentor, provides phased retirement, and lets accountants set their hours however they wish across seven days.
 
PKF O'Connor Davies: (accounting firm, 742 employees) This mid-sized accounting firm hires partners who are forced to retire from larger accounting firms. They offer flexible scheduling and execute a monthly "How's It Going?" survey for all employees which has led to changes throughout the company.
 
Steinway & Sons: (piano manufacturer, 380 NYC employees) Steinway's Queens piano factory has an internal advancement structure that builds expertise and retains workers for decades. The company has continuous improvement workshops, a safety-enhancing "near misses" process that documents averted accidents for future learning, and collaboration between departments to troubleshoot problems and encourage employee input.
 
Riverdale Country School: (private school, 345 employees) This Bronx-based K-12 school retains teachers and staff with benefits like sabbaticals after 10 years for faculty, "passion grants" for all workers to support their interests, and job restructuring, as when former classroom teachers were reassigned as outdoor coordinators, or when custodians became security guards.
 
Educational Alliance: (social services agency, 300 employees) Based on the Lower East Side, Educational Alliance gives grants to employees to execute program innovations, retrains older employees to take on new jobs, and hires older employees who have worked in other industries.
 
Diller-Quaile School of Music: (private music school, 101 employees) Developing a lifelong love and participation in the world of music is the stated aim of this Upper East Side school. Teachers enjoy flexible hours, graduate-level teacher training, lessons from world-renowned musicians, creativity grants, and a peer support initiative, where teachers watch each other teach.
 
Veselka: (diner, 90 employees) This 24-hour East Village fixture of late night dining hires a substantial number of older people as dishwashers, cooks, managers and servers, while also inviting them to transition to shorter hours as they approach retirement.
 
Lee Spring (spring manufacturer, 79 NYC employees) This factory within the Brooklyn Army Terminal makes springs for everything from eyeglasses to airplanes. Contending with a shortage of skilled laborers, the company offers ample internal advancement opportunities (most of its leadership began as factory laborers), flexibility for workers on the administrative side to change work locations or hours, and is developing a partnership with a German coiling conference to start a four-month training academy on Long Island.
 
Silvercup Studios: (film and TV production facilities, 49 employees) More than half the employees at NYC's largest full-service film and television facility are over age 50. The company has restructured jobs and used phased retirement to keep engaging their older workforce. They have also hired people in their 50s and 60s.
 
Sew Right: (retail shop, 7 employees) This shop for selling and repairing sewing machines, fabrics and needlework classes in Bayside, Queens is staffed entirely by people over age 50. Employees there are encouraged to suggest improvements to the business, given opportunities to attend conferences and trained weekly to understand new products and sales methods.
---
The Age Smart Employer Award, in its third year, is funded by the Alfred P. Sloan Foundation. The award is a project of the Columbia Aging Center at the Mailman School of Public Health. The award selection committee, composed of NYC leaders in business, human resources development and aging, looked for finalists that demonstrated 10 employment practices that support an age-smart workplace. These practices include: strong benefits, opportunities for advancement, responsiveness to employees' ideas to improve the work environment, a culture and atmosphere that demonstrates workers are valued, training at all career levels, educational opportunities, flexible work arrangements, job restructuring to accommodate employees changing needs, phased retirement and work opportunities for retirees.